10:47 am
VIX has broken through the Head & Shoulders neckline, which often gives the minimum target for Wave 3.  If you read the prior alert, the SPX Wave 3 may not be complete until tomorrow afternoon.  If so, Friday's VIX may exceed 100.00.
10:36 am
There are two possible scenarios being played out.  The first is that the SPX may have complete Wave 3 and goes into a holding pattern to Wednesday (Wave 4) before completing its decline (Wave 5) on Friday.  The second is much more bearish, whereby Wave 3 may not be complete until near the close tomorrow and a target beneath 4200.00 with a brief pause on Wednesday and further decline to Friday.  A bounce today may go to 4350.00-4360.00, but the gap is likely to remain open.
ZeroHedge reports, "It's official: as of this morning, the S&P is in a correction, having tumbled 10% from its all time high recorded at the start of the month…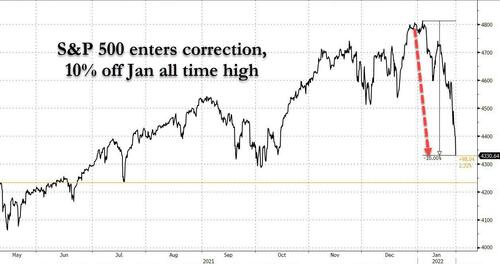 … with the Russell suffering an even more humiliating fate, as it entered a bear market at roughly the same time, tumbling 20% from its early November all time high."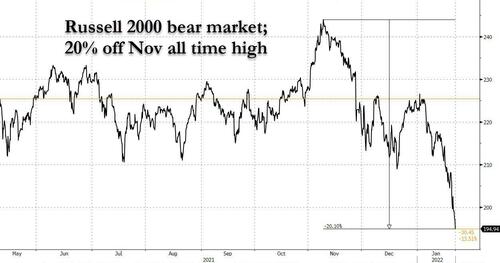 7:45 am
Good Morning!
SPX futures are lower, declining to 4363.50 as I write, before a potential bounce this morning in an extended Wave [iii] of 3.  Should it follow the Cyclical pattern that it has established, it may bounce to 4435.00-4450.00 before resuming its decline in short order.  The extension may negate the need to take short profits until Friday.  The target for Wave 3 may still be 4250.00 or lower.  The target for Wave 5 remains near 4000.00 until further notice.
An exam of the SPX options chain shows virtually no calls in today's and Wednesday's expiations as those positions have been sold and moved to the puts column, which carries massive short gamma.  Open interest in puts doesn't slack off until it reaches 4275.00.   In Friday's options expiration, there are 14000 puts contracts between 4050.00 and 4125.00.   The pileup of short gamma pretty much dictates to the dealers and hedge funds to be short down to 4,000.00.  I will monitor this as Friday (day 260 of the Master Cycle) approaches.
ZeroHedge reports, "US stock index futures erased early overnight gains and turned negative, dimming hopes for a rebound after one of the worst stretches for global markets last week since the pandemic began, as investors prepared for the upcoming Federal Reserve policy meeting and as the prospect of a war between Russia and Ukraine quashed demand for riskier assets such as bitcoin, and bolstered the dollar and oil. Nasdaq 100 futures declined 0.7% after rising as much as 1.1%. Those on the S&P 500 dropped 17 points or 0.4% while the Dow Jones dropped 0.3%. Elsewhere, the Stoxx Europe 600 fell 2% with travel and leisure as well as technology stocks leading declines. The dollar rose, bond yields dropped and oil was unchanged."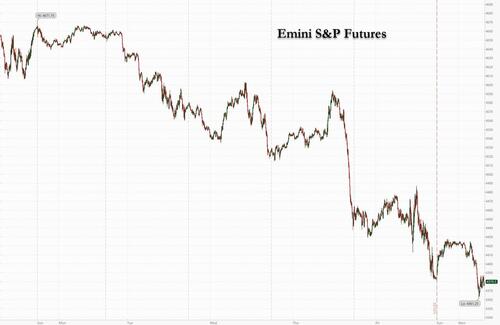 The NYSE Hi-Lo  Index plummeted to -517.00 on Friday as longs threw in the towel.  Nearly 16% of all NYSE stocks were sold to their 52-week low.  This approaches capitulation, but not there yet.  The March 2020 low was -2375.00.  We may see that number being approached again this week, but most certainly see worse in February during the decline of the next Master Cycle.
VIX futures rose to 31.29 thus far this morning.  It may be summoning the energy to challenge the Head & Shoulders target near 35.00 today.  Once above it, the Wave 3 target matching the Head & Shoulders may be reached or exceeded.
This Wednesday's options expiration shows short gamma trailing off at 23.00 and higher, while long gamma takes over above it.  There are over 8,000 call contracts between 45.00 and 50.00 which have a high likelihood of a payoff.
NDX futures have declined to 14121.00 this morning as it continues to descend in an extended Wave 3.  Options gamma has ben increasingly negative, forcing a self-fulfilling decline.  Today's options expiration shows negative gamma building down to 13600.00.   There may be a bounce to 14500.00, but the decline may resume quickly.  The NDX Hi-Lo closed at -1293.00 on Friday, a nearly 40% slice of NDX stocks hitting their 52-week low.  However, in March 2020 the Hi-Lo made a low of  -2087.00.
TNX appears to be declining to the Lip of its Cup with Handle formation at 17.00.  There is a lot of support there, so the likelihood of declining through it is small.  The Cycles Model gives little directionality until next week when trending strength comes back.  We may see a flat performance in TNX this week.
USD futures have risen above the 50-day Moving Average at 96.88.  It may reach a Master Cycle high during the second week of February.