11:55 am
BKX has reversed back beneath the trendline after Yesterday's Master Cycle high.  This constitutes a sell signal which may be confirmed once it declines beneath the Cycle Top support at 144.01.   The Citigroup's earnings miss marks the top of this Cycle and ushers in reduced liquidity to the markets.
ZeroHedge remarks, "According to Doug Ramsey of the Leuthold Group, 334 companies trading on the New York Stock Exchange recently hit a 52-week low, more than double the amount that marked new one-year highs. That's happened only three other times in history — all of them occurring in December 1999.

How did we get back to the precipice of the year 2000, where tech stocks plunged 80% and the S&P 500 lost 50% of its value over the ensuing two years? Well, start off with the fact that the amount of new money created by our central bank in the past 14 years is $8 trillion. That, by the way, is an increase in base money supply only and does not include all of the new money created by our debt-based monetary system. So, from 1913 to 2008, the Fed created $800 billion. And, it took from 2008 until today—just 14 years–for it to have created $8.8 trillion in base money supply. Is there really any wonder why inflation has now become a salient issue, especially for the middle and lower classes, and why the stock market is now set up for a meltdown similar to the NASDAQ collapse of two decades ago?"
7:45 am
Good Morning!
NDX futures have continued their decline overnight, slipping beneath the Ending Diagonal trendline and the 2-hour Cycle bottom at 15455.00.  Max Pain for today's expiring options is at 15660.00.  It is deep in negative gamma territory and may lose control beneath 15500.00, near yesterday's close.  At that point the decline may become self-reinforcing.  The NDX Hi-Lo Index closed at -318.00, showing investors heading for the exits.
ZeroHedge remarks, "NASDAQ – back to very oversold, but…
NDX closed right in the big support "congestion" area. We closed below the 100 day moving average, but the longer term trend is still around these levels/slightly lower. 200 day is some 3% lower. RSI is oversold, but as we all know, oversold can stay oversold for longer time periods, especially when RSI "establishes" low levels (note RSI in February and September 2021). Big oscillations and a non trend remains the theme, but watch this closely should we close slightly lower…"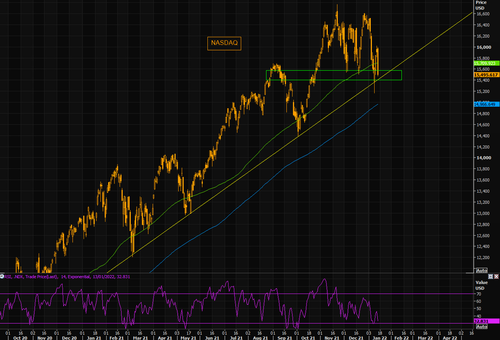 Source: Refinitiv
SPX futures have fallen beneath the 50-day Moving Average and the Ending Diagonal trendline at 4650.00 this morning.  It is on a confirmed sell signal with the potential of reaching 4000.00 by the end of the month.  It may go deeper.  The Ending diagonal target is its origin at the March 23, 2020 low at 2191.86 and may be complete by the end of February.
The NYSE Hi-Lo Index closed at 34, just above neutral territory at 30.00.  A sell signal is confirmed beneath the 50-day Moving Average at 7.36.
ZeroHedge reports, "fter trading flat for much of the overnight session, S&P futures slumped to session lows shortly after JPM reported earnings that disappointed the market (see our full write up here) and were last trading down 30 points or 0.64%, with Dow futures down 0.3% and Nasdaq futures taking on even more water as the "sell tech" trade was back with a bang. Treasury yields rose 3bps to 1.74% and the dollar reversed an overnight loss. The VIX jumped above 20 and was last seen around 21.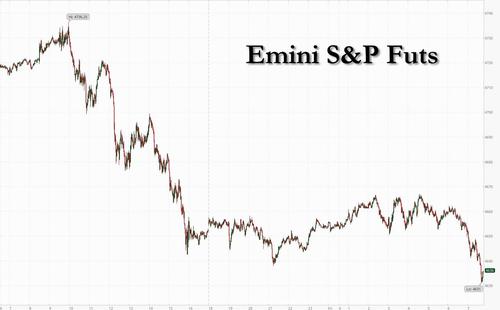 The Nasdaq 100 fell to the lowest in almost three months yesterday as tech came under pressure after Fed Governor Lael Brainard said officials could boost rates as early as March. It looks like the selling will continue today."
VIX futures made a new high this morning at 21.82.  It is on a confirmed buy (SPX sell) signal.  An unofficial calculation shows the VIX may rise above 100.00 this month.  There may be two more weeks of rally in this Wave 3.
TNX may have launched its next surge higher as a triple dose of trending strength may have taken hold today.  That period of strength may last until the end of the month.    However, the top of this Cycle may continue to the end of February.