1:45 pm
SPX made two 8.6-hour declining impulses.  It is now in a brief correction that may top out at the trendline near 4570.00.  The next decline may be a doozy, since its may be due for a new low on Wednesday afternoon, approximately 17.2 hours from today's low.  Wednesday is the largest expiration of VIX options, so we may see growing volatility until then.
ZeroHedge observes, "Omicron lockdown concerns? Build Back Better blown up? Taper Tantrum?
Take your pick at the narrative driving markets, but for now, all the majors have broken below key technical levels.
S&P broke below its 50DMA, Russell 2000 remains well below its 200DMA, Nasdaq broke below its 100DMA, and The Dow broke below its 100DMA…"
8:15 am
Good Morning!
SPX futures declined to a low of 4536.70 before bouncing to retest the its broken trendline and Cycle Bottom at 4565.39.  It has also crossed beneath the 50-day Moving Average a 4592.79.    While analysts are relieved that SPX stayed above the December 3 low at 4495.12, it is the break of the Ending Diagonal that is significant.  In Addition, this decline may be a Wave (3) associated with panic declines.
While the options expiration for today are light, SPX is in negative gamma territory and there is  a very large put position (4900 contracts) at 4550.00 that may set off a chain reaction, if triggered.
ZeroHedge reports, "Global stocks and US equity futures are sharply lower to start the otherwise very quiet holiday week, dragged lower by Manchin's shock decision to kill Biden's economic agenda (which Goldman said would cut US Q1 GDP from 3% to 2%), accelerating government measures to counter the fast-spreading omicron variant and fears over the growth outlook amid a tightening Fed. US equity futures tumbled almost 100 points from their Friday close (and more than 200 points from Thursday's all time high before paring some losses buoyed by optimism from news that Moderna's booster vaccine increases antibodies 37-fold against omicron. Treasury yields also pared a sharp drop as low as 1.35% and the dollar held a jump from Friday, while crude oil slid on worries that mobility curbs to tackle the strain will hurt demand. As of 730am S&P 500 futures were down down 1.1%, Nasdaq 100 -1.3%, and Dow -1.0%."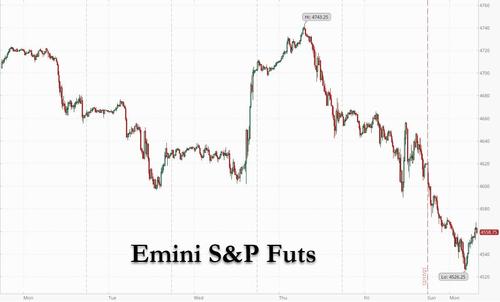 VIX futures reached a weekend high of 27.39 before pulling back, but remaining above its Cycle Top support at 24.29.  Should it overcome the Head & Shoulder neckline, it may reach its intended target as early as Wednesday.  Head & Shoulders most often propose targets for Wave 3.
Despite its rally on Thursday with a neutral close, Friday's Hi-Lo range never got above -15.00.  This is a clear indication of crumbling internals within the NYSE.  The Cyclles Model suggests that the Hi-Lo may continue on a sell signal through the last week of January.
TNX futures made a weekend low of 13.53, but now appears to be on the path of increasing strength this week.  The window for new lows may be close by Wednesday, according to the Cycles Model.