11:02 am
A curious thing is happening here.  At about noon today, the SPX may complete its first declining Cycle and retracement in 30.1 hours (4.3 days).  It has been stopped at the 38.2% retracement value at 4664.55 and doesn't seem capable of a further rally thus far.  If the Cycle timing is correct, we may see SPX tumble into negative territory at or shortly after noon today.  That is a sell signal with confirmation on a decline beneath 4630.86.  The aggressive sell signal was made yesterday at 4675.00.  Those of you who took it have been rewarded.  Now is the time to go short, as  the next support for the SPX may be the 50-day Moving Average at 4485.36.
Sadly, ZeroHedge remarks on the departure of a bearish icon of the last 10 years.  Is this a sign of the reversal?  Read on,"It was about four or five years ago that we dubbed Russell Clark (formerly of Horseman Global and more recently of Russell Clark Investment Management) the world's most bearish hedge fund, and for a good reason: roughly a decade ago, Clark decided to take his fund net short – an unheard of event in an industry where despite the name, the average net exposure is well north of 100% – and while his market bias ebbed and flowed, it remained short for much of the past ten years."
10:14 am
The NYSE Hi-Lo Index is down to bearish territory, opening at 15.00, but rising to a high of 33.00.  We will monitor this site to determine, if possible, whether a signal may be generated.
9:54 am
Today is day 259 in the Liquidity Master Cycle.  It may have another day to make its final high.  Otherwise, the high at 142.57 on November 3 may count as a truncated Wave 5 of (C).  I hate to discuss truncations, because they do happen, but often need verification before making that call.  this week may be the last chance for me to be wrong.  In the meantime, BKX has hovered beneath its Cycle Top at 140.63 for the past week.  This is the final piece of the puzzle to determine whether the reversal is real.
ZeroHedge warns, "President Biden's Marxist nominee for Comptroller of the Currency – who said she wants to "end banking as we know it," has just said the quiet part out loud, again.
Top banking pick Saule Omarova – who was born and educated in the USSR, earned the "Lenin" award, and has refused to turn over her thesis: "Karl Marx's Economic Analysis and the Theory of Revolution in The Capital" – now wants to put millions of Americans in the energy sector out of a job."
8:08 am
Good Morning!
SPX futures have risen to the 38.2% retracement value at 4664.34 this morning.  The ultimate retracment may go higher.  The 50% retracement level is 4674.88 and the 61.2% retracement level is at 4686.02.  Today is day 252 in the Master Cycle.  The top occurred on day 246 thus far.  Tomorrow's options expiration comes into play today.  The Max Pain level is 4665.00 at which the payout to options speculators on both puts and calls is the least.   Negative options gamma starts at 4650.00, so the dealers and hedge funds can ill afford an "accident."  Positive options gamma starts at 6700.00, with 33,592 calls vs. 7,488 put contracts.  It appears that tomorrow's options expiration may be very painful for the bulls.
ZeroHedge reports, "US futures rose and European bourses once again rebounded from overnight lows, this time after concerns that scorching US and Chinese CPI and PPI prints will prompt central banks to tighten much sooner than expected. The bounce was aided by a surge in Chinese property developers which booked their best two-day gain in six years, joined by a jump in technology stocks, as investors speculated Beijing may soften regulatory crackdowns on the two industries. At 730am S&P futures were up 16.75 ot 0.36 to 4,658.50, Dow Jones futs were up 40 points or 0.11% and Nasdaq futures were up 97.50 or 0.61%. The dollar index rose and cash Treasurys are closed today for Veterans day."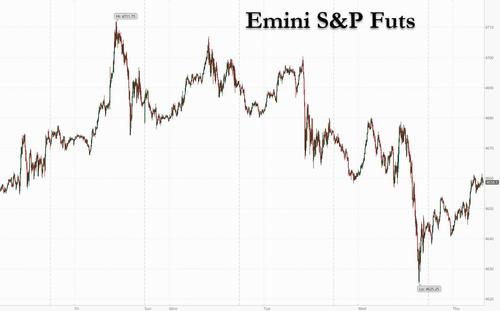 VIX futures pulled back to an overnight low of 17.73, losing some bullish support.    The NYSE Hi-Lo Index closed at 105.00, above the 50-day Moving Average at 93.10.  While the VIX has broken out above its resistance levels, the Hi-Lo must decline below 30.00 to give a sell signal.
TNX is closed for Veterans Day, but it had risen another .12 points after the close of the cash market.
The Shanghai Composite Index rose overnight to 3534.20, above the mid-Cycle resistance.  Teh November 10 low appears to be a Master Cycle low, suggesting a rally lasting up to two weeks before resuming its decline.   It is likely to rise to 3625.00 in a "flat" correction.
ZeroHedge observes, "Two months ago Wall Street was quick to conveniently ignore China's property crisis, repeating that not only was the sudden hit to Chinese housing – the world's largest asset class according to Goldman…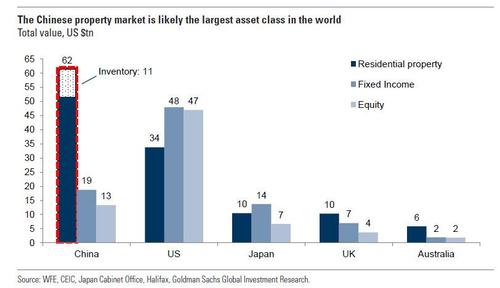 … not a "Lehman moment", but that any contagion would be limited at best; at the same time central bankers – not just in China but around the globe – were quick to assure investors that a collapse by China Evergrande Group wouldn't lead to a crash. As usual, Wall Street consensus (especially when coupled with soothing lies from central planners bankers) was dead wrong because now that the bond selloff has spread to China's entire real estate sector and beyond, including healthy government-backstopped investment grade companies, concern is growing about the potential risk to the global financial system."
USD futures rose to a new high at 95.10 after breaking above its prior high at 94.57 and its Cycle Top resistance at 94.77.  It has begun a period of "triple strength" as it continues the retracement of its decline from 103.96 in early 2020.