4:15 pm
Should have bought those puts…
ZeroHedge remarks, "People hated puts when they should have loved them
We saw people puke puts just in time for the reversal.
Nothing new really, but it adds to the complex psychology of this market.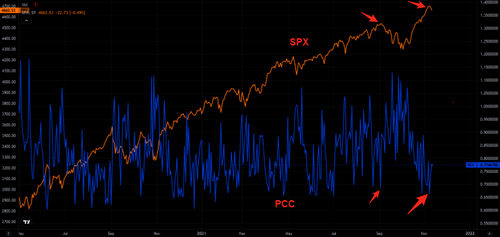 Source: Tradingview
Not only did they hate puts…
…they had to sell them short and load up on calls.
This is just a gentle reminder of one of the most important charts out there, if not the most important.
Greed has become so big, driving people into shorting puts and putting all that premium into calls.
Humans have come a long way, but greed and fear never changes…
3:22 pm
SPX entered negative gamma territory to hit Short-term support at 4630.00, but recovered to the Max Pain level, 4650.00, where the least amount is paid out for expiring options.  Now it's time for that delayed retracement, possibly tomorrow.  Should it happen, we could see a rebound to the 61.8% retracement level at 4685.00.  However, the tension is on to keep the 4650.00 level through closing today.  Accidents can happen here, since the SPX is on such a tightrope.
2:02 pm
VIX just climbed above all three resistance levels at 18.71.  It may backtest resistance-turned-support and keep going higher.  It had only made a 35% retracement of its first rally off the bottom.
1:38 pm
This Morning I said "Something has to give" egarding TNX.  It may have just launched a "rampaging rally" that may last for the next 10 weeks!  The effort to squeeze the bond shorts may have just backfired.
ZeroHedge reports, "If the ugliest auction so far in 2021 was the disastrous 7Y sale back in February, which sparked a mini market meltdown in both bonds and stocks, then the just concluded sale of $25BN in 30Y paper was almost just as terrible. It was, in a word, catastrophic and since it is at the very end of the curve, one could almost argue it was even worse than the infamous 7Y auction.
Stopping at a high yield of 1.940%, the auction was slightly below last month's 2.049%, but it was supposed to be far better, because while the When Issued traded at 1.888% the auction tailed by 5.2bps, which was the biggest tail on record for the 30Y tenor!
The bid to cover of 2.202 was far below last month's 2.360 and below the six auction-average of 2.292. But it was the internals that were ugliest of all, with Indirects taking down just 59.0%, a collapse from last month's 70.55% and far bleow the recent average of 64.3%. One has to go back to November 2019 to find a lower Indirect takedown. And with Directs also sliding to just 15.8%, the lowest since October 2020, Dealers were left holding on to 25.23%, the most since August 2020."
1:24 pm
SPX is in the process of a complex decline that still has the probability of a retracement as high as 4700.00.  However, the option gamma turns negative beneath 4650.00.  Should that level hold, we may still see a retracement.  However, beneath 4650.00 all bets are off…
…VIX is still beneath resistance at 18.71.  This is a cautionary note to look for confirmation before getting whipsawed.
8:52 am
The GSCI Ag Index resumed its ascent from the mid-Cycle support at 425.29 yesterday.  Trending strength comes back this weekend and early next week.  This could be a big move.  Remember, the current Master Cycle lasts until mid-December.
EpochTimes reports, "With investors closely eyeing two major data releases this week on inflation—one on producer input costs and the other on consumer prices—Wells Fargo analysts say it's unlikely sticker-shock-weary consumers will see relief as the persistent supply-side crunch will "keep fanning the flames on inflation in the near term."
On Tuesday, the Labor Department will release data for October's producer price index (PPI), which tends to front-run consumer inflation data as at least some production costs get passed on to consumers. Economists expect a year-over-year rise of 8.7 percent in the PPI inflation measure, which would be the highest reading in the history of the series. Last month's PPI came in at 8.6 percent, a record high."
8:42 am
SPX completed a declining impulse through the short-term trendline.  It is likely that it may rebound toward 4700.00 before resumig its decline.  This is the place to layer in some aggressive short positions, getting the best positioning you can.  The average investor is not concerned, yet.  He has seen this before and the market "has always gone back up."  There is still a (diminishing) chance of a higher high, but   TNX has just broken above its final resistance at 14.85.
8:10 am
Good Morning!
SPX futures appear to be challenging the one-month trendline at 4675.00 by declining to 4664.60 this morning.  Since then it has bounced back to the trendline.  In today's expiring options, the Max Pain (the least payout to options holders) remains at 4675.00.  While attempting to regulate the options payout, dealers and hedge funds may be inadvertently breaking down beneath an important technical support.  Today is day 251 of the Master Cycle.  Should a breakdown not occur in the cash market, the Cycles may allow a new all-time high later this week.
ZeroHedge reports, "For the third day in a row, early weakness in futures – in this case as a result of China's soaring, record producer price inflation – reversed and spoos rose from session lows but were still down on the session as traders awaited inflation data due later on Wednesday. Treasury yields climbed and the dollar and cryptos rose. At 7:45 a.m. ET, Dow e-minis were down 47 points, or 0.12%, S&P 500 e-minis were down 10.25 points, or 0.22%, and Nasdaq 100 e-minis were down 68 points, or 0.42%.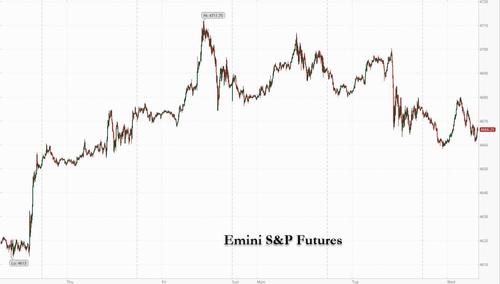 VIX futures remained range-bound beneath its triple resistance at 18.73 this morning.  It is customary for a retracement to occur after the first impulsive wave from the bottom.  the 61.8% retracement may be as low as 16.20.  For those interested in going long the VIX (options and ETFs), this may present an opportunity to buy the dip.
ZeroHedge comments, "Having previously correctly called the current market meltup not once but twice (a torrid rally which finally took a breather today after matching the longest strecth of all time highs since 1997)…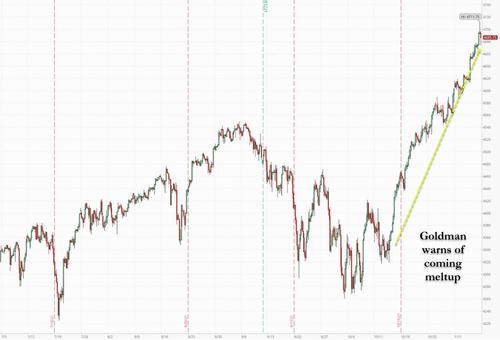 … only to follow up with some shocked commentary as to the relentless meltup observed in this market over the weekend, on Monday Goldman trader Matt Fleury followed up with some even more hyperbolic (and floral) commentary, writing in a note that "traditional investing rules are being thrown out (NVDA; ~$750bn company going up 12% in a day, TSLA adding $350bn of mkt cap in a couple of weeks, BBBY going up 65% after hours on earnings, CAR 29 sigma move in a day)."
Pointing out the obvious, Fluery cautions that "this is a very difficult tape for market neutral strategies" and he expects that to continue. Meanwhile, right tails – i.e., meltup hedges – are far too cheap."
TNX has risen above the 50-day Moving Average, but appears to be stopped at the mid-Cycle resistance at 14.85.  Confirmation of a buy signal awaits above the mid-Cycle line.  Today is day 258 of the current (or past) Master Cycle, suggesting yesterday's low may be the bottom of the Cycle.  The gap between the CPI and the 10-year yield is widening dramatically.  Something has got to give.
ZeroHedge observes, "Following yesterday's US PPI print at record highs, overnight we saw Chinese producer prices rising at their fastest pace in 26 years, and this morning's US consumer price data was expected to show yet another non-transitory surge in inflation… but the actual surge was far bigger than expected.
US Consumer prices soared 6.2% YoY in October, way higher than the +5.9% YoY expected and accelerating from September's 5.4% YoY – that is the highest since June 1982…"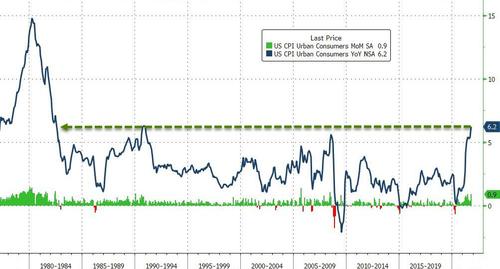 USD futures rose to 94.43 this morning beginning a new Master Cycle after bottoming on day 257.   This rally has a distance to go.  For example, a 61.8% retracement of the decline from the March 2020 high at 103.96 would be 98.30.
Crude oil futures are consolidating above the Cycle Top support at 82.79 as it gathers strength for its final probe to 90.00 or higher by the November options expiration.  The calls for $100.00 oil may be premature as the liquidity system may be breaking down.
OiPrice.com maintains, "
OPEC+ will be very happy with where oil prices currently are and is unlikely to change its course anytime soon
The U.S. does have the ability to increase production, but U.S. shale does not have support from either the government or shareholders to boost production significantly
The two bearish variables that could drag prices down in the near term are a strong dollar and the continuation of inventory builds"