1:13 pm
VIX is challenging its 50-day Moving Average at 18.46.  However, there is a triple resistance in very close range (18.74) that must be overcome to confirm the buy signal.   A breakout here would be nice, but there is usually a pullback from which a successful attack on resistance may be launched.  We are very close, but a pullback to 16.00 may be warranted.
1:00 pm
SPX is testing the trendline, currently at 4670.00.  Unfortunately, the structure may allow a probe higher, should the trendline not be broken.   Be aware that the decline in TNX may be a tool to push stocks higher as a last ditch effort to keep the markets liquid.  Remember, this is day 250 in the Master Cycle.  There may yet be some life in this rally.
ZeroHedge observes, "Until this morning's little interruption, markets over the past week are evidencing a scramble for upside (created by single-name "Growth" stocks i.e. TSLA), as the persistent "wall of worry" of the past 1.5 yrs is again being hurdled and leading us to fresh Index all-time-highs.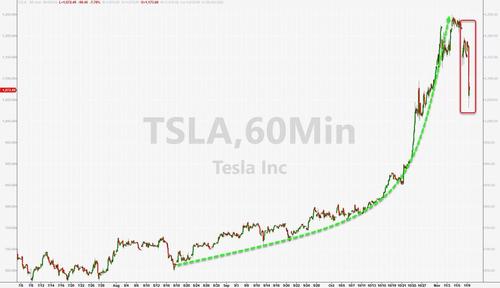 As many freshly-minted stock trading gurus look on speechless as TSLA craters (finally) – which , rhymes a bit with last August's broad Retail "gamma squeeze / Nasdaq Whale" phenomenon into the September "Delta unwind" crash thereafter (as "Gamma cuts both ways") – Nomura's Charlie McElligott has some thoughts on the current risk environment…"
12:54 pm
TNX has nearly gone the limit by mid-day.  Be prepared for a reversal.  Today is 257 of the Master Cycle, so the reversal may happen momentarily.
1:15 pm
ZeroHedge may have pointed out the turn, "With 10Y yields sliding all day, and painfully squeezing near-record duration shorts, as the market aggressively prices in the Fed's upcoming policy error, today's 10Y auction provided a brief respite for duration bears as the sale of $39BN in ten year paper was plain and simple ugly.
One day after a solid 3Y auction, the high yield on today's benchmark auction stopped at 1.444%, well below October's 1.584%, however it also tailed the When Issued by 1.2bps, which was the first tail since April.
The bid to cover was also ugly, dropping from 2.58 in October to 2.35, the worst print of 2021 (the lowest since Dec 2020), and well below th six-auction average of 2.54.
The internals, like yesterday, were a bit better with Indirects taking 71.0%, virtually unchanged from yesterday's 71.1%, and with Directs taking down 13.8%, the lowest since August, Dealers were left holding 15.2%, or the most since July."
8:00 am
Good Morning!
SPX closed again above the Cycle Top support at 4696.24.  However, the SPX futures appear to be challenging that support with a decline to 4687.60.   There is a minute trendline (shown in the 2-hour chart) under the last three weeks of rally ay 4675.00.   Should that trendline be crossed, the outcome may be a swift decline to the October 4 low.  That would be our aggressive sell signal, sinve the decline may be likely to also cross the larger, one year trendline.
Tomorrow's options expiration are positive down to 4680.00, verifying the short-term trendline.  Friday's options expiration is also positive at 4680.00 with 26,709 net call contracts at 4700.00.  Today is day 250 of the Master Cycle, leaving us in the reversal window.
ZeroHedge reports, "For the second session in a row, S&P 500 futures reversed earlier losses and traded flat after falling as much as 0.3% earlier in the run-up to today's PPI report – the first of a couple of readings on inflation this week – as investors weighed the Federal Reserve's warning that stock prices are "vulnerable to significant declines should investor risk sentiment deteriorate, progress on containing the virus disappoint, or the economic recovery stall." US Treasury yields fell and the dollar index slipped for a third consecutive day following a late Monday report that Joe Biden interviewed uber-dove and Hillary Clinton fan Lael Brainard for the central bank's top job, although prediction markets were not impressed. European stocks advanced for a ninth day, the longest streak since June while Asian shares drifted."
VIX futures remained range-bound after a positive day yesterday.  The Cycles Model suggests growing strength with a possible "slingshot move" over the next 8 days.
RealInvestmentAdvice counsels, "As investors rush to pile into the stock market, there are 5-signs they may be getting too bullish. Such was a point we touched on in this past weekend's newsletter:
"Every week it feels like we get a new headline about financial markets doing something unusual. Just this week we've had:"
A "squid game" crypto token falling 99.99% in a few minutes.
Tesla adding hundreds of billions of dollars in value over a deal with Hertz that hasn't even been signed.
US stock markets hitting fresh all-time-highs.
"All of which begs the question: are we in a bubble?"
TNX is threatening Friday's low at 14.50 this morning.  The Cycles Model suggests it may go as low as the 100-day Moving Average at 14.00.  Today is day 257 of the Master Cycle, suggesting the low may come in within the next two days.  Stay on the alert, as the reversal may be sudden and strong.
9:08 am
ZeroHedge reports, "US Treasury yields are tumbling across the curve this morning (despite a record high PPI print) with the long-end outperforming (30Y -6bps, 2Y -2.5bps)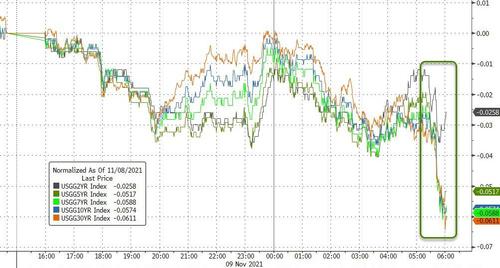 ZeroHedge reported yesterday, "Unlike recent fireworks in the 2Y repo market which, pushed the note super special as traders scrambled to obtain physical cash against which they could deliver their shorts, and which led to an absolute blockbuster 2Y auction if for all the wrong reasons (as traders rush to cover their shorts into the auction) there was no such repeat action into today's $56 billion sale of 3Y paper, and as a result today's auction represented a far more accurate representation of demand on the short-end.
Here's what we got: the 3Y auction priced at a high yield of 0.75%, the highest since Feb 2020, more than 10bps above the 0.635% last month and a 1 basis point tail, the biggest since April 2020.
The Bid to Cover was also disappointing, sliding from 2.356 last month to just 2.326, the lowest since April and well below the 2.441 six-auction average.
USD futures made an overnight low of 93.87, testing Intermediate-term support at 93.81.  However, it may go lower.  Today is also day 257 in the Master Cycle, which suggests the coming reversal in Treasury yields may also have the same affect on the USD.