1:30 pm
SPX has reached its target (Max Pain) allowing a minimum payout by the dealers and hedge funds.  By 3:00 pm, it will have completed a half-Trading Cycle  of 30.1 market days and 43 calendar days from the all-time high.  Intermediate Wave (C) is next.
Here is a description of a Wave (C):  Prices move impulsively lower in five waves. Volume picks up, and by the third leg of wave C, almost everyone realizes that a bear market is firmly entrenched. Wave C is typically at least as large as wave A and often extends to 1.618 times wave A or beyond
ZeroHedge warns, "Inverse panic
Here we go again, people selling protection in panic. VIX is down, but the big puke is to be seen in V2X (Eurostoxx 50 "VIX").
It is now trading below VIX…something not seen in ages.
Our take from yesterday is playing out well:
"As we mentioned earlier, the ideal set up would be another mini rip higher, vols come down further and open up for some attractive hedging/speculation trades."
The rip has occurred and protection has been puked. Don't forget; "buy protection when you can, not when you must".
Time to start executing…"
7:40 am
Good Morning!
SPX futures have surpassed the 61.8% retracement level at 4391.65 in an effort to rise into  the Max Pain level a 4430.00.  That indicates the possibility of a new corrective high, since it may retest the 50-day Moving Average at 4434.11.  Options gamma turns bullish at 4450.00, so this may be a strong spike, but not a runaway market.  Options are increasingly bearish and accident prone, thus it is seeking a higher level just to keep from a forced selling scenario.  A marginal new high today may leave 8.6 days for a potential panic decline immediately following the high.  If the hourly count is correct, we may see a turn at or before the final hour of the day.
ZeroHedge reports, "US equity futures, already sharply higher overnight, jumped this morning as a risk-on mood inspired by stellar bank earnings, overshadowed concern that supply snarls. a China property crunch, a tapering Fed and stagflation will weigh on the global recovery. Nasdaq futures jumped 1%, just ahead of the S&P 500 which was up 0.9%. 10-year Treasury yields ticked lower to about 1.5%, and with the dollar lower as well, oil jumped. Bitcoin and the broader crypto space continued to rise."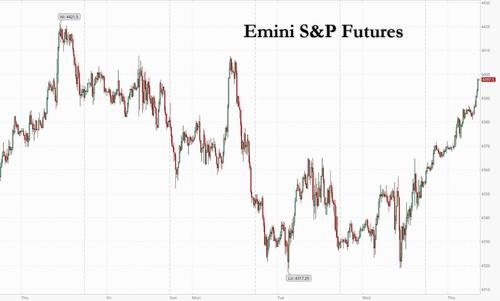 VIX futures made a new low of 17.56, changing the structure of the decline to complete a Wave 2 correction.  This is not the terminus of the Master Cycle.  The Cycles Model hold out October 26-27 as a potential Master Cycle high.
Yesterday's performance by the NYSE Hi-Lo Index was surprisingly weak, considering itg gains at the end of the day.  however, there is likely to be a spike in the Hi-Lo today (a potential Master Cycle high).  That appears to lead to a mid-December low for the next Master Cycle.
TNX slumped this morning after yesterday's sharp reversal.  We may yet see a decline to underlying supports before strength swows up again next week.
ZeroHedge reports, "After CPI's "transitory"-narrative-busting rebound, analysts expected Producer Prices to accelerate even further into record territory and it did – jumping 0.5% MoM to a new record 8.6% YoY. Bothe prints were modestly below the expected levels (+0.6% MoM and +8.7% YoY respectively)…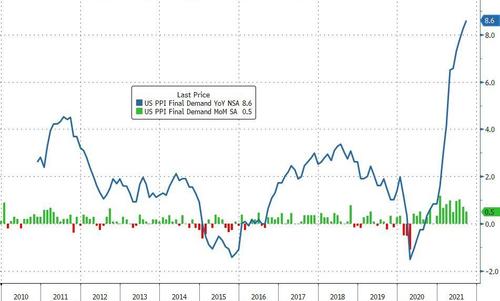 Source: Bloomberg
Core PPI also rose but less than expected. However, on a year over year basis, it was still a series high…"
USD futures fell to 93.76 this morning as corrective forces take over.  This may be a bumpy decline, but the Cycles Model suggests a low in the second week of November.