2:11 pm
SPX spent precisely 8.6 hours in this retracement which fell short of the 50% Fibonacci level at 4371.34.  It is also 8.6 days from the Wave (B) high.  While it may go higher, it has relieved the oversold condition.  Now it has become short-term overbought.  In all liklihood, stocks are entering their second phase of the decline which may substantially increase in severity.
ZeroHedge remarks, "Wondering why equity markets are melting up like yesterday's fears never happened. Nomura's Charlie McElligott has some ideas.
This morning's ramp has lifted The Dow, S&P, and Russell 2000 into the green for the week (erasing yesterday's losses) and Nasdaq is also soaring…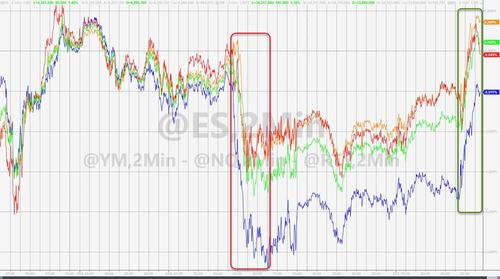 All the majors are hovering at or near key technical levels (S&P at 100DMA, RTY at 50DMA, and NQ at 100DMA)…all of which raise the question of whether stonks can extend from here or have run out of ammo."
10:40 am
SPX made a near-perfect 78.6% retracement of yesterday's decline at 4350.00 while the NDX made a 55% retracement.  SPX has completed 21.5 market days of decline at yesterday's low.    That's three weeks of the Fed and Dealer banks wrestling with this decline.  The question is, how many more days of decline are there left?  The answer lies in several possibilities:
 There may only be 8.6 market days left, but that leaves us ending the decline on October 15.  Not a possibility due to options expiration on that day.
  The next possibility may be 12.9 days from yesterday, October 21st.  That appears to be a very strong VIX day, but not the end (peak) of its Master Cycle.
The final possibility is 17.2 market days, on October 27-28, which brings us to the end of the VIX Master Cycle and day 271 of the SPX master Cycle.
Which will it be?
ZeroHedge reports, "Despite the soaring rates picture this morning (which has supposedly been pressuring growthy stocks), tech is powering higher along with all major US equity indices. The ramp has so far lifted The Dow and Russell 2000 into the green from Friday's close…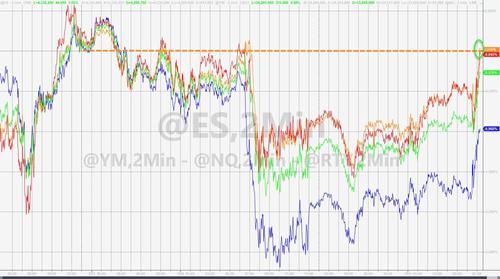 The S&P's surge has lifted it back to its 100DMA…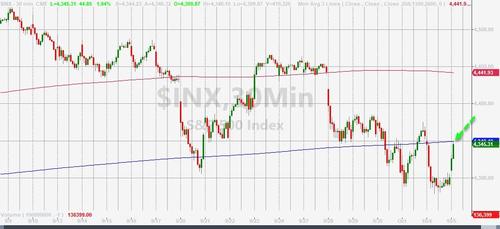 7:45 am
Good Morning!
SPX futures are testing a short-term overhead resistance at 4320.00.  In the meantime, the lip of the Cup with Handle at 4305.00 is providing nominal support.  Tomorrow's options expiration shows a net 3,322 open interest contracts in puts at 4300.00 with strikes beneath it cumulatively rising.  Thus it consolidates in the Max Pain zone between 4300.00 and 4325.00.  Tomorrow is the 17th day from the beginning of the eruptions at La Palma.  The lava flows are increasing and evidence from earthquakes show a larger supply of lava may be rising from the depths.  This could be the volcano from hell.
ZeroHedge reports, "US equity futures and European markets rebounded from a tech rout on Monday that was triggered by fears of soaring energy costs, stagflation, tech overvaluation and escalating Chinese property distress even as Asian shares tracked Monday's broad Wall Street sell-off to weaken for a third straight session. The dollar rose and yields rebounded back ato 1.50% as the rise in oil continued, pushing Brent above $82/bbl. At of 7:15am ET, S&P futures were up 16.25 points, or 0.38%, to 4,307; Dow futs were up 116 points and Nasdaq futures rose 47.25 points as technology shares bounced in Europe. Bitcoin jumped above $50,000 for the first time since Sept 7.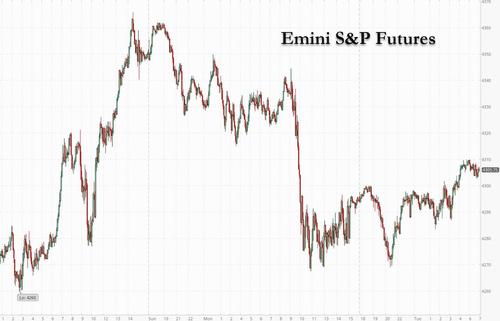 The "market correction, initially sparked by tapering expectations and China's property sector worries, is now being driven by record energy prices as well as lingering political uncertainties in the U.S. about the crucial question of the debt ceiling," said Pierre Veyret, a technical analyst at ActivTrades. "Markets are likely to stay volatile this week and with no clear direction until there is significant progress on the existing concerns."
VIX futures have been also consolidating with a low of 22.04 this morning.  The Cycles Model shows today being a particularly strong trending day for the VIX.  The implications are that the posssibility of a breakout above the neckline may be strong.  The Model also shows the current Master Cycle extending to the last week of October, while the SPX Master Cycle shows a possible ending on the 15th.  That being a heavy options expiration day, it suggests that the decline in the SPX may extend yet another week and could even match up (inversely) with the VIX at the end of the month.
TNX futures are consolidateing very near 15.00 after having breached it again this morning.  The Cycles Model shows a surge in trending strength tomorrow, suggesting a breakout above the 15.47 high.  It also indicates a potential Master Cycle high during options week.  The range for this Master Cycle high may be from 16.00 to the Cycle Top at 17.94.
USD futures are also consolidating under its Master Cycle peak on September 30.  There may be another week of weakness, where it corrects down to the 50-day Moving Average at 92.88 before resuming its rally.
Crude oil futures continue their inexorable march higher as it breaks above its June high.  The Cycles Model suggests the rally may continue through Thanksgiving week and possibly into early December.  The Elliot Wave Model projects a high near 100.00 by that time.
Rising oil prices and rising interest rates may deliver a double whammy to the markets by the end of the year.