3:00 pm
With a new all-time high in the making, it's time to reassess the Cycles.  The last Master Cycle bottomed on July 19 (day 252).  Today is day 250 of the current Master Cycle.  The amazing thing is that 17 months from the 2020 low will have elapsed on day 257, next Monday.
I have been invited to spend a couple days with one of my sons, so I may not return until Thursday.
7:30 am
Good Morning!
SPX futures challenged the August trading channel trendline at 4450.00 this morning, declining to 4446.80.  This puts us on the alert for an aggressive sell signal with further chart confirmation at Short-term support at 4425.00.  Ultimately, the uptrend isn't broken until the SPX declines beneath the two-month trendline at 4300.00.  However, the VIX and Hi-Lo Indx may give us an earlier confirmationof the decline.
Today's options exiration in the SPX is at Max Pain at 4455.00 where there are 1933 net open interest favoring puts contracts.  The dealers will start feeling pain at 4435.00 where they will need to gamma hedge by shorting the SPX.
ZeroHedge reports, "US equity index futures fell and the dollar rose after the latest Chinese data missed expectations and confirmed a sharp slowdown in the 2nd largest economy, while the spread of the coronavirus delta variant sparked worries the global economic rebound is faltering. Investors also awaited a town hall by Federal Reserve chair Jerome Powell on Tuesday for clues on policy following a report from the WSJ that the Fed was weighing ending taper by mid-2022. As of 730am S&P eminis were down 12.50 or 0.28% to 4,450 after hitting an all time high on Friday; Dow Jones futures were down 101 points or 0.28% and Nasdaq futures were 42.75 lower. Commodities declined after Chinese retail sales and industrial output data showed activity slowed. Alibaba slid in premarket trading again after China's state media criticized the online-game industry."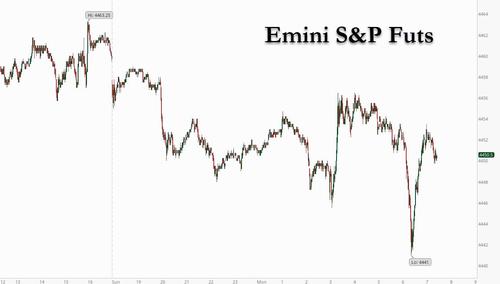 VIX futures challenged the 50-day Moving Average at 17.20 by rising to 17.54 in the morning session.  This puts us on high alert for a buy signal in today's cash market session.  Friday was day 259 in the VIX Master Cycle, which may be labelled "on time" for the low  The new uptrend may last until late October.
USD futures have risen off Intermediate-term support at 92.52 this morning.  It may very quickly show signs of strength as the day goes on, building up during the entire week.
TNX declined beneath Intemediate-term support at 13.05.  It may find support at the 61.8 Fibonacci retracement at 12.25.  The Master Cycle shows rally strength returning after options expiration on Friday.  Apparently some big investors are long in treasuries.