7:45 am
Good Morning!
SPX appears to have completed Wave iii of (c) in Wave [v] of 5.  You may be viewing 8 of the 9 degrees of trend and the 9th may be on its way.    I am still anticipating a rally to or near the Cycle Top at 4460.83.  SPX futures are down this morning in a corrective position, but ready to make the final probe to the Cycle Top resistance.
Today is the 21.5 year anniversary of the top of the market made on March 23, 2000.  So, should today or tomorrow bring in the high, it may be an exact replica of the SPX double top made in 2000.
ZeroHedge reports, "S&P futures fell (although Nasdaq futs rose) and commodities – especially gold and oil – tumbled as investors fretted over concerns about stimulus tapering and a resurgence in the fast-spreading delta virus variant. Yields dropped tumbled and the dollar steadied. S&P 500 E-minis were down 6.25 points, or 0.14%, Dow E-minis were down 112  points, or 0.32%, while Nasdaq 100 E-minis were up 22.5 points, or 0.15%.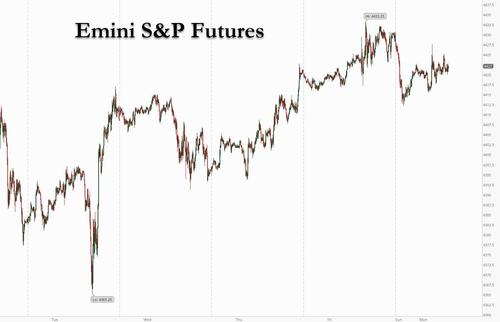 S&P 500 contracts dropped after the underlying index closed at a record on Friday.  Expectations that the Federal Reserve may soon start paring back its massive monetary stimulus were fanned by comments from Dallas Fed President Robert Kaplan. In U.S. premarket trading, cryptocurrency-exposed stocks such as Bit Digital (BTBT) and Riot Blockchain (RIOT) soared after Bitcoin and Ether prices spiked over the weekend. Future Fintech (FTFT) also jumped 15% after the blockchain e-commerce company was touted on Reddit and StockTwits. Other cryptocurrency-exposed stocks.
VIX futures rallied to 17.37 before pulling back to the trendline.  It has made a "flat" correction, terminating near the bottom of Wave (a) of 2 at 16.33, as suggested last week.  VIX may be back in the uptrend now.  The Cycles Model suggests tha VIX may continue rising through late October.  This may be a powerful rally.
NDX futures continue to be "anchored near the 15000.00 level.  However, its mainstay, the Shanghai Composite Index, rallied this morning, giving the NDX a potential boost to its final high near the Cycle Top resistance at 15314.52.
USD futures may be consolidating with a small pullback to 92.73.  There appears to be a growing pattern of strength over the next two weeks leading to a breakout.  The knock-on rally may last through late September.
TNX appears to be in correction mode for the time being.  However, the rally may continue through mid-September after a brief pullback.  The minimal target appears to be 19.71, but it may go to 20.00 in a strong push.