1:03 pm
This market may get crazy here.  The venue is bifurcating with the primary outlook is a rally to the Cycle Top at 4457.76 as the primary target.  (NDX has made a new all-time high today.  The DJIA has not.)  But at day 269, we are running out of time.  A lesser, but growing outlook may be a potential failure at this level.  Short-term support has risen to 4389.96.  Net open interest in calls is is 3994 at 4400.00, but drops off a cliff beneath that level.  Net open interest in puts is at 4571 at 4375.00.  A slip hare may cause the dealers to shift to the short side in a real hurry.
ZeroHedge remarks, "Earlier today we discussed the "incredible anchor" that has emerged around the 4,400 level in spoos and as more traders inquire what is behind this strange attractor, Nomura's Charlie McElligott has followed up on this writing that the 4,400 strike continues to choke markets and dealers on "long gamma" at the money with $7.1B accumulated there (although in a sign that market will likely keep grinding higher, 4450  $5.7BN has been built up at 4,450 and another $4.6BN at 4500 and growing)…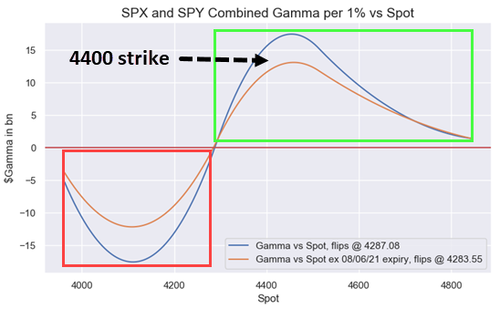 … and as McElligott notes, "we simply cannot break the tractor-beam, as the "strangle seller" laughs his way to the bank…for now"… but in an ominous observations, the Nomura strategist notes that the US equity vol complex remains to "incoherent" or even "broken," as SPX realized remains cratered (10 day @ 9.2), versus implied vols staying really firm / effectively the entire VIX futs strip ref mid- / low- 20s."
12:53 pm
TNX is about to make its final plunge to 11.24 where Wave (v) equals Wave (i) of Wave 5 of (C).  This may happen in the next day or so.  Stay alert.  TNX may be jammed lower to boost the SPX.  Investors are beginning to think this is a new trend.  The reversal may be dramatic.
ZeroHedge observes, "Back in June, when the S&P was still trading in the mid 4200's, Goldman's chief equity strategist David Kostin published a cautionary note asking "what if we are wrong" in his assumptions, which was meant to provide cover in case stocks tumbled and/or rates spiked but which also had a prudent outlier loophole in case the meltup in markets accelerated and took out the bank's year-end price target 4300. Specifically, falling back on the old faithful Fed model, Kostin – who was expecting yields to rise to 1.9% by year end, said that if – all else equal – interest rates remain roughly flat at around 1.3% (or lower) through the end of this year, "Goldman's S&P 500 dividend discount model (DDM) would suggest a fair value of 4700, or 9% above the bank's current baseline price target of 4300."
7:46 am
Good Morning!
SPX futures rose to 4416.30 earlier this morning after closing at the MAX PAIN level of 4400.00 for options yesterday (day 268).  The Max Pain level dropped to 4395.00, but there are 9100 net calls at 4450.00 and 4571 net put contracts at 4375.00 for Friday's expiration.  You can see that Short-term support lies at 4379.37 where our aggressive sell signal starts.  The Wave structure allows another probe higher, possibly as high as the Cycle Top resistance at 4459.34.  Note that resistance is beginning to decline.  The Cycles Model implies a Master Cycle low the week after August monthly options expiration.
ZeroHedge reports, "U.S. stock index futures rose on Thursday ahead of data expected to show fewer Americans filed for unemployment benefits, while investors looked to another busy day of corporate earnings reports. European stocks hit another all time high despite paring earlier gains on mixed corporate results. At 7:30 a.m. ET, Dow e-minis were up 94 points, or 0.13%, S&P 500 e-minis were up 10.25 points, or 0.23%, and Nasdaq 100 e-minis were up 30 points, or 0.20%. The Treasury 10-year yield eased back to 1.17% and the dollar slipped against a basket of major peers."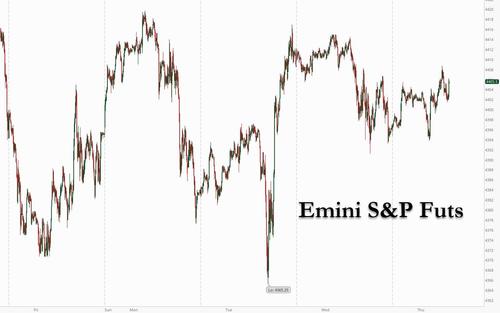 The Shanghai Composite Index made a final probe to 3486.16, touching the Head & Shoulders neckline at 3486.00 before closing in the red this morning.   Mid-Cycle support/resistance is at 3483.62,, confirming the sell signal beneath it.  The Cycles Model infers a probable Master Cyclelow in mid-August.
NDX futures are rising above 15000.00 this morning with a probable challenge of the prior high.  Minor Wave C may top out as high as 15381.00 in a final momentum burst that may bring in the last dollars to the bull rally.
VIX futures are testing the lower trendline by declining to 17.43 this morning touching the 50-day Moving Average.  Critical support lies near 17.10.
The NYSE Hi-Lo Index closed at 122.00 yesterday, enough to keep the market rising for now.
TNX has risen from a possible Master Cycle low yesterday at 11.29 on day 257.  However, there is the possibility of going lower in the next two days that cannot be ignored.
USD futuresChallenged Intermediate-term resistance at 92.33, then pulled back.  It appears that the Master Cycle low was put in last Friday and a new Cycle may be  emerging.