3:45 pm
TNX remains fixed at the 100-day Moving Average during a 20-year auction which just closed at 1:00 pm.  This comes in the category of, "What were they thinking?"
ZeroHedge reports, "Coming several days after the trifecta of benchmark auctions when both the 10Y and 30Y auctions demonstrated solid demand despite a blistering hot CPI print, moments ago the Treasury sold another $24BN in 20Y paper in the form of a 19Y-11M reopening of Cusip SY5 which, too, was greeted with stellar demand.
The high yield of 2.12% was not only far below last month's 2.286% but was also the lowest since February's sub-2% auction; it also stopped 1.7bps through the When Issued, the biggest stop through since March's 2.0bps.
The bid to cover of 2.40 was also a solid improvement to the 2.24 in May and the 2.33 6-auction average, while the internals were perhaps the most impressive, with Indirects taking down 62.1%, the highest since October and far above the 58.0% recent average, and with Directs taking down 20.4%, or the most since the 20Y auction restarted in May, Dealers were left with just 17.5%, the lowest Dealers takedown on record."
3:33 pm
The GSCI Ag Index may have extended its Master Cycle low to day 270 today.  What seems to have caused this plunge just beneath the Head & Shoulders neckline was a weather report suggesting cooler weather ahead.  However the drought still lingers and worldwide shortages of grain and soybeans are growing.  It just goes to show you this is a global market…and that weather reports may live up to their reputations of unreliability.
ZeroHedge reports, "Corn and soybean futures started the week off on the wrong foot after weather forecasts improved crop conditions in the Midwest, including cooler temperatures and the possibility for rain later this week, according to Refinitiv's commodity desk.
On Monday, it was a slaughterhouse for corn and soybean futures, Chicago Board of Trade (CBOT) July corn futures settled down 3.7% at $6.59-1/4 per bushel, and CBOT July soybeans were down 2.4%, at $14.72-1/4 a bushel. By Tuesday morning, corn futures are lower by half a percent, and soybeans are up by half a percent. "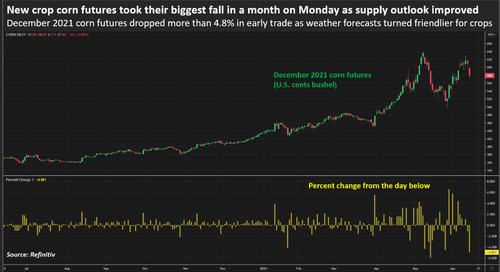 7:20 am
Good Morning!
SPX futures made a fresh new all-time high at 4258.12 this morning.  It may be targeting the Cycle Top resistance at 4269.69 before reversing.  You will notice that all of the gain made yesterday was in the final half hour, which suggests retail investors (mutual funds) are still participating, although institutional investors appear to have been selling most of the day.
ZeroHedge observes, "Last week, when discussing the bizarre summer doldrums in the market which pushed the VIX to the lowest level since the onset of the covid pandemic, we said that this period of abnormal market quiet is likely to last until this Friday' quad-witch, when a massive amount of gamma and delta expire and are de-risked, in the process eliminating one of the natural downside stock buffers (see "4 Reasons Why The Market Doldrums End With Next Friday's Op-Ex").
So picking up on the topic of Friday' potentially market-moving opex, Goldman' in-house derivatives expert, Rocky Fishman, previews June's upcoming expiration which he dubs as "large – comparable to a typical quarterly." Specifically, there are $1.8 trillion of SPX options expiring on Friday, in addition to $240 billion of SPY options and $200 billion of options on SPX and SPX E-mini futures."
NDX futures rallied to the Cycle Top resistance at 14154.46 in the overnight market.  This may represent the final push to the top before the reversal.
ZeroHedge reports, "World stocks and S&P futures hit another record high on Tuesday, with European stocks poised for their longest record streak since 1999 as investors bet likely "transitory" inflation pressures will stay the U.S. Federal Reserve's hand from signalling a shift in policy settings. After a powerful ramp in the last 30 minutes of Monday trading, pushing them to new all time highs, S&P 500 futures pared an early gain and were up 0.1% last at 4,250 while as European equities were led higher by chemical firms, despite a sharp drop for European miners after copper touched the lowest level in seven weeks over concerns over U.S. monetary tightening and a pull-back in Chinese demand. The 10-year Treasury yield pulled back under 1.5%, nd the dollar was steady and bitcoin traded just over $40,000."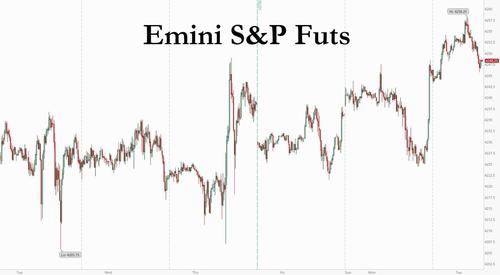 VIX futures remained steady in the overnight session.  I am showing the weekly chart to illustrate that VIX has incrementally moved higher from its all-time low in November 2017.  From this perspective one can easily ascertain that Primary Wave [3] should rise above 100.00.  The preliminary target date for this accomplishment appears to be in mid-October.
TNX appears to be hovering just beneath the 100-day Moving Average at 15.00.  A breakout above it may get the attention of investors who are short TNX (long UST).  The correctio to the Master Cycle low may have been put in on Friday, as the pattern is complete.
USD futures resumed their march to higher ground as they rose to 90.66 in the overnight session.  The change in direction may be noticed above the 50-day Moving Average at 90.84, as there is a very large short-USD position.