10:30 am
That resolved quickly.  VIX made a new Master Cycle low this morning at 15.04 and quickly reversed on a belated day 271 of its Master Cycle.  While SPX and NDX haven't made any sizeable moves yet, the VIX appears to be moving with strength out of its low.
8:00 am
Good Morning!
SPX futures remain elevated, but there is some evidence that Thursday's high may be the top.  The squiggles on the chart are almost too painful to count, since 34.4 days had elapsed from the previous high with only a 11.7 point gain.  Unfortunately, this week is FOMC week, so the indices may remain flat until Wednesday.
But the uncertainty of the Fed Taper may be an explosive (implosive?) factor in the current Master Cycle, which may decline over the next two weeks.
ZeroHedge reports, "S&P futures hit a record high on Monday in a muted session which saw several Asian countries on holiday (China, Hong Kong and Taiwan are enjoying an extended weekend for the Dragon Boat Festival) as focus shifted to the Federal Reserve's meeting this week, where the central bank is expected to maintain its accommodative stance on monetary policy although there is some debate whether the Fed will hint at tapering and/or hike its administered rates (IOER/RRP). At 730 a.m. ET, Dow e-minis were down 14 points, or 0.04%, S&P 500 e-minis were up 3 points, or 0.07%, to 4,239 and Nasdaq 100 e-minis were up 45 points, or 0.33%. 10Y yield rose as the rally in bonds lost steam while the dollar was flat, and the VIX traded below 16. Bitcoin traded near $40,000 after Musk tweeted over the weekend that Tesla had not sold more of the crypto."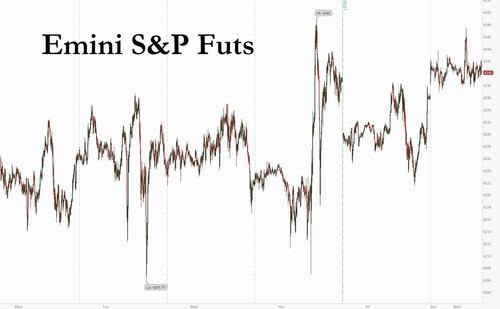 NDX futures are marginally higher, having made a high of 14043.25.  It is likely that a new high may be near the Cycle Top at 14145.61.  Today is day 248 in the current Master Cycle.  This week (options week) may be a good time for a Cycle high.
RealInvestmentAdvice notes, "Over the last couple of months, the Fed started its campaign to prepare markets for a "taper" of its asset purchases.
Michael Lebowitz noted that Jerome Powell repeatedly affirmed the Fed "isn't even thinking about thinking about tapering."
"As Chairman of the Fed, his opinions take precedence over those from other Fed members. Regardless, other Fed members are not entirely on the same page as Powell." – Lebowitz
As CNBC noted, the voices of other Fed members are becoming more prominent.
"Comments by Fed officials in the past several weeks suggest the issue of tapering looks likely to be discussed as soon as the Federal Open Markets Committee meeting next week. The Fed may be on track to begin asset reductions later this year or early next year."
VIX futures are higher this morning after having made a matching low to the previous low on June 8.  Remember, a Wave 2 may go to, but not exceed, the Wave 1 low.  It appears to be the case, which gives warning that fear levels may be rising.  This is especially explosive during options expiration.  In addition, the Cycles Model suggests rising strength this week  in the VIX.
TNX ix higher this morning after a potential Master Cycle low on Friday at day 255.  IT is too early to tell if that is indeed the low.  A rally above the 100-day Moving Average at 14.99 is a likely indicator that the low is in.
ZeroHedge comments, "Just one "Markets" topic today, but an important issue so it needs our full attention:
What if everyone is wrong about US inflation's impact on interest rates? I (Nick) have never seen a stronger consensus around a macroeconomic topic in my +30-year career in finance. Fed money printing plus fiscal stimulus/debt issuance plus economic reopening is supposed to equal high and likely lasting inflation. The 10-year Treasury will go to at least 2 percent and maybe 3 percent or higher. And you can't swing the proverbial dead cat without hitting even direr warnings …"
USD futures ae pulling back after a sizeable move on Friday.  It may be pulling back to Intermediate-term support at 90.33 before moving higher.  Should it break higher, there is a crowded short position that may be taken out this week.