8:00 am
Good Morning!
SPX futures have tumbled o a low of 4171.88, challenging both Short-term support and mid-Cycle support at 4173.28.  This is the next level from which an aggressive sell signal is given.  The signal is finally confirmed beneath 4150.00, where the lower Broadening Wedge trendline lies.  Gamma may be turning negative this morning, forcing the dealers and hedge funds to sell/short the SPX.
ZeroHedge reports, "Futures were already looking a shaky when they took a hit lower after news that Russia would cut the dollar from its sovereign wealth fund, shifting to euros, yuan and gold instead in an attempt to reduce exposure to U.S. assets amid threats of sanctions.  . They then slumped even more on the perfectly predictable news that AMC would offer 11.55mm shares in an At The Market offering, with the Emini sliding 0.6% to 4,175 after trading around 4,210 for much of the overnight session. Nasdaq futures were hit even harder, dropping 1% even though the broader risk-off mood did not help TSY yields which rose modestly, while the dollar barely dipped from its upward trajectory even as Bitcoin rose again, approaching $40,000.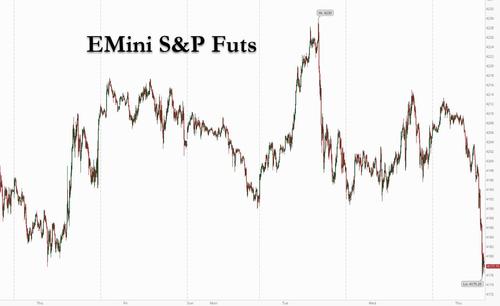 Despite the hit to AMC following news of the equity offering, the stock still remains green on the day after soaring 95% the previous day, and although we saw a tremendous meme stock rally, it is now fading fast."
NDX futures are down a whopping 142 points to 13517.50, testing the 50-day Moving Average at 13514.86 as I write.  It has given an aggressive sell signal by declining beneath its mid-Cycle support at 13645.70.  The signal is confirmed beneath the 50-day.
VIX futures rose to a high of 19.27, surpassing the 50-day Moving Average at 18.77 this morning.  There may be a retest of the 50-day before moving higher.  However, the urge to "buy protection" in the VIX may make a retest short-lived.
TNX is testing Intermediate-term resistance at 16.07 this morning with the 50-day Moving Average at 16.25.  Once above those levels, TNX may rise to 19.71, the next level of resistance.
USD futures rose to a n overnight high of 90.25 as it is poised for a potential breakout above Intermediate-term resistance at 90.55.  An aggressive buy signal is confirmed above that level.
ZeroHedge reports, "he number of Americans filing for first time jobless benefits fell to 385k last week – the lowest since the start of the government-policy-driven lockdowns last year (below 400k for the first time since March 2020)…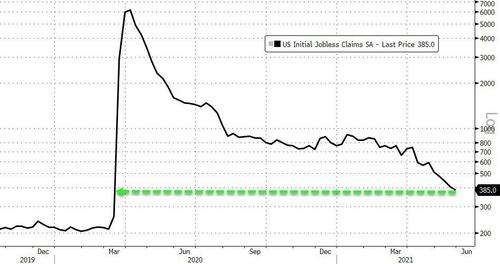 Source: Bloomberg
Pennsylvania, Illinois, and California saw the biggest jumps in initial claims while Texas, Florida, and Oregon saw the biggest drops…