3:53 pm
The trendline at 4140.00 is broken again.  The next target, but not the last, is the 50-day Moving Average at 4065.43.  The Broadening Wedge target may be the minimum for this decline.  This could be exciting…
I have mentioned several times that, despite the stock buybacks, the market is going nowhere due to selling by insiders and hedge funds.  The buybacks are their "golden parachute."
ZeroHedge remarks, "When the country's CEOs and billionaires start to head to the exits a little bit quicker than usual at the tail end of a 13 year bull market, it may be time to start paying attention.
That's what we found noteworthy about a recent Bloomberg piece, which noted that stock sales by some of the world's richest shareholders are "reaping a windfall", thanks to our current inflated equity markets, "to the tune of trillions".
Amazon.com's Jeff Bezos and Google co-founder Sergey Brin are just two of the well known names that have been offloading stock. They are joined by names like Mark Zuckerberg and Larry Ellison.
10:15 am
Gold futures just made a new retracement high and appears to be in reversal as well.  It appears poised to make a 12.9 day decline in an Intermediate Wave (3) to its Master Cycle low.   The Head & Shoulders formation appears to be in its path, with the attending consequences.   No one sees the reversal just yet.  All the commentary appears to be on the new highs.  See the USD chart and commentary at the bottom of the page.
10:00 am
WTIC futures made a new high this morning at 67.00, completing a Minor or Intermediate Wave 2 and finishing its Master Cycle on day 266.  It has room to make a 12.9 day decline into its Master Cycle low.  It is hardly being noticed, but the decline has the potential of being a barn burner, falling in line with the VIX, USD and TNX.  It appears that everything will move together.
7:15 am
Good Morning!
NDX futures made a modest new high at 13431.88 in the early morning hours before easing back down.  Today is day 258 of the NDX Master Cycle and it is nowhere near completion.  The hourly chart suggests tomorrow may give us the Master Cycle low with the blue chip indices in sync at 8.6 days from the peak (the NDX will have made 12.9 days) to the close.   That is a short, but not uncommon, decline to a Master Cycle low.  Should the NDX decline in a zigzag fashion to a new low (beneath 12800.00), I would call it the end of the current Master Cycle.  There is always the option of the decline extending further through options expiration, but that may depend on how this decline unfolds.
ZeroHedge reports, "Last week we noted that one of the clear trends to emerge as a result of the recent horrific price action in tech stocks, was the continued aggressive selling – and shorting – of tech stocks by hedge funds. The latest weekly report from Goldman's Prime Brokerage confirms this.
Starting at the macro level, Goldman Prime writes that the GS Prime book "was net sold for the first time in three weeks (-1.3 SDs), driven by short sales outpacing long buys 2.4 to 1. Single Names saw the largest net selling in two months, while Macro Products (Index and ETF combined) saw the largest net buying in seven weeks. Nearly all regions were net sold led by North America and EM Asia, while Europe was net bought for a 7th straight week and saw the largest $ net buying since Feb '18. 7 of 11 global sectors were net sold led by Info Tech, Consumer Disc, Financials, and Comm Svcs, while Health Care, Industrials, and Utilities were the most net bought."
As noted previously, however, the real action was in the tech sector, with GS Prime noting that "Info Tech was net sold for a 4th straight week and saw the largest $ net selling in more than 5 years, driven entirely by short sales."
SPX futures rose to an overnight high of 4179.30 before easing down beneath Short-term support at 4169.68.  The retracement exceeded the 61.8% Fib value of 4168.61, but also appears to have declined beneath it this morning.  The target for this decline is the trendline near 3925.00.  The trendline at 4146.00 needs to be broken to spark an acceleration of the decline.  SPX short gamma lies beneath 4150.00.
ZeroHedge reports, "US equity futures rose for the 3rd day in 4 and world stocks pushed higher on Tuesday while the dollar tumbled to three-month lows as  optimism that economic reopening will boost growth outweighed concern about a pick-up in virus cases in parts of Asia even if it leads to higher prices. Oil gained and 10Y yields dropped marginally.
At 7:30 a.m. ET, Dow e-minis were up 77 points, or 0.22%, S&P 500 e-minis were up 9 points, or 0.3%, and Nasdaq 100 e-minis were up 73 points, or 0.55%. Retailers Walmart and Macy's jumped in premarket trading after raising their full-year guidance, while Home Depot gained as its results beat estimates. Commodity and automotive shares boosted the Stoxx Europe 600 Index, while Asian equities also climbed."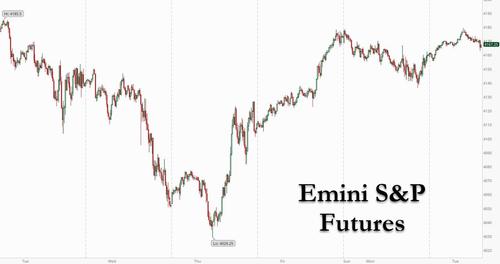 VIX futures visited a low of 18.88 before rising back to the flat line this morning.  The VIX Master Cycle doesn't terminate for two more weeks, which introduces the idea of an extended decline in stocks, should the VIX rise during that entire period.  While the Cycles Model is less clear for equities, the Model suggests something is afoot in the TNX, USD and VIX, all of which project new highs by the end of the month.  Follow the money.
USD futures made a new Master Cycle low this morning at 89.75 on day 259.  This may explain the hesitancy of stocks to decline.  Should that be the case, we may see the USD start ramping higher shortly.
ZeroHedge reports, "The USDollar index's recent acceleration lower has pushed it into the red for 2021, erasing the 3% surge seen in the first few months of the year…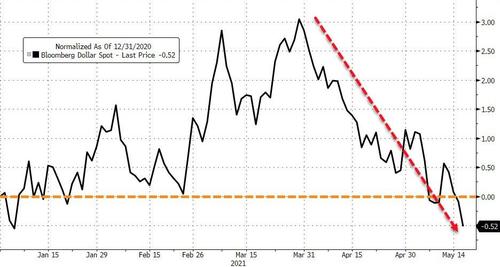 Source: Bloomberg
As Bloomberg notes, the recent weakness came after Fed officials reiterated (vehemently) on Monday that they see recent price pressures as transitory and intend to keep policy accommodative for some time to come. Meanwhile, investors are brushing off fears that the new Indian virus variant could threaten reopening drives in the U.K. and Europe, while a surge in raw materials from iron to oil and copper has buoyed commodity-linked currencies."
TNX appears to be "hugging" the 50-day Moving Average at 16.29.  The current Master Cycle appears to run until June 2 with increasing strength over the next two weeks.  A breakout may be a catalyst for the next decline in equities.