7:00 am
Good Morning!
NDX futures slipped back beneath the .382 Fibonacci retracement level at 13381.39 and the 50-day Moving Average at 13369.92 this morning.  All in all, this was a weak retracement for the NDX, despite Friday's algo-driven push higher.  The reason (IMO) why it stopped there is because most traders did not go short until the 50-day was broken.  At this point the majority of short-sellers have been hung out to dry.  That is why I have suggested aggressive short positions earlier, remaining above the fray of the short squeeze.
The EW pattern may be considered to be a Leading Diagonal formation that requires one more (zigzag) push down to the vicinity of 12700.00-12750.00.  That fits very well with the probability that the NDX has a potential Master Cycle low by Wednesday.   If so, be prepared for a monster rally on Thursday and Friday to bring the NDX  back above 13500.00 by Friday's close.  Wall Street may be determined not to pay the put players (shorts) for their impertinence.  Remember, this is all speculation until it happens, but patterns can be revealing of the possibilities that may happen.  Keep in mind that Wall Street does its best to pay the fewest players.
ZeroHedge drops this nugget, ""What are you thinking about markets here?" asked the entrepreneur, wedging the question into our conversation, but working hard to sound barely interested.
I laughed, unable to contain it. "Oh, so you really called to ask about bitcoin," I said, smelling his quiet panic.
"Well, you know, yeah basically, I mean what do think about all this stuff going on?" he asked, not wanting anything other than reassurance.
"You don't get to make a lot of money without enduring an even greater amount of pain – that's just the way the universe works," I explained, having a little fun while trying to be helpful. Don't get me wrong, I'm not someone who enjoys the suffering of others. It's just that I've endured so much of it myself that when I observe it in people who casually trade, thinking it's fairly easy, I find it funny they believe trading somehow defies natural law."
The NDX Hi-Lo Index ramped back into positive territory on Friday with 81 new 52-week highs by Friday afternoon.  That number was adjusted down to a more acceptable 39.00 after the close.  The reasons for this adjustment are several, including the possibility that the buying algos that kept the sellers at bay all day shut off at 4:00 pm, allowing some after-hours sellers to prevail.  In addition, the Hi-Lo Indexes are laggards and are seldom accurate during actual trading.  Finally, ETFs may add to the double count and may be pulled out of the final tally.
SPX futures broke back beneath Short-term support at 4172.21 and may be approaching the trendline and mid-Cycle support at 4141.21.  This puts the short gamma beneath 4150.00 temporarily back into play, causing the dealers and hedge fund to sell/go short.  Friday's rally was meant to nullify the effect of short gamma going into options expiration later this week.  However, should the decline continue, we may see a deeper short-term low late on Wednesday.  Be prepared to take short profits on Wednesday.
The May 7 peak occurred on day 247 of the Master Cycle.  Wednesday is day 259, a more likely place for a Master Cycle low.  The target for this low may be the trendline near 3900.00.  If so, be prepared for a barn burner of a rally going into options expiration.
ZeroHedge reports, "US equity futures and European stocks dipped in a quiet overnight session to start the week amid renewed concerns about rising inflation and a spike in Covid-19 cases in parts of the world. Gold briefly reached a three-month high, while oil and the dollar were little changed; 10Y TSY yields rose after dropping earlier in the session.
At 715am ET, Dow e-minis were down 125 points, or 0.36%, S&P 500 e-minis were down 17 points, or 0.39%, and Nasdaq 100 e-minis were down 46 points, or 0.34%, reversing much of Friday's rebound."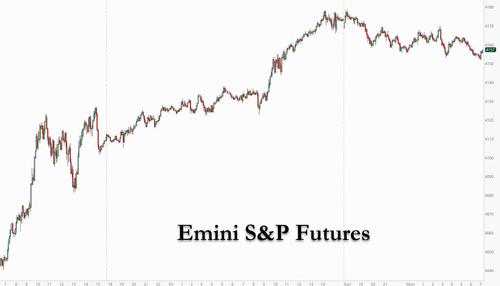 VIX futures are back above the 50-day Moving Average, reaching a high of 20.95.  The Cycles Model suggests extra strength in the VIX today and Tuesday while current options expire on Wednesday.  The VIX Master Cycle comes to a close at the end of May.  Currently there are mixed signals of what happens after options expiration.
TNX appears to be rising from the 50-day Moving Average at 16.24 in the next surge higher.  There appears to be a spike of strength that may drive it into a breakout above the March high by Thursday in the Cycles Model.  This fits with the probability of stocks selling off into the close on Wednesday.
USD futures made a low of 90.18 over the weekend but have begun to rally again.  This fits with the Master Cycle calling for a rally in the USD into early June.
Enough said for now.