1:15 pm
Certain dealers and hedge funds are using their past experience to predict a possible short squeeze imminently.  NDX has been battling at mid-Cycle resistance at 13560.00 this morning and its Wave structure may not be complete.  Two possible outcomes are:  1.  NDX loses the battle and plunges beneath the 50-day, which opens the gates to a panic decline, or 2.  NDX rallies to Short-term resistance at 13854.81.  The Cycles Model suggests option 1.  As mentioned this morning, it marked yesterday's high as a (mini) Cycle top.
ZeroHedge warns, "With the Nasdaq set for its biggest weekly drop since the end of February, when the infamous, catastrophic, "near-failed" 7Y auction sparked reflation fears and hammered tech stocks and duration in general…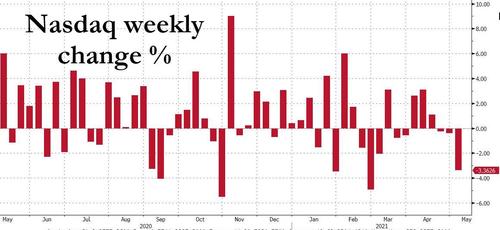 … it will not come as a surprise that "someone" has been puking tech stocks, especially after we reported on Tuesday that in the past 4 weeks BofA's hedge fund clients had sold a record amount of stocks."
7:20 am
Good Morning!
NDX futures made an overnight high at 13570.00, but eased back beneath the mid-Cycle support/resistance at 13549.00.  The aggressive sell turns confirmed beneath the 50-day or with confirmation from the VIX and NDX Hi-Lo Index.  NDX is in negative gamma territory and the further down it goes, the more pressure is on dealers and hedge funds to unload their FAAMGs.  Once beneath the 50-day Moving Average at 13348.20, the trap door opens to the netherworld.  Point 6 of the Orthodox Broadening Top is at 6503.00, a 54% decline.  (Update) Yesterday's close created the all-time high for the DJIA, which gives us a minimum of 8.6 days to May 18.   Most crashes took a minimum of 12,9 days, so we may be looking at Monday, May 24 as the Master Cycle low.
ZeroHedge comments, "Kids, you tried your best and failed miserably. The lesson is, never try.."
Forget fears of rising interest rates – the big threat is how the global economy will cope with supply chain bottlenecks and the coming commodities supercycle. These will create all kinds of friction. The West is particularly vulnerable to microchip supply instability – which could take years to resolve.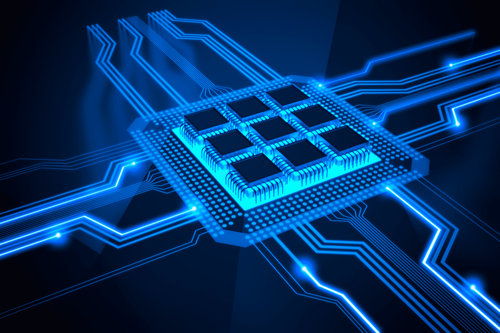 There is an enormous difference between savouring a "Eureka" experience when one gains a realisation of how the universe works, and a "D'oh" moment when something so blindly obvious finally becomes clear – hitting one between the eyes like the swing of the proverbial sledgehammer.
SPX futures made an overnight high at 4174.62, but eased back slipped back beneath Short-term support at 4173.93.  It remains on an aggressive sell signal pending either a cross beneath mid-Cycle support at 4091.27 of confirmation from the VIX and NYSE Hi-Lo.  Yesterday's high marks the first 4.3 days of the decline with 8.6 more days to go.  An alternate view shows a possible extension beyond options week, although it needs more confirmation.
ZeroHedge reports, "For the fourth morning in a row, futures are barely changed – a stark reversal to the previous euphoria that would see a big jump in risk sentiment in the overnight session – with Emini futures flat ahead of data that is expected to show a decline in weekly jobless claims, while shares of vaccine makers tumbled further after President Joe Biden's plan to back intellectual property waivers on COVID-19 shots. The dollar weakened amid unchanged Treasury yields even as Japan and China returned from holiday."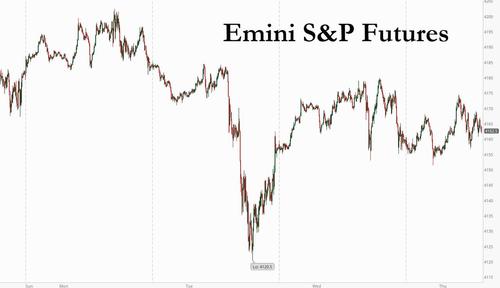 VIX futures slid from yesterday's close, but stayed above the trendline at 18.20.  It has started to regain strength this morning, but still negative as I write.  The Cycles Model suggests a VIXplosion possibly starting no later than tomorrow with repercussions lasting another week thereafter.  The current Master Cycle ends on June 1.  It is uncertain whether it will be a high or low, which depends on how this rally develops through options week.
USD futures are consolidating beneath the 50-day Moving Average at 91.83.  The Cycles Model shows growing strength until options week.  There is a possibility of an extension through options week, which indicated a possible panic in the markets.
TNX made a low of 15.61 during the overnight session.  It triggers a buy signal above the 50-day Moving average at 15.91.  Confirmation comes above the Intermediate-term resistance at 16.31.  The minimum target appears to be 19.71, with the possibility of a further extension.  The current Master Cycle indicates a potential high on June 2.
The BKX, a proxy for liquidity, made a new all-time high yesterday on day 267 of he Master Cycle.  Structurally, BKX should not have gone above the March 2007 high at 121.16.  But this is a Cycle Wave b, which is an outlier.  BKX now has the ignominious challenge of declining beneath the March 9, 2009 low of 17.75.  The inevitable has simply been delayed.
ZeroHedge warns, "The Buffett Yardstick, or total market capitalization of the U.S. equity market relative to the overall size of the economy, now stands at a gaudy 270%.
For reference, at the peak of the Dotcom Mania, this measure only reached 188% so we are now over 40% more expensive than the most expensive stock market peak in history! Another way to think about this is to understand that, at today's valuation, the stock market would need to fall 30% overnight in order to match the peak of what is widely considered the greatest bubble in modern history.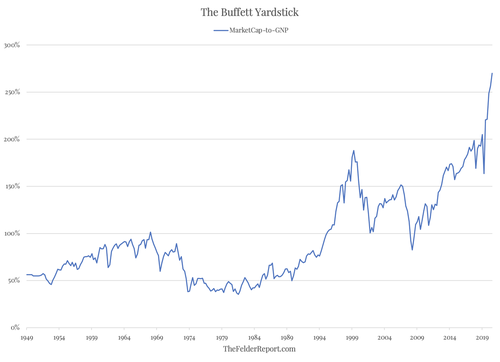 And not only is the current stock market bubble that much bigger than the previous record, it is also far broader. The median price-to-sales ratio of S&P 500 Index components is now almost 75% higher than it was at the peak of the Dotcom Mania just over 20 years ago. In other words, unlike that previous bubble which was confined to just a subset, the current bubble encompasses a much greater proportion of the overall stock market."