February 9, 2021
2:40 pm
SPX is bumping along the underside of a double trendline at 3918.00.  A reversal from this resistance may be severe, especially on day 271 of the Master Cycle.  The hourly Cycles have been remarkably precise , with turns at 13-hour intervals.  3:00 pm is hour 78 where, if true to the pattern, is the next reversal.
ZeroHedge notes, "After a brief rally overnight, US futures have pulled back, under what appears to be the mysterious (well, not so mysterious) 'gamma gravity' of excess options positioning, back to the 3,900 "Call Wall" level.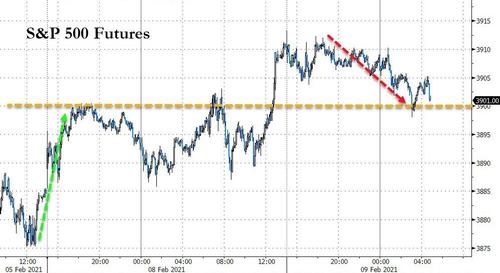 Source: Bloomberg
As SpotGamma notes this morning, the positive gamma at 3900 remains quite a bit larger than overhead strikes, indicating it will hold as major resistance for a few days. From from an intraday trading perspective we anticipate another tight trading range today (~80bps), with that large 3909 resistance bar shifting down to 3893 support."
8:15 am
SPX futures have pulled back to round number support at 3900.00 after dipping beneath the Cycle Top at 3906.27.  This may be considered an aggressive sell signal, but further confirmation is advised.  Yesterday's high is at day 270 in the Master Cycle.  The smaller Orthodox Broadening Top has a target near 2800.00.  The next Master Cycle ends during the first week of March.
ZeroHedge reports, "The roaring stock rally of the past six days week took a breather on Tuesday, with futures dipping from a record high of 3,913 as investors sifted through earnings and weighed the impact of soaring inflation expectations which saw 10Y Breakeven rates hit 7 year highs amid signs the Biden administration is committed to passing a sizable aid bill..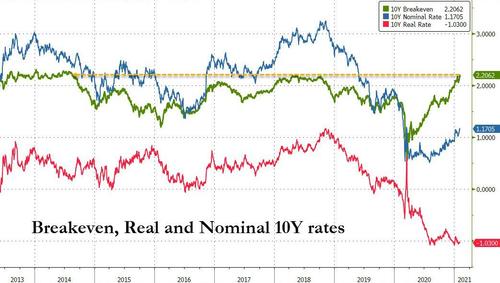 The MSCI All-Country World Index edged up 0.1% to its own record high, although early moves in Europe's top indexes suggested further gains may be tougher to find, with Britain's FTSE 100 flat on the day even as a record high close for Wall Street overnight gave Asian stocks the confidence to push on further, with MSCI's broadest index of Asia-Pacific shares outside Japan up 0.3%, led by Chinese blue chips, up 2.2%.
European equities turned red after a choppy start even as bitcoin powered on, rising above $48,000 overnight following widespread speculation that more companies will follow Tesla in purchasing the cryptocurrency outright. Oil reversed its recent rally while the dollar slide accelerated.  Futures for the S&P 500 were modestly in the red, suggesting a quiet start to the U.S. trading day."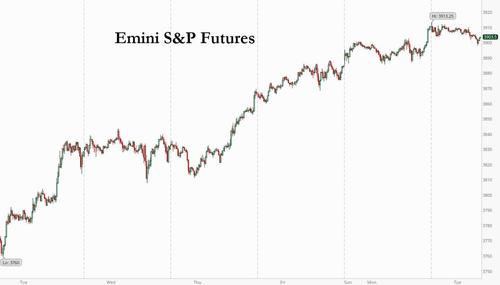 VIX futures made a morning high of 22.10 and climbing.  The 50-day Moving Average is at 23.37.  A move above that level gives us our buy signal in the VIX.  The next Master Cycle is due to extend to the first week of March.
TNX appears to be in consolidation, possibly seeking support at the Cycle Top support line at 11.17.  The current Master Cycle has 1-2 weeks left before a significant pause in the rally.
ZeroHedge reports, "Between global central bank money-printing, government fiscal support out the wazoo, and hopes for vaccine-related developments, the world and his pet rabbit is betting on inflation (and just as confidently, central planners are sure they can tame the beast should it ever get out of hand).
"It's hard to resist this reflation trade at the moment," said Christoph Rieger, head of fixed-rate strategy at Commerzbank AG.

"With policy all one-way and U.S. refunding coming up this week, we may require some more concessions."
'Inflationary' signals are evident everywhere :
The Treasury curve is at its steepest since 2015…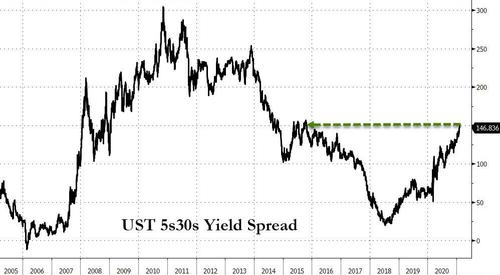 Source: Bloomberg
Commodity prices are exploding…