February 8, 2021
10:45 am
DBA broke through neckline resistance at 16.65.  This suggests a major push to the H&S target at 20.17 by the middle of March.
8:00 am
Good Morning!
SPX futures were repelled at round number resistance at 3900.00 at 2200 hours yesterday and have pulled back.  There seems to be no impulse to go higher at this time.  Today is day 270 in the current Master Cycle and it is stretched.  A possible move would be Key Reversal in which SPX opens at a new high, then closes beneath Friday's low at 3874.93.
ZeroHedge reports, "World stock hit a record high as did Emini S&P equity futures, which topped 3,900 on Monday, while the 30Y TSY hit 2.00% and Brent surpassed $60 a barrel for the first time since January amid a wholesale rush in reflation trades on hopes that a $1.9 trillion COVID-19 aid package will be passed by U.S. lawmakers as soon as this month after Janet Yellen pushed for rapid stimulus and coronavirus infections slowed across the globe. Gold, bitcoin and dollar all rose as well amid a "buy everything" wave."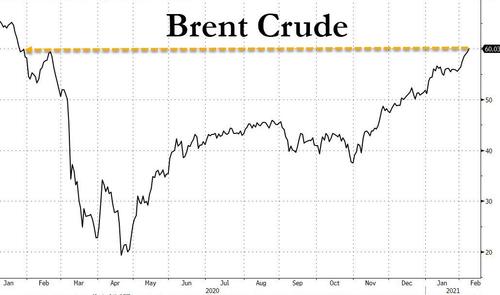 ZeroHedge further observes, "What goes up (under reverse gamma-gravity) must come down (under gamma-gravity).
Last week we described the likely 'crash-up' as the "huge gamma strike" at 3800 was blown away and the big Call Wall at 3900 enabling a 'reverse gamma gravity' meltup.
This morning the S&P is set to open at the 3900 Call Wall resistance point.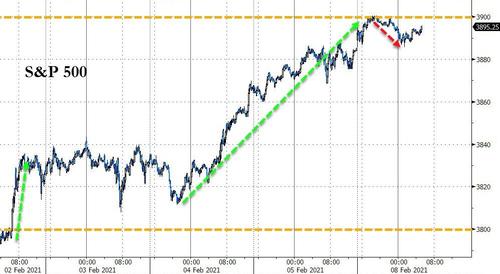 Source: Bloomberg However, as SpotGamma warns, we do not see markets holding higher prices until this level shifts higher. 
The dealer hedging force is mean reverting back into 3900 with any materially move above/below being pulled back into the Call Wall Strike.

With notional gamma levels holding from Friday we see a ~80bps range on the day, and note a very large Combo bar at 3909. This all leads to us calling for a "pin" today of the 3886-3909 SPX level.

This Call Wall level does not appear poised to roll higher, either.

Note the chart below of gamma levels, and you can see how much larger the positive gamma is at 3900."
VIX futures stayed above their Friday low, possibly bringing the Master Cycle in at 20.86.  In the process of doing so, it "broke" the Triangle formation.  This may be the classic case of "the tail wags the dog" in which the VIX is pounded lower to spark a momentum drive to new highs in the SPX.  That move may be over, or nearly so as toda would be day 272 in the Master Cycle.
TNX staged a more convincing breakout this morning as it rises toward its Head & Shoulders target.  Today is day 248 in the Master Cycle.  It may have permission to rise, after a  brief pullback, to options expiration day, February 19.
USD futures appear to have bounced from the trendline at 91.00 over the weekend, reaching a high of 91.23.  The Cycles Model shows no particular strength at this time and the current Master Cycle is due to end shortly after Options expiration.   We may see the USD fall back under the trendline to new lows.