February 23, 2021
8:00 am
Good Morning!
We should not be surprised to see NDX futures plummet beneath the 50-day Moving Average at 13048.35 this morning.  The NDX closed yesterday at the one-year uptrend line.  The break this morning closes out that chapter and opens a new one.  There are at least four more days left in the current Master Cycle.  A lot of damage may occur in those four more days.
ZeroHedge reports, "Global stocks, US equity futures and cryptocurrencies all tumbled on Tuesday as the recent surge in inflation, bond yields and commodity prices continued to hammer technology shares while investors awaited fresh reassurance from U.S. Federal Reserve Chair Jerome Powell on the path for monetary policy in United States.
The MSCI world equity index fell 0.1% to fresh two-week lows, having earlier risen on gains in commodity-heavy equity indexes in Asia. After rising during the Asian session, S&P 500 futures also fell once Europen came online, and were last down 0.4%.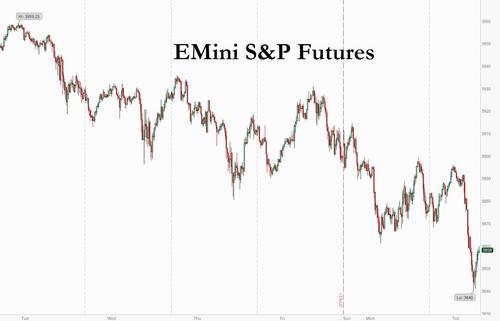 Nasdaq futures tumbled as much as 2%, and were last down 1.4% a day after the tech-heavy gauge posted its longest losing streak in four months. Heavyweight tech stocks slid premarket, with Apple -2.7%, Amazon -2.4%, Tesla -7.5%, Alphabet -1.6%. Tesla crashed 6% in pre-market trading, sliding below the $695 level at which it entered the S&P500.  Tesla shares were set to plunge into the red for the year, hit by a fall of bitcoin, in which the electric carmaker recently invested $1.5 billion."
SPX futures gapped down to test the 2-hour mid-Cycle (Intermediate-term) support.  The damage is not yet as severe as the NDX.  However, it may have entered negative gamma territory where the downside momentum is sure to pick up.  The leveraged bullishness is at an extreme, but may soon evaporate as the decline gathers strength.
ZeroHedge reports, "While the S&P has been weaker since Friday's opex, Nasdaq is the "messiest" due to the index-level price-movement "unclenching" based upon the sheer amount of $Gamma running-off post last Friday's Op-Ex.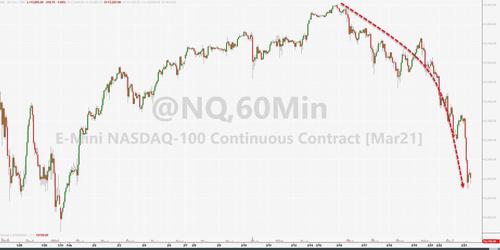 As Nomura's Charlie McElligott notes, the effect was particularly notable in Nasdaq with QQQ experiencing over 50% drop in aggregate $Gamma, which meant that the prior Dealer hedging barriers have also collapsed and are no-longer providing insulation."
VIX futures tested mid-Cycle resistance at 26.03 in the overnight market after closing at the 50-day Moving Average at 23.45 yesterday.  VIX may be at the cusp of an explosive move in the next week.  Last week's options expiration dropped the largest short-vol options and futures volume in recent times.  This may be reminiscent of the volmageddon event that happened in February 2018.
TNX futures hit an overnight high of 13.82.  However, this morning's open only registers at 13.70 thus far.  Today is day 263 in the Master Cycle, a bit longer than the average but still within the Cycle turn window.  You may often see me discuss time and price.  It is rare when both targets (if known) are not met.
Investing comments, "The reflation and inflation meme tightened their grip on the markets. Interest rates have risen, and curves have steepened. Two events occurred around the same time in early November that sent a similar signal: the US election with prospects for significantly more stimulus and a vaccine's availability. Since the US election and the announcement of a vaccine in early November, the 10-year US break-even has risen from about 165 bp to over 225 bp, before finished the week near 2.15%. accounting for the nearly 50 bp increase in the nominal 10-year yield."
USD futures have risen to test the trendline at 90.44 after making a low of 89.99.  Today is day 258 of the current Master Cycle, leaving the probability of a Master Cycle low yesterday.  If so, we may see the USD rally to the Cycle Top resistance by mid-April.  I am monitoring the USD moves to determine if that may be correct.
Crude oil futures hit an overnight high at 62.99, nominally testing the monthly mid-Cycle resistance at 63.14 mentioned yesterday.  Today is day 253 of the current Master Cycle, a bit early, but within the window for a reversal, having met time and price targets.
Investing comments, "WTI crude oil traded higher yesterday and continued marching north today as well, breaking above last Thursday's high of 62.20, thereby confirming a forthcoming higher high. However, did not move much higher and pulled back to settle near that barrier. Overall, the black liquid trades well above the upside support line drawn from the low of January 4th, and thus, we would consider the near-term outlook to be positive."