February 22, 2021
8:00 am
Good Morning!
SPX futures have fallen to test Short-term support at 3866.44 this morning, having made a low of 3861.38 thus far.  This may be a result of the gamma-driving options market that kept SPX above 3900.00 most of the week.  As the call options fall away at expiration, the dealers can now relax now that the options market no longer acts like the tail wagging the dog.  One thing is certain, however.  Investors may have had a change in sentiment, or rather I should say the longer-term puts that remain may now have a greater influence on the SPX going forward.  The options market turns negative below 3850.00.
ZeroHedge reports, "After a week when everyone was focusing on the i) blowout in bond yields and ii) how much worse it could (and would) get, it got worse on Monday, when the 10Y yield jumped from Friday's close of 1.34% to 1.39%…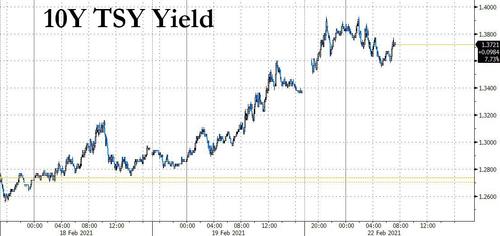 …. while the 5s30s (the gap between 5- and 30-year yields) blew out to the highest level in more than six years…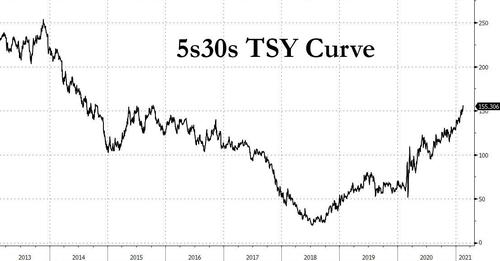 Following a weekend in which the main news was "The Big Short" Michael Burry predicting Weimar-style hyperinflation, there have also been real-life indications of soaring price pressures to back up the market moves. Last week we saw 6-sigma beat in retail sales and PPI, hinting a scorching overheating in the US economy, while PMI surveys indicated record inflationary pressures. Even in Europe, the prospect of inflation is being entertained. It's so bad that even sworn bond bulls such as HSBC strategist Steven Major abandoned his recommendation to buy U.S. long bonds, saying he "cannot ignore" the reflation trade."
TNX futures reached a high of 13.59 this morning, not quite blowing out Friday's high at 13.62.  However, the threat remains that TNX may reach its Head & Shoulder target at 14.46 in the next few days.
ZeroHedge advises, "For many months, traders and strategists have been warning – and dreading – a sharp spike higher in both nominal yields and real rates, and last week they finally got it with Real Yields finally surging the most since March…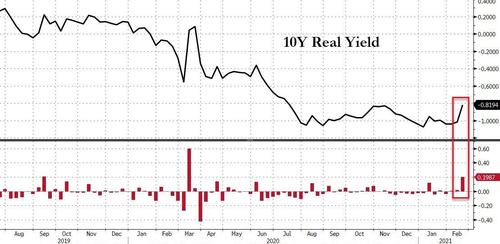 … and joining the historic post-covid rally in Breakevens…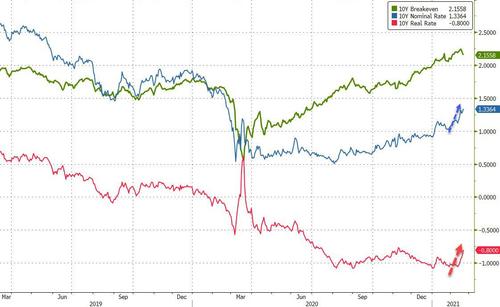 … sent 10Y yields to 1.36% the highest level since the pandemic and just 14bps away from the 1.50% level that Nomura predicted would hammer stocks as systematic, quant and CTA funds start actively shorting 10Y futures."
VIX futures reached a high of 25.09 this morning, crossing above the 50-day Moving Average at 23.41 and creating a buy signal.  We would want to see the SPX decline beneath short-term support at 3866.44 in combination with the VIX above the 50-day for a SPX sell signal.
NDX futures made an overnight low at 13364.75, gapping through both trendlines.  This creates a sell signal for the NDX.  NDX is on the same Master Cycle as the SPX.  This may be a very fast decline ending between February 26 and March 4.
ZeroHedge reports, "ARK Invest's Cathie Wood joined CNBC's Scott Wapner last week. She warned of the increasing risk of a stock market correction if rates continue to "sharply" rise.
Around the 3:30 minute mark of the CNBC video, Wood told Wapner, "I do believe if rates were to take a sharp turn up, that we would see a valuation reset and our portfolios would be prime candidates for that valuation reset of course."
USD futures have eased to 90.21 this morning, above Friday's low of 90.17.  Today is day 257 in the Master Cycle, so there may be room for a further decline.  There is an alternate view that the February 6 high may have ended the current Master Cycle early.  If so, the USD may go into a deep dive to the Broadening Wedge target as early as mid-April.
I am probably one of the few market commentators that keep the very long view of the markets.  They help inoculate me against those who would call for a new Super Cycle bull market in oil.  What this chart is showing is an unfinished Ending Diagonal in a (still) secular bear market.  I am willing to be wrong should WTIC rise above the monthly mid-Cycle resistance at 63.12.  However, today is day 252 in the current Master Cycle, suggesting that the rally is nearly over.  The next Master Cycle (low) is not due for another 6 weeks.  A lot can happen in that time.