12:36 pm
SPX is on its second day of retracement.  It has pulled out of Short gamma beneath 4375.00 and may be heading toward Max Pain at 4395.00 into the close.  There may be a need to "buy more time" as SPX may be gathering strength to rise to its 50-day prior to Jackson Hole.
9:44 am
BKX, our liquidity proxy, is due for a bounce.  The 50-day Moving Average is in sight , at 83.74.  However, there may be yet another two weeks of decline to complete the Master Cycle.
ZeroHedge comments, "With money-market fund assets hitting new highs, and banks' usage of The Fed's emergency funds facility at record highs, we wonder how much longer The Fed can keep the dream of rising deposits alive (after last week's massive NSA inflows).
On a seasonally-adjusted basis, The Fed says that total deposits dropped $11BN last week (the first decline in 4 weeks). We also note that the prior week's inflow was revised higher…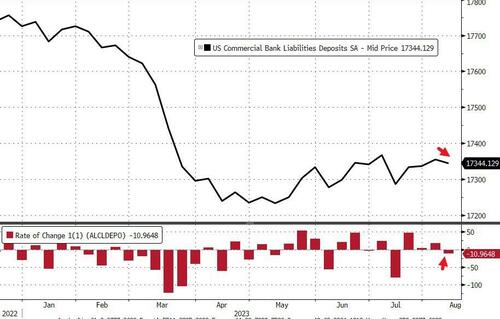 7:30 am
Good Morning!I am taking a short, two-day trip and plan to return on Thursday.
NDX futures have risen t 14793.00 thus far in the weekend session.  Although I did not comment on the NDX last Friday, it may undergo a similar retracement to the SPX.  Today's short-covering session may rise to retest the 50-day Moving Average at 15163.73 where many speculators have gone short last week.  This short squeeze may only last a day, but it can be brutal.  This is why shorting the market is so difficult and wearing.
Today's op-ex shows Maximum Pain for options investors at 14700.00.  Long gamma begins meekly at 14800, but rockets up to 14950.00.  Short gamma starts at 14600.00 and may extend to 14250.00.
ZeroHedge comments, "Shorting local lows?
One thing is sure, this market continues to do what it does best; frustrate the crowd. Reposting one of the more important charts over the past days via Goldman's PB. Shorting has been huge lately. Imagine we bounce…
Source: GS
Oversold in a pic
On July 19 (here) we pointed out just how overbought markets were. Fast forward a month and we are at most oversold levels in a long time…"
SPX futures have risen to 4394.1 thus far this morning.  As mentioned on Friday, the bounce may extend to the 50-day Moving Average at 4446.11.  This short squeeze may only last a few days, but it may be fierce.  The Cycles Model implies a much deeper decline ahead, so plan accordingly.
Today's op-ex shows Maximum investor pain at 4395.00.  Long gamma starts at 4400.00 and is heavily populated to 4500.00.  Short gamma starts at 4375.00 and climaxes at 4300.00.
ZeroHedge reports, "US equity futures and global stocks are solidly higher to start the new week after a bruising August so far for investors, whose attention now turns to the week's Jackson Hole symposium (which last year set off a powerful selloff that sent stocks into a painful bear market). Risk is on despite global bonds broadly weaker, with 10Y TSYs rates rising above the 4.25% level that had acted as strong near-term support. As of 7:45am ET, emini S&P futures were 0.5% higher at 4,405, well above Friday's multi-month lows of 4,350, while Nasdaq futures rose 0.6%. Europe is also solidly in the green, with major markets such as Italy/France/SX5E up more than 1%. Asian stocks were little changed, steadying after six-straight daily losses, even as stocks slumped in Hong Kong and mainland China after Chinese banks made a smaller-than-expected cut to the one-year prime lending rate, confusing markets and traders after last week's unexpected rate cut."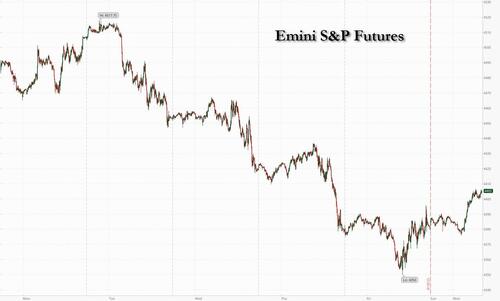 VIX futures are consolidating  this morning.    Friday's high may have been the Master Cycle high, at day 259.  If so, the VIX may also revisit its 50-day Moving Average at 14.49.  The Cycles Model is unclear on how long the retracement may last.  It may be subject to wide swings during the next week, frustrating investors.
TNX is rising this morning after a weekend of trending strength, pushing futures to a high of 43.13 thus far.  The Cycles Model calls for rising rates through mid-September, with occasional pull-backs.  This may fulfil the Head & Shoulders formation target.
USD futures have pulled back to a low of 103.04, possibly testing support at the Mid-Cycle at 102.86.  The Cycles Model warns of a possible resurgence of strength, leading to a trendline breakout.  The rally may continue for another week, with the Cycle Top at 105.79 as a possible target.