10:12 am
The Ag Index is taking a breather after it run-up from the Master Cycle low on June 13.  It is on a buy signal that may show trending strength through mid-July.  It is still early enough to accumulate shares.
ZeroHedge reports, "Last week Russian President Vladimir Putin reiterated why he is dissatisfied with the UN-brokered grain deal as it's being implemented in practice. "Probably, for the guys who are fighting, it's not clear why we are letting the grain through. I understand," Putin told journalists while explaining that the deal asymmetrically benefits Ukraine and its ability to keep selling primarily to Europe. "We do it not for Ukraine, but for the friendly countries in Africa and Latin America. Because grain should go first and foremost to the poorest countries in the world." He additionally said last Friday, "the supply of Ukrainian grain to world markets doesn't solve the problems of African countries in need of food."
In new comments, Putin's press spokesman Dmitry Peskov followed up on Sunday by saying at this point the deal which allowed Ukrainian grain to be exported through the Black Sea has "no chance" of being extended.
He asserted that Russia has "shown goodwill several times, made concessions" and allowed the agreement to be extended. But what Moscow was promised in return still hasn't been fulfilled, said Peskov."
9:45 am
BKX is losing ground this morning after Wednesday's Master Cycle high.  The new Master Cycle may have a brief but strong  decline into the end of June.  The Cycle that follows may suggest a decline into the end of August.  The Head & Shoulders formation is not yet complete, so we may see its target as the minimum decline for that period.  News from the banking industry is calm on the surface, but roiling beneath it.  A new sell signal lies beneath the 50-day Moving Average at 79.24.
8:30 am
Good Morning!
SPX futures are lower, having made a morning low of 4387.60.  This master Cycle may be a double, with both a high and a low within two weeks, as happened last October on the 5th (high) and the 13th (low).   In addition, Friday's high may count as the terminus for a 17.2-month Cycle as well, marking the ending of the first phase of the bear market.  Aggressive shorts may be entered here with the first level of confirmation beneath the Cycle Top at 4339.93.  Most analysts won't consider a sell signal until SPX crosses the lower trendline of the Ending Diagonal formation and the 50-day Moving Average.
In today's op-ex 4400.00 is hotly contested, with long gamma starting at 4450.00 and short gamma beginning at 4360.00.
ZeroHedge reports, "US equity futures and global markets slipped for a second day following Friday's blow-off top and quad-witching reversal, as part of a global risk-off tone sparked by disappointment after investors were left underwhelmed by the latest reduction in the benchmark lending rates at Chinese banks – though bond yields are higher and USD weaker – as the second-quarter rally met resistance from economic headwinds and signs that positioning is overbought and extremely stretched. As of 7:45am ET, S&P futures were down 0.4% while Nasdaq futures dipped -0.3%. MegaCap tech names led the weakness with almost all in the red pre-mkt. Commodities are weaker, but oil and gold rose, while Bitcoin climbed for a second-straight day."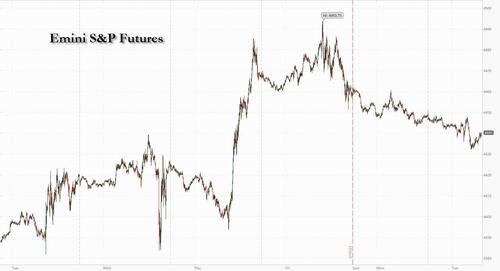 VIX futures are higher, after Friday's probable Master Cycle low on day 261.  The summer may be a hot one for the VIX, with the first of a series of panic Cycles beginning the last week of June.  The new Master Cycle may not end until the last week of August.
TNX is consolidating above the rising trendline and Mid-Cycle support at 36.92.  TNX may see a breakout today as the Cycles Model suggests a double dose of trending strength may arrive imminently.  The Cycles Model suggests the current rally may continue (in strength) through the first week o July.
USD futures rose to a morning high at 102.23 as the Master Cycle may have completed on Friday, day 261.  The Cycles Model suggests a rally in USD may ensue through mid/August with trending strength beginning in July.
Gold futures declined to 1947.90 this morning as it begins a new Master Cycle heading lower.  Gold made a weak Master Cycle high on Wednesday, June 14.  Gold remains on a sell signal, remaining beneath the 50-day Moving Average at 1998.60.  The chances of another attempt at the 50-day Moving Average are diminishing rapidly.  The new Master Cycle remains in effect until the end of July.