11:57 am
BKX has fallen beneath the Cycle Bottom support at 81.16, confirming the sell signal after reversing from the 50-day Moving Average at 85.95 on the 19th of April.  The new Master Cycle is projected to run until mid-June.  Is this the beginning of a bank run?
ZeroHedge observes,"UBS's Swiss-listed shares slid in early Tuesday trading after the bank posted a 52% year-on-year decrease in net profit in the first quarter. Despite the slump, the bank recorded strong customer inflows while preparing to acquire rival Credit Suisse. This marks the first financial results since UBS announced the takeover of Credit Suisse last month.
UBS disclosed its weakest quarterly earnings in more than three years and a dim outlook for interest income in its wealth management division. It said net profit came in at $1.03 billion for the first quarter, missing analyst expectations of around $1.75 billion for the period.
Switzerland's largest bank experienced a $665 million hit in net income due to US residential mortgage-backed securities litigation. It also said it's in talks with the US Department of Justice to settle a 2018 civil complaint.
That news overshadowed the inflow of $28 billion from high-net-worth clients during the quarter, $7 billion arriving in the ten days following the announcement of the Credit Suisse takeover in March."
ZeroHedge also remarks, "Moments ago the regional bank at the forefront of the banking crisis, First Republic, whose stock crashed from $125 to $12 one month ago amid the broader banking crisis, reported its closely watched earnings. And, on the surface, they weren't terrible: the company beat on both EPS, Net Interest Income and revenues:
Q1 Revenue $1.2BN, -14% Y/Y, beating the estimate of $1.12BN
Q1 EPS of $1.23, beating estimates of $0.72
Q1 Net Interest Income $923MM, -19%, but beating estimates of $889.9MM"
7:15 am
Good Morning!
I am starting early to attend a morning conference and appointments the rest of the day.
NDX futures are nudging yesterday's low as the Cycles Model suggests a burst of strength in trend.  Most believe the trend is still up, but the turn may have been made, allowing a confirmation of the aggressive sell signal.  The short sellers may be right, after all.  However, their position has been embattled for the past two weeks.  While SPX completed a 12.9-month Cycle on February 2, NDX is now completing a 17.2-month Cycle from high-to-high this week.It is likely we will know the outcome by Friday.
ZeroHedge remarks, "Two weeks ago, just ahead of earnings and at a time when sentiment was starting to turn extremely bearish again, we explained that the main reason why every selloff attempt was violently reversed and transformed into a short squeeze, is because hedge funds were most short S&P emini futures in 12 years, and thus every failed attempt at a sharp selloff – no matter how valid the fundamental reasons – led to a short-squeeze rally.
Two weeks later, with stocks even higher, the technicals once again dominate and as shown below, the latest non-commercial (a proxy for hedge fund activity) emini net spec position revealed in the weekly Commitment of Traders report showed a fresh 12-year high in bearish sentiment."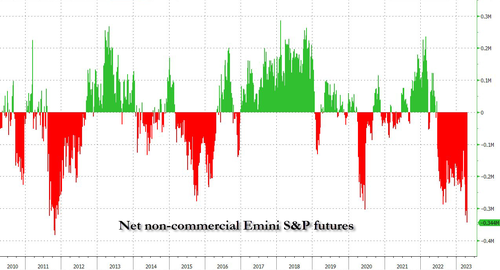 SPX futures are probing yesterday's low, bottoming thus far at 4109.50.  SPX reversed from its high on April 18 with room in the Cycle to go a bit higher, if necessary, on day 252.  Should the retracement be complete, the current action may be the calm before the storm.
ZeroHedge reports, "US equity futures fell on Tuesday, as investors braced for the first earnings from the megatech giant "generals", which incidentally are mostly lower premarket; bond yields are 3-5bp higher and the USD is higher.
Contracts on the S&P 500 and Nasdaq 100 both fell 0.5% in New York as of 7:45 a.m. after Wall Street benchmarks ended Monday's session broadly unchanged.  Commodities are mixed with weaker oil after several days of gains. Yesterday, FRC reported after the bell with deposits declining 41% QoQ vs. -9% survey; stock is down 21% after close. Today, the focal point will be GOOGL and MSFT's earnings after-market: investors will look for cost outlook and revenue growth. GOOGL closed +0.5% yday and +20.1% YTD; the implied move is 4.6%; MSFT closed -1.4% yday and up 17.5% YTD pre-market; the implied move is 3.3%. Further, keep an eye on the April Conference Board Consumer Confidence and Richmond Fed survey data."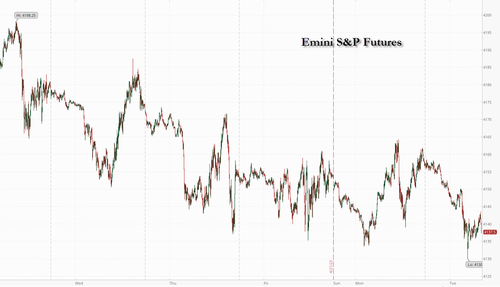 VIX futures are consolidating after making a new high yesterday.  The Cycles Model implies that today may be a "breakout" day for volatility.
ZeroHedge comments, "Flatter
1. VIX1D single digit….
2. Four days left in April and NASDAQ still has not had consecutive green days.
3. So low NYSE volume you kind of wondered if the market actually was open
Source: Refinitiv
15-month "flat"
Implied and realized volatility at 15 months low. Really? Feels like 15 century low…."
ZeroHedge warns, "..but what happens next?
As we noted Friday, CBOE Global Markets launched a one-day volatility options tracker to its arsenal this morning.
The 1-day VIX is designed to offer insight into 0-DTE trading patterns that are not picked up (due to maturity mismatch) in the traditional fear index.
The 1-day VIX is higher this morning (as is the VIX), but we note that the 1-day VIX is trading around half the level of the VIX…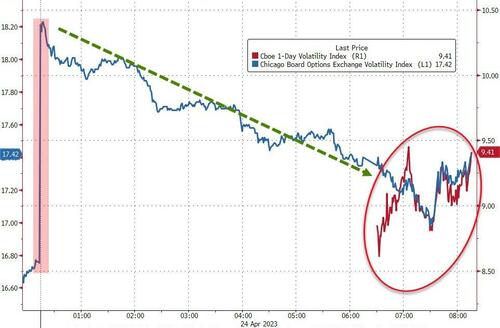 USD futures have edged higher after making an overnight low of 100.93.  The Cycles Model suggests the USD may rally through mid-June.
TNX fell beneath the 200-day Moving Average at 35.21 and may be headed for the trendline near 33.50.  The New Master Cycle may be a high-to-high Cycle stretching to early July…in other words, a monster.  As long as there is downward pressure on the TNX, equities may go higher.  It may not last beyond this week.