3:55 pm
Today's low nearly made it to the June 16 low at 3636.87 as it bounced from the Cycle Bottom at 3645.66.  However, There may yet be another probe lower on Monday.  It is too early to tell, as SPX may open on Monday deep in short gamma beneath 3800.00.  There may also be structural issues with the Elliott Wave the may require (at least) another probe lower.
ZeroHedge's closing remarks, "No cute videos today, just one photo summarizes the absolute carnage today, this week, this month and this year.
A week that started off with a huge chip on its shoulder after last week's dramatic post-CPI plunge, and which was the worst since June, only got worse, as stocks tumbled a jarring 5% this week, which together with last week's 4.7% means that in just the past two weeks the S&P has lost 10% of its value (it could have been worse if spoos had not bounced modestly off their June, and YTD, lows of 3,660)."
ZeroHedge explains, "S&P futures, now clearly in widespread panic liquidation mode and searching for any excuse to sell off more, found one just after 2pm when Fed Chair Jerome Powell said that the US economy may be entering a "new normal" following disruptions from the Covid-19 pandemic.
"We continue to deal with an exceptionally unusual set of disruptions," Powell told business and community leaders Friday at a Fed Listens event in Washington, Bloomberg reported. Algos immediately took this as confirmation that the supply chain chaos that defined the post-Covid world is still prevalent in the Fed's thinking, and since it is inflationary, it means even more rate hikes on deck."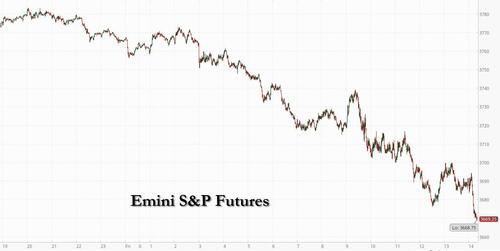 12:50 pm
SPX continues its rout.  It now appears more likely that Wave 3 of (3) may test the Lip of the Cup with Handle near 3600.00, at a minimum.  It may go lower, especially as SPX approaches major put holdings that require dealers to increase their shorts.  There are over 16,000 put contracts due to expire today at 3600.00.  A "limit down" may target 3400.00, should short gamma be too much to handle.
ZeroHedge remarks, "And while still some way away, a confirmed break below 3,700 could put the June lows in play: a close below 3637 would be concerning, Bloomberg's William Maloney points out, as there isn't a lot of support after that. You'd have to go back to 3588, last seen September 2020.
There is another reason why 3580 is a critical level: as SpotGamma notes in its daily market report, the 3580 strike holds the Sept Quarterly JPM collar long put. According to SG, there are 45,000 of these puts, which were at an 5-8 delta earlier this week, and are now closer to a 15 delta. The chart below shows how the price of 3580 put is up sharply today."
9:48 am
The Ag Index has now finished its Masster Cycle and is due for a downturn.  The Cycles Model suggests the decline may last until mid-October.  This may be the strongest decline in equities and the loss of liquidity may also affect agricultural commodities, despite the rising demand and decreasing supply.
Theepochtimes remarks, "U.S. agriculture has been facing a poor harvest this year, aggravating the global food supply crisis, industry executives have said.
The supply of food worldwide has been tight, since Russia's war in Ukraine cut off vital shipments of resources needed to make fertilizer and grain products from the region.
Several high-level executives from big agricultural firms such as Bayer, Corteva, Archer Daniels Midland, and Bunge, told The Wall Street Journal that it will take at least two more years of good harvests in North and South America to ease the supply pressures."
9:37 am
BKX, our liquidity proxy, has dropped beneath the Lip of a Cup with Handle formation, triggering its sell signal.  The Cycles Model suggests the decline may accelerate in strength starting today and lasting through next week, with a potential target well beneath the Head & Shoulders neckline at 96.00.  The Caution is that the current Master Cycle may end late next week, as well.
7:50 am
Welcome to Fall!  We woke up to a temperature of 40 degrees outside.  Our family resort on Houghton Lake registered 31 degrees this morning.  The temperature patterns have downshifted significantly after 80 degree temperatures just a week ago.
NDX futures have declined to 11316.90 with a likely target at or beneath the Lip of the massive Cup with Handle formation at 11000.00.  More likely the Cycle Bottom support at 10755.04 may come into play in the next couple of days.  I have recalibrated the Elliott Wave to reflect that probability, possibly followed by a strong bounce into the end of September.
In today's op-ex, Max Pain is at 11650.00, suggesting the pain is on the dealers' side.  Short gamma starts at 11500.00 and runs to 10800.00.  This morning the NDX woke up to a probable runaway train.
ZeroHedge remarks, "NASDAQ "fear" isn't buying the "panic"
The VXN has stayed very "well behaved" despite the NASDAQ having moved lower recently. Regular readers of TME are familiar with the fact vol is about pace and not direction, but is VXN starting to tell us something about direction soon?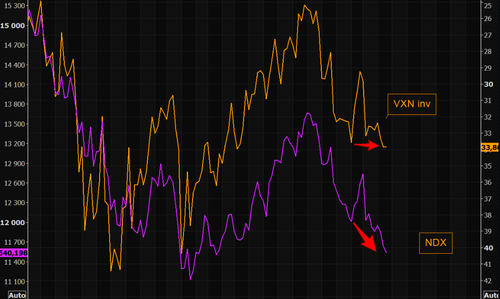 Source: Refinitiv
This morning SPX futures declined to 3702.40 thus far.  The initial target appears to be the Cycle Bottom support at 3650.06, but ultimately the Lip of the Cup with Handle formation at 3600.00 may be the intended target.   Some investment banks are coming around to that opinion.  Thereafter, a short squeeze may develop, retracing most, if not all, of the decline beneath 3875.00.  An alternative may be a deeper dive that only recovers to the Lip at 3600.00.
In today's op-ex, Max Pain appears at 3845.00.  Long gamma does not exist nearby, while short gamma begins at 3800.00 and remains strong down to 3550.00, or possibly lower.
ZeroHedge reports, "One week after stocks suffered their biggest drop since June, futures are in freefall on Friday with the dollar soaring to the now default daily record high…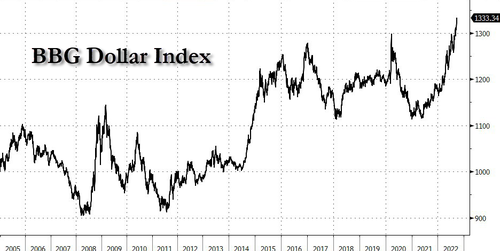 … 10Y yields exploding higher, surging more than 10bps so far today…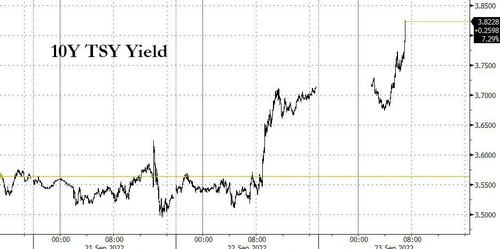 … in what appears to be the latest bond market flash smash which has pushed 10Y yields to the highest level since 2010…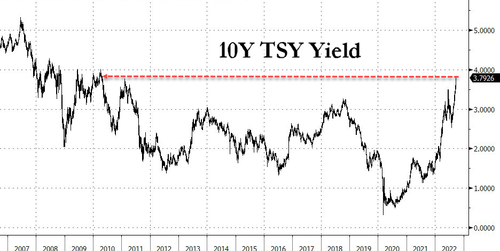 … and S&P futures plunging over 1.4%, and the S&P set to open at a fresh 2022 low…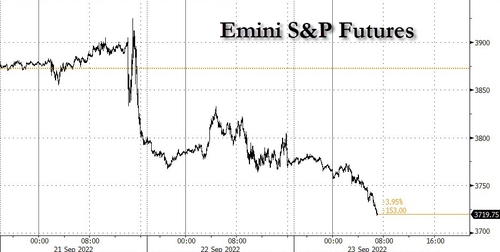 … with futures set to drop nearly 5% (or more) for a 2nd consecutive week, and down 5 of the past 6 weeks!
VIX futures rose to an overnight high at 29.09, still beneath Wednesday's high.  The Cycle Top resistance at 34.10 appears to be the next target, as the Cycles Model anticipates with the neckline of the Head & Shoulders fast on its heels.  Today is day 262 in the Cycles Model.  This suggests a possible Master Cycle high as early as Monday.
TNX futures were as high as 38.29 in the overnight session, although the cash session only registers 37.23, a large discrepancy.  The Cycles Model has offered little guidance in the short term, as I had mistakenly suggested that TNX may "take a rest" a couple of days ago.  My bad!  However, the Cycles Model offers a possible "big event" happening next week.  Folks, this ramp isn't ending until mid-November, so buckle up.
TheMisesInstitute declares, "hen asked about price inflation in his Sunday interview with 60 Minutes, President Biden claimed that inflation "was up just an inch…hardly at all." Biden continued the dishonest tactic of focuses on month-to-month price inflation growth as a means of obscuring the 40-year highs in year-over-year inflation. This strategy may yet work to placate the most ignorant voters, but people who are paying attention know that price inflation continues to soar.
Thus, while Biden may be pretending that it's all no big deal, the Federal Reserve knows it better do something about price inflation which even the Fed now admits shows no signs of even moderating. "
USD futures have ramped even higher to 112.10.  The dollar has been a mainstay for financial transactions worldwide.  Those owning the USD are feeling richer, while those owing the USD are getting poorer by the day.  The Cycles Model suggests a Master Cycle high may be due in a week.  However, the USD may be approaching 120.00 by that time.
Crude oil dropped to a low of 79.70 and remains near that level.  The Cycles Model suggests the decline may last until the end of October with some acceleration in the decline next week.
OilPrice.com reports, "Nearly seven months after Russia's invasion of Ukraine, Russian oil exports have been quite resilient and just 400,000 barrels per day (bpd) below pre-war levels.
But come December, Russian oil supply could plunge by more than one million bpd after the EU embargo on Russian oil imports by sea enters into force. In February, another one million bpd could then come offline due to the EU's fuel embargo."