10:31 am
SPX has made a new low beneath the support level at 3910.74.  Should the SPX go significantly lower, it may be set up for a limit down day.  For the moment, it must emerge above the confines of short gamma beneath 3950.00 to be complete a retracement rally.  There is no indication to take short profits.
7:50 am
Good Morning!
NDX futures made a new low in the overnight market, reaching 12102.90.  That is a mere 51 points above the next support level at 12051.20.  It may also be the bottom for Intermediate Wave (1).  There is no NDX op-ex today so there may be some relief from the downward pressure.  Tomorrow is calendar day 17.2 (market day 12.9) from the top and an appropriate place for the end of the first hourly Cycle.  The daily Cycle suggests that the decline may not be over until a 55-day decline is complete.  Should a bounce develop here, it may be short and sharp.
ZeroHedge remarks, "SPX – approaching big levels
We outlined our most bearish market logic on Aug 16 in our post "Are we there yet? Yeah…." Since then the SPX has fallen from 4300 to currently trade around 3930. Needless to say, that trade has played out well and is not attractive at these levels.
3900 is a very big support for the SPX, followed by the 3800 and then the June lows. Resistance is at 4k, and then the 4100. We are now well below the 200 day and have closed below the 50 day three days in a row. Time to easy some of the bearish logic soon from a short term trading view….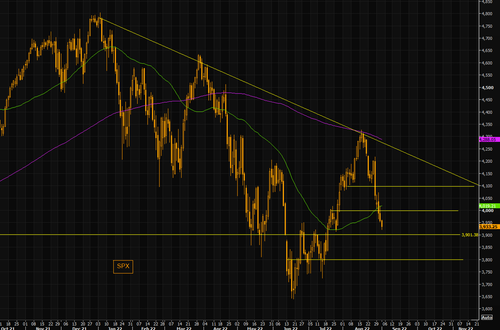 Source: Refinitiv
NASDAQ – approaching short term must hold
NASDAQ is down around 11% from the reversal on Aug 16 and is closing in on the big 12k support. A close below and the next big support area is down around 11600. Resistance levels are: 12600 and 13k."
SPX futures reached a new low at 3919.80 in the overnight session, just above a critical support level at 3910.74 that I had pointed out earlier.  This may be the terminus for Intermediate Wave (1) with a probable bounce lasting through Friday.
Today's op-ex shows Max Pain at 3990.00 with long gamma beginning at 4025.00.  Short gamma begins at 3950.00, so there is likely to be an effort to bounce out of that zone today.  However, with liquidity in short supply anything may happen.
ZeroHedge reports, "With September already historically the ugliest month for markets of the entire year…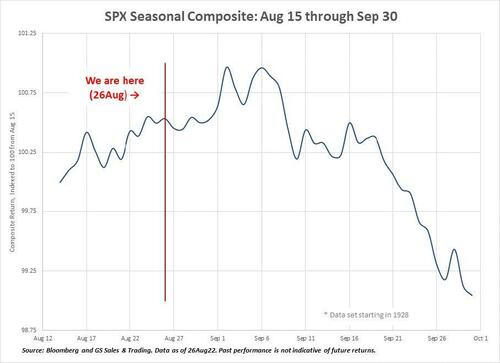 … an underperformance which this year will likely be on steroids thanks to the Fed's doubling of QT to $95BN starting today…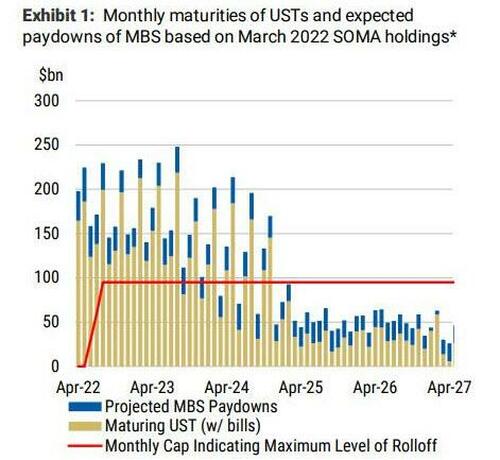 … especially with stocks having gone from overbought to oversold in two weeks as bullish sentiment imploded…"
VIX futures rose to 27.30, beneath Tuesday's high at 27.69.  The  first Wave off the Master Cycle low is complete and it may be time for some consolidation, if not retracement.
Next Wednesday's op-ex shows Max Pain at 21.00, suggesting a probable retracement near that level before a burst higher.
TNX futures have stretched its Master Cycle high to day 272 today at 32.65.  While not making a new high, TNX shows added liquidity pressure in the markets.  TNX ix due for a reversal here with s potentially significant drop in yield.  This may prove ominous for equities.
ZeroHedge comments, "Deteriorating liquidity in Treasuries points to turbulence across various assets.
A Bloomberg liquidity index that measures deviations of yields from their fair value climbed to the highest level since March 2020 this week.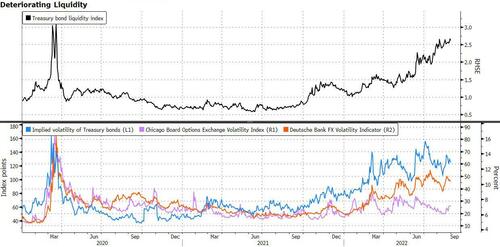 Such "noise" in the US bond market suggests a general lack of arbitrage capital and tightening of liquidity in the overall market, according to a research paper from the National Bureau of Economic Research.
ZeroHedge also observes, "Starting with first principles, there is one thing that almost all traders can agree on and it is that, sooner or later, the Fed tightening cycle will spark another financial crisis and market crash, something which we reminded readers in early 2022:
But while there is little disagreement on what the Fed's endgame is, the big question is how we get there and what exactly will lead to the overtightening that crashes the economy, sparks a policy panic and bring another Fed overreaction in the opposite direction."