1:47 pm
SPX is making new lows in short gamma hell (for the dealers).  There is a new support level to watch at 3910.74.  Should this support hold, there may still be a bounce that could relieve the oversold condition somewhat by the end of the week.  However, the damage has been done.  Shorts may be squeezed, but the longer term buyers are making themselves absent.  Should equities continue their decline beneath 3900.00, the possibility of a limit-down event tomorrow may arise.
11:41 am
SPX has extended its decline to the 50-day Moving Average at 3996.00 and beneath short gamma at 4000.00 where I had indicated a potential bottom yesterday.   The 38.2% retracement is now at 4105.00 above mid-Cycle resistance at 4080.29.  This is looking weaker than expected, but there are still three days to the top of Wave 2.
ZeroHedge remarks, "Higher short-term real rates and falling gamma leave stocks exposed in the short term.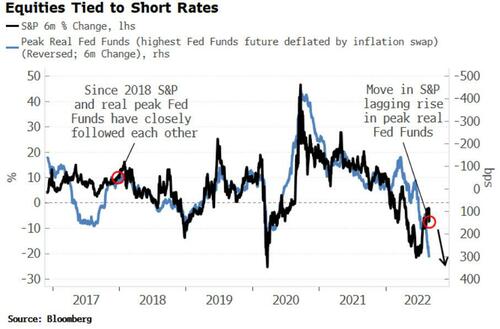 The jury was definitively in and Powell did what was broadly expected, renewing the Fed's hawkish vows. This leaves equities exposed in the next few weeks as they continue to be heavily tied to short-term rates. Specifically, the real peak Fed Funds has a very tight relationship with the S&P. Real peak Fed Funds has risen lately, including 21 bps on Friday with Powell's speech –- but the S&P has lagged the move so far, suggesting more equity downside is in the cards.
However, positioning in equities overall remains very short, increasing the risk of a squeeze. Sentiment has been improving, while internals such as the advance-decline line, the net number of stocks making new 52-week highs and the number of stocks trading above their 200-day moving average are constructive.
Nevertheless, we remain in a bear market, meaning there is a wide range of potential outcomes. Adding to the instability, net gamma is now negative, meaning a greater potential of more short-term follow-through on the downside.
As the market falls, short expiry, close-to-the-money calls see their delta rapidly fall to zero, while puts struck further out of the money that dealers are short of see their delta rise. This means dealers switch to having to sell after the market has moved lower, increasing the risk that downward moves are reinforced.
8:05 am
Good Morning!
SPX futures rose to 4071.70this morning, after completing an impulsive decline to 4017.42.  There was good reason not to go lower, as gamma hell was at 4000.00, with over 6000 expiring contracts.  The various Fibonacci retracements are: 38.2% – 4133.48, 50% – 4170.11 and 61.8% – 4206.73.  The next four days may give the SPX some relief from the downside.
In today's op-ex Max Pain is at 4070.00 with long gamma above 4110.00 and short gamma below 4000.00.
ZeroHedge reports, "After revealing that he was so "happy" he danced a jig when stocks tumbled after Powell's J-Hole speech sparked a market rout on Friday, we can only imagine that Neel Kashkari's face looked like this when he saw the market update this morning…
… because after two days of selling, risk assets are sharply higher this morning, with S&P futures rising 0.8% and Nasdaq 100 futs rising 1.1%, as investor sentiment stabilized, while 10Y Treasury yields slid 5bps, the BBG dollar index lost 0.3%, and oil tumbled, 4% reversing most of Monday's gains.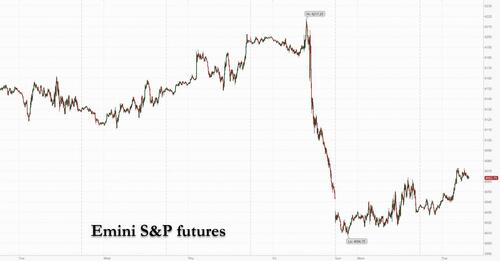 VIX futures tumbled to a low of 25.13 this morning after completing it first positive impulse off the bottom.  The retracement may take the VIX back beneath its 50-day support at 24.28.  However, this may be a good entry for longs, even at the lower levels.  The next few weeks may be a time to exercise patience, as the VIX is out-of-sync with the SPX.
TNX futures declined to a low of 30.50 this morning as the next Cycles gets underway.  The Cycles Model calls for declining rates until mid-November.  The first support nearby is the mid-Cycle support at 24.44.