10:00 am
SPX may have peaked with a 17.2 market day rally from the February 24 low.  I had mentioned on Friday that it was day 17, but did not know whether it would extend to the full Cyclical complement of days.  It has.  The Cycles Model suggests a Master Cycle low the week of April 4.  A decline beneath the 50-day Moving Average at 4438.29 confirms the decline.
ZeroHedge comments, "Atlanta Fed President Raphael Bostic stirred the hawkish pot hard this morning with some more aggressive comments on QT (and rate-hikes).
"I penciled in six rate hikes for 2022 and two more for 2023," Bostic said in a speech Monday to a National Association for Business Economics conference in Washington.

"I recognize that I am toward the bottom of the distribution relative to my colleagues, but the elevated levels of uncertainty are front forward in my mind and have tempered my confidence that an extremely aggressive rate path is appropriate today."
Bostic may be hoping for that but the market sees 7 more hikes this year and 2 RATE CUTS in 2023/2024.
Bostic said he considered inflation as the top concern for policy makers this year and described the U.S. labor market as tight.
9:50 am
The Ag Index may have resumed its ascent after a short consolidation.  If so , it may have another 2-3 weeks of rally to meet its next Master Cycle high.  It has met is mid-Cycle support, currently at 542.96which is the normal retracement for Wave (2).  At the same time, it retracement has been shallow and liquidity is still an issue.  The only way that we will know that the trend is reestablished is a breakout above the March 8 high.
ZeroHedge reports, "Abnormally dry to exceptional drought conditions are expected to persist across 60% of the continental U.S. as spring in the Northern Hemisphere begins. Forecasters expect little to no rain for certain parts of the western U.S. through June.
From April to June, above-average temperatures are expected from Southwest to the East Coast and north through the Midwest, according to a new outlook published by the National Oceanic and Atmospheric Administration (NOAA).
NOAA's map shows a greater than 50% chance of drought persistence for nearly 60% of the continental U.S.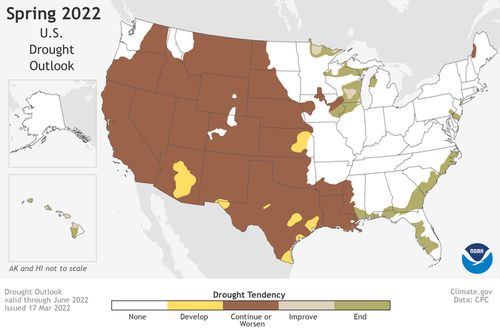 "Severe to exceptional drought has persisted in some areas of the West since the summer of 2020, and drought has expanded to the southern Plains and Lower Mississippi Valley," said Jon Gottschalck, chief, Operational Prediction Branch, NOAA's Climate Prediction Center."
8:00 am
Good Morning!
SPX futures dipped to a weekend low of 4440.40 before rising back to breakeven.  By Friday's close it had reached the 200-day Moving Average at 4470.46.  Not surprisingly, it had closed very near to its Max Pain zone at 4480.00.  Today's expiring options go long at 4450.00 and short at 4400.00.  SPX no longer has short gamma chasing its tail, but there may be some serious unwinding of longs by dealers and hedge funds making a market in options should it decline beneath 4400.00 today.  Should Friday's high be the swing high, we may see two weeks of decline into the first week of April, the next Master Cycle pivot.
ZeroHedge reports, "U.S. equity futures and European bourses stocks reversed modest overnight losses and turned higher as US traders got to their desks on Monday as crude oil extended a climb and investors monitored diplomatic efforts to bring an end to Russia's almost month-old war in Ukraine.  S&P futures rose 0.07% or 3 points after earlier sliding almost 30 points; Nasdaq futures were flat.
Focus on Monday will be on a speech by Fed Chair Jerome Powell after the central bank kicked off a rate-hiking cycle last week.  Powell is set to speak at the annual meeting of the National Association for Business Economics at 12pm ET; text release and Q&A are expected."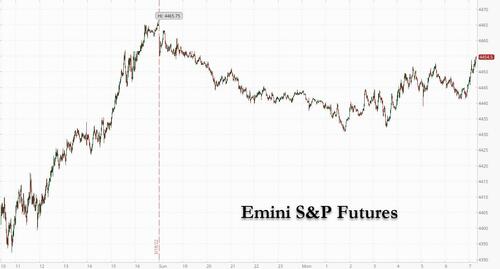 VIX futures rose to a weekend high of 24.98, just under the bottom trendline at 25.00.  It may have completed its Master cycle low on Friday, day 262.  A rise above the trendline may give us an aggressive buy with the 50-day Moving Average at 26.58 offering confirmation.
ZeroHedge comments, "VVIX knew (again)
VVIX has been in "denial" for some time and has refused getting excited about the last VIX attempts to move higher in early March. Both have fallen hard during the latest squeeze, but note that VVIX closed at lowest levels since early November. There is obviously more to it, but last time VVIX was here, the VIX was substantially lower. We are not calling for VIX to reach those levels, but the gap between the two indexes remains very wide.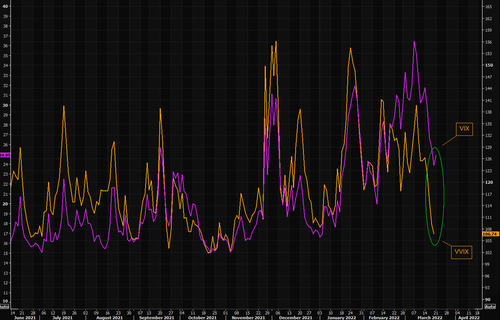 Source: Refinitiv
Sentiment and VIX
Imagine the pain should we decide moving higher from the lower band of this chart…

TNX rose with strength this morning, but did not break out.  The Cycles Model offers little direction for the next two weeks, so we may see TNX drift or go lower with the Cycle Top acting as near-term support.  The Cycles Model indicates a Master Cycle (high) in the third week of April.
ZeroHedge comments, "Bill Gross, the PIMCO founder and longtime "Bond King" of Wall Street, has likely grown accustomed to critical portrayals in the press, following his widely publicized dispute with a Laguna Beach neighbor (Gross published his own account of the aftermath which is definitely worth a read for the entertainment value alone), and after the recent publication of a book called "The Bond King" – which prompted him to pen his own memoirs to counteract what he feared would be a negative portrayal. Now comfortably ensconced in retirement, the PIMCO founder has taken a break from managing his own portfolio (which has recently included winning options bets against GME and AMC) to share his concerns about the Fed's rate-hike plans with the FT's top business editor.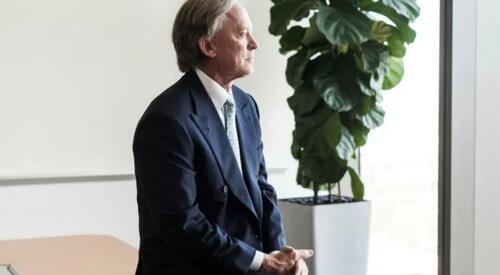 Gross fears that if the Fed follows throuogh with its plans to hike rates by 25 basis points at each successive meeting this year, it will "crack" the US economy and the housing market, sending the US careening into a recession.
As we shared on Wednesday, the Fed's median projection as expressed in the latest "dot plot" shows 7 rate hikes in 2022, which would leave the Fed funds rate, the central bank's benchmark interest rate, at a peak of 2.75%.
Raising the benchmark rate to this terminal level would cause the US economy to "crack", Gross said, causing a recession and "breaking" the housing market (which has been caught in a torrid buying frenzy).
"I suspect you can't get above 2.5 to 3 per cent before you crack the economy again," he said. "We've just gotten used to lower and lower rates and anything much higher will break the housing market."
USD futures have been consolidating beneath the Cycle Top resistance at 99.42, leaving Thursday's low at 97.72 as the possible Master Cycle low on day 253.  A breakout above the Cycle Top resistance gives us a final buy signal with USD target near 100.55.  The next Master Cycle (high) may occur near mid-April.
Crude oil futures rose to a weekend high of 107.50 on day 258 of its Master Cycle.  It is primed for a reversal that may not find a bottom until mid-April.
OilPrice.com observes, "
WoodMackenzie: European gas storage levels will likely be within the five-year range by the end of this winter.
If Russian flows continue, the European Union (EU) and the UK will end this winter's heating season with 27 billion cubic meters (bcm) of gas in storage.
Increasing imports from Norway, Algeria and LNG may help to compensate lower gas flows from Russia.
Europe Can Survive Throughout Summer Without Russian Gas
If Russian gas flows to Europe were interrupted now, Europe would have enough gas to last it through the end of this winter and the following summer without having to curtail demand, energy consultancy Wood Mackenzie said on Friday."
Gold futures have been hovering near the Cycle Top resistance at 1925.41.  The correction may have run its course.  The Cycles Model suggests trending strength returning later this week wit the next Master Cycle (high) anticipated in the last week of April.  Gold is an indicator of political turmoil and mistrust of governments.