12:20 pm
GKX appears to have completed its Wave 5 of (1) today at 579.02 on day 253.  It may still rise for a few days, but taking profits may be the better option.  Sell all Ag-related ETFs.
12:02 pm
NDX is probing its daily Cycle Bottom support at 13764.00.  Once beneath it, the next target appears to be the Lip/Neckline at 13065.00.  It is tiptoeing into short gamma territory.
QQQ (336.38) is well beneath the Max Pain zone for today's options expiration.  Short gamma begins at 335.00.  Will it bounce before the close, or give it all up?  Today's action doesn't look good.
11:05 am
Our liquidity proxy, BKX has declined beneath the neckline of its Head & Shoulders formation at 126.00.  This gives all the indications of an impending crash in the markets.  What's curious about this formation is that the current Master Cycle may have landed on February 24, on day 251.  The bounce took only a day before a reversal to a lower low.  Should that be the case, the new Master Cycle may run the entire month of March.
ZeroHedge reports, "…many did not think the EU would play the SWIFT card on Russia. It turns out they were correct…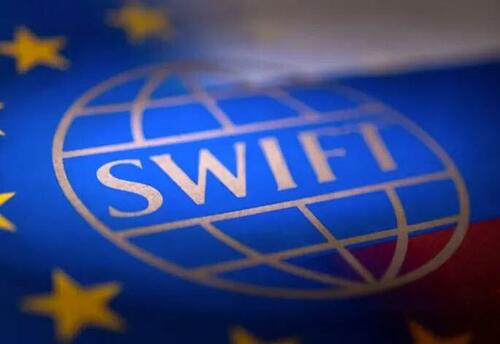 SWIFT is the international payment system. Cutting off a top country from SWIFT access is a very big deal.
When the US and EU trotted out the SWIFT sanction card, I thought I got that one wrong. Closer inspection by Eurointelligence and others shows it's Not So Swift After All.
FAZ informs us that the Swift sanctions are essentially dead in the water. Only seven banks, representing a quarter of the Russian banking sector, are subject to the sanctions. What happened is that once this sanctions list went through the mill of talks with member states, only this pared-down lists survives. The EU originally promised to hit 70% of the Russian banking system. One reason for the exclusion of Sberbank is the deposits held by savers in the bank's EU subsidiaries. It would have triggered massive deposit insurance claims."
10:37 am
The Ag Index is on a tear with another week to go in its Master Cycle.  Calculating targets for a rogue Wave may be an exercise in futility, as my previous target of 570.00 has already been exceeded.  GKX now exceeds its prior high made in March 2011 at 570.50.  At this point the best reference points are the round numbers.  The next round number target is at 600.00 with the next Master Cycle pivot due on March 9.
ZeroHedge reports, "This morning we listed some of the countries that are dangerously (and almost exclusively) reliant on Russia and Ukraine for their wheat imports, highlighting Turkey, Egypt, Tunisia and others…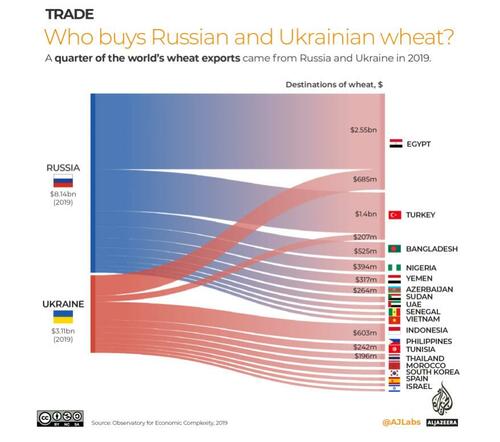 … which are facing an "Arab Spring" style food crisis (and potential uprising) in the coming weeks unless the Ukraine conflict is resolved.
And unfortunately, we can now confidently predict that the coming food crisis will strike every country that is using food fertilizer – which is all – because moments ago, Russian Interfax reported that as part of Moscow's countersanctions, Russia has recommended fertilizer makers to halt exports, a move which will sent not only fertilizer prices orbitally higher, but all food prices will soon follow."
10:30 am
Crude oil futures are consolidating within yesterday's wide trading range.  The Cycles Model suggests another two weeks to the end of the current Master Cycle.  This Wave may rise to a range of 133.00 to 150.00 in that time.  The war is creating a rogue wave in commodities.
ZeroHedge reports, "Another day, another record discount for Russian Urals crude, which was offered at a price more than $22 below spot by oil trader Trafigura and still could find no giant…
… confirmed what we previously observed, namely that the commodity world is splitting in two: a bidless market for Russian oil, and (increasingly) offerless for non-Russian.
8:20 am
Good Morning!
I thought I'd start this Friday with a "big picture" chart showing the DJIA breaking down beneath the upper trendline of its 38.7 month-old Orthodox Broadening Top.  This morning's DJIA futures have also broken beneath the daily Cycle Bottom support at 33548.41 for a second time, signifying a significant loss of liquidity and a loss of institutional support.  It is hovering near that area as I write.
8:35 am  ZeroHedge reports, "As noted earlier, it was difficult to get worked up about today's jobs report in light of the barrage of geopolitical development, and yet if anyone needed a confirmation that the Fed will hike by 25bps in two weeks, they just got it when the BLS reported that in March, total jobs surged by a whopping 678K, much higher than the 423K consensus forecast, higher than last month's upward revised 481K and the highest since last July's 689K. However, offsetting this surge was the unexpectedly weak wage data, which saw a flat print in the monthly change in average hourly earnings vs expectations of a 0.5% increase (and down from 0.6% in February).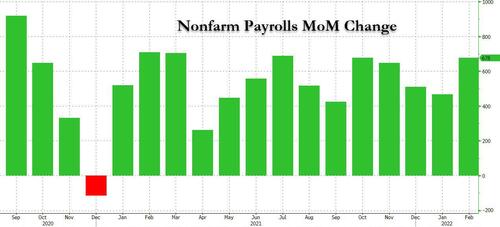 SPX futures have declined to an overnight low of 4287.00 before a bounce bringing it back above 4300.00.  Today's options expiration is critical, since open interest is bearish (favoring puts) at 4350.00 and below, while gamma turns short below 4250.00.  The Cycles Model suggests a steep decline to the week of March 14, likely to be at least 8.6 days in duration.
ZeroHedge reports, "It has been another rollercoaster session, which saw futures tumble around 7pm ET following news that a Ukrainian nuclear power, Europe's largest, had caught fire after alleged Russian shelling, and even though it largely turned out to be a false alarm with no damage to the NPP reactors or any radiation leaking, futures still have failed to recover much of the loss and were trading about 1.1% lower on concerns that the escalation of the war in Ukraine could have a stronger economic impact than anticipated. Contracts on the Nasdaq dropped 0.8% and Dow futures were 0.93% lower. As futures sold off, treasuries and gold climbed amid haven demand, while oil headed for its biggest weekly surge in almost two years. A dollar gauge rose to its highest level since July 2020, while the euro extended its decline below $1.10 for the first time since May 2020."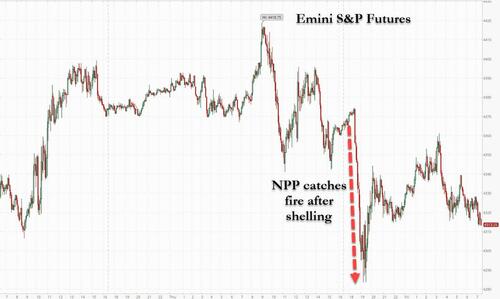 VIX futures made an overnight high at 34.49, reaching for the Head & Shoulders neckline.  A breakout suggests the minimum target at 63.78 may be met in the next two weeks.  The Cycles Model suggests this may be accomplished by the week of March 14.  The 17.2-month Ending Diagonal may be completely retraced by June. The Wave [3]  high for the VIX is likely to be over 90.00, since Wave threes cannot be the smallest Waves.  The monthly chart shows a massive Head & Shoulders with a possible target of 162.38.  Don't hold your breath on this one.  I'm only saying it's possible.  A rogue Wave, perhaps?
TNX beat a hasty retreat and may challenge the trendline again.  Doing so could extend the Master Cycle bottom, as today is day 266 in the old Master Cycle.  The decline in the 10-year T-note yield may be a result of a knee-jerk habit of switching from stocks to bonds in times of distress.  However, this is only a correction, not a new trend, as it may be in stocks.
USD futures just exceeded the 61.8% retracement target at98.31 I had previously been referring to.  This may be due to the panic flight of assets from Europe to the United States.  Next in line is a target near 100.00 over the next two weeks as the current Master Cycle winds down.