2:00 pm 
Shocker From Fed Repo Oracle Zoltan Poszar: Powell Must Crash The Market
ZeroHedge reveals, "Back on November 7, just one day before the Russell, cryptos and most risk assets peaked for the year and perhaps this cycle, we asked a simple question yet one which the "expert punditry" immediately dismissed as it was – what else – just more conspiratorial thoughts, to wit: "Did The Fed Just Set The Stock Market Up For A Crash?"
10:17 am
BKX is challenging Intermediate-term support at 140.00.  A close beneath that level confirms the aggressive sell signal made when BKX failed at  the Cycle Top resistance.  The Cycles Model anticipates a Master Cycle low for Intermediate Wave (3) on March 3-4, similar to the SPX.  The February 10 high at 146.26 marks the end of the 12.9-year Cycle that began in March, 2009.  This may also be the end of an era for banks.
ZeroHedge remarks, "Days after Canadian Prime Minister Justin Trudeau said he would invoke emergency orders to crack down on demonstrators by freezing their bank accounts, five major Canadian banks went offline on Wednesday night, as customers reported their funds were unavailable, according to technology website Bleeping Computer.
Royal Bank of Canada (RBC), BMO (Bank of Montreal), Scotiabank, TD Bank Canada, and the Canadian Imperial Bank of Commerce (CIBC) were all hit with unexplainable outages on Wednesday evening. Users began reporting issues with banks around 1600-1700 ET, Downdector data showed.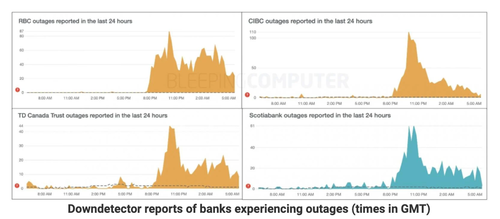 Canadian Twitter users reported they couldn't access their funds at the ATMs. One user took a photo of an error message at one of RBC's ATMs that read, "Tap transactions aren't available for this card."
10:10 am
The reversal came a few hours early.  Wave B is complete and Wave C may be underway.  SPX is testing the short gamma zone at 4400.00.  Once beneath that, the decline may become self-reinforcing.  In addition, the margin desks may become very busy should the SPX decline beneath 4300.00.  Note:  the low on January 24 was made at 2:30 pm, just as the margin desks became active.   The SPX closed that day at 4327.23, just above the margin call line.  Had there been a close beneath that level, accounts in negative margin would have been liquidated overnight.
9:00 am
Good Morning!
SPX futures declined to 4436.60, but did not make a new low.  This decline may be a fake-out.  The Cycles Model allows Wave B to extend to the 2-hour mid-Cycle resistance at 4551.08.  Formerly I had calculated a 17.2-day decline from the Wave (2) high at 4595.31.  I have since recalibrated Wave (3) to be a 21.5 day decline.  Today is day 11, allowing a pivot to the downside mid-way through the day.  March 3 is day 21.  It may extend another 1/2 day to March 4, as this will be a powerful decline.   The SPX Master Cycle appears to be complete on March 3, day 258.
However, the NYSE Hi-Lo Index (-94.00) is targeted to make its Master Cycle low on March 14-16,  suggesting a bottom for Wave (5) of Primary Wave [1] of Cycle Wave c.
ZeroHedge reports, "It was a relatively quiet overnight session until just before 11pm ET on Wednesday, when Russia's RIA Novosti news agency reported that Russian-backed separatists claimed Ukrainian forces had violated cease-fire rules in four places with a message posted on the self-proclaimed Donetsk People's Republic (DNR)'s  Telegram channel claiming that "the situation on the line of contact has sharply escalated. The enemy is making attempts to unleash active hostilities." This was followed promptly by the Ukrainian government returning the accusation and pointing the finger at separatists as being behind the shooting. Amid the he fired, she fired confusion, monitors from the Organization for Security and Cooperation in Europe (OSCE), which has been observing the situation in eastern Ukraine, recorded numerous shelling incidents along the line of contact in Donbas on Thursday morning, a diplomatic source told Reuters. The breathless reporting was enough to send US equity futures tumbling 30 points in just a few seconds…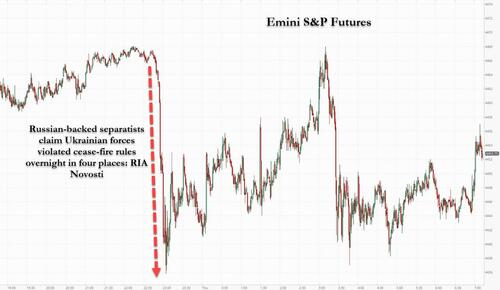 … while Treasury yields also collapsed…"
"Update (0900ET): Adding further to tensions, RIA reports that Russia has expelled the Deputy US Ambassador, and that has legged stocks down further to overnight lows…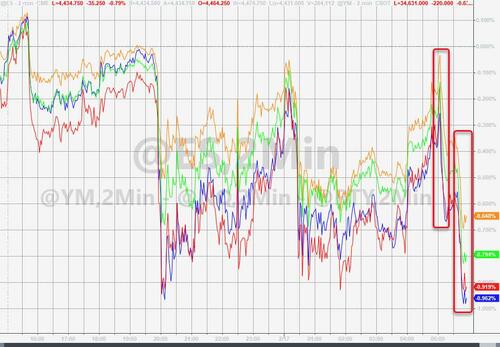 The Ruble is also sliding…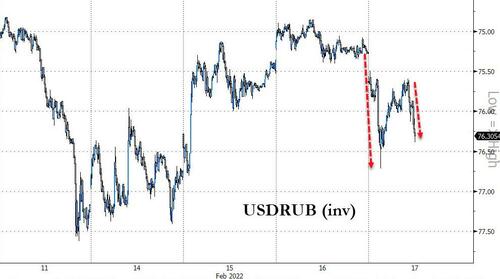 10Y Treasury yields are bid, trading back below 2.00%.
*  *  *
Here we go again…
After a roller-coaster overnight session, driven by headlines about various attacks in Ukraine, US envoy to UN, Linda Thomas-Greenfield, told reporters (and anyone who'll listen) that "Russia is moving towards imminent invasion," adding that "this is a crucial moment."
VIX futures  rose to 26.57, testing the Cycle Top resistance at 26.82.  Today may be more volatile, bringing the VIX down to the 50-day Moving Average at 22.04.  The game here is to shake out as many weak hands (longs) as possible just before the rocket launches.
TNX is pulling back this morning, as anticipated.  Should it stop at the Cycle top at 19.00, it may reverse back to a Master Cycle high next week.  However, it may continue down to the Lip of the Cup with Handle formation for a Master cycle low, instead.  Those long on yields should be aware of the increasingly likely decline to the trendline.  Once accomplished, the target for Wave (C) of [5] remains near 30.00.