10:25 am
NDX appears to have bounced off its 22-month trendline and may be heading higher.  The new target, should it run to the top again, is 16700.00 where Wave C equals Wave A.  However, it will have some serious headwinds at the 50-day Moving Average at 16087.00.  In tomorrow's NDX options expiration, 16300.00 appears to be the Max Pain zone, while gamma turns positive at 16400.00.  The dealers have their work cut out for them.
10:03 am
SPX may have bounced from its mid-Cycle support at 4682.00, although it is too early to tell as it may test the 50-day at 4667.00.  The current decline has kept the form of a Wave B, so the bounce is still in play.  For some reason this chart shows the 100-day (green line) and not the 50-day Moving Average.
9:43 am
BKX made a new high this morning as it challenges the Cycle Top resistance at 142.34.  The Cycle Trading Bands are narrowing, anticipating a probable reversal off the Cycle Top and the start of a powerful new trend.  It could be that, since Wave [5] appears truncated, that this may be another attempt at Wave [5].  If so, the top may appear closer to 145.00.
7:30 am
Good Morning!
NDX futures reached an overnight now of 15633.50, bouncing off the 22-month trendline discussed yesterday.  We may consider that to be strong support which may lead to a Wave C bounce to the vicinity of  the Wave A high (flat correction) or to 16732.00, where Wave C equals Wave A.  NDX is in seriously negative gamma territory and should do this quickly, as the next options expiration is due tomorrow.  QQQ (384.29) must rise a hefty 2.5 to 3% to achieve its Max Pain zone at 394.00 at options expiration tomorrow.
RealInvestmentAdvice observes, "The first part of our 2022 outlook looks through the front windshield and contrasts 2021s tailwinds with 2022s growing headwinds. While no one knows what 2022 holds in store for investors, our concern is that it should not foster the same optimism as 2021. The economic and financial environments are shifting rapidly making the 2022 outlook much more difficult than this past year.
Part 2 of the 2022 outlook, coming out next week, will cover our thoughts on the stock and bond markets.
"The more extended the advance, and the higher valuations become, the more stable and promising the investment can appear to be, when judged through the rearview mirror." John Hussman
The VXN closed above its 50-day Moving Average at 23.30 and may reach its Cycle Top before a correction to retest the 50-day.  It is on a buy signal (short NDX), but shorting the NDX should be done on the pullback.    The NDX Hi-Low closed at -282 yesterday, giving it a sell signal.
SPX futures bottomed out at 4677.10 in the overnight session and has stabilized near 4700.00.  Should Wave C follow through, it may ultimately close above the Wave A high, as far as 4950.00 Where Wave C equals Wave A, a common relationship.  However. 4800.00 may provide heavy resistance, as 4775.00 is the Max Pain zone in Friday's options.  Remember, options providers have the incentive to pay the least at expiration time.  At the moment, the dealers must be very uncomfortable, as gamma is negative below 4775.00 and there are 8,000 more put contracts than calls at 4700.00.
ZeroHedge reports, "US equity futures were little changed after earlier swings as traders digested hawkish Fed minutes that sparked a global stock rout on Wednesday. As discussed yesterday, minutes from the Fed's December meeting showed a growing preference for a faster path of rate hikes and a shrinking of the bank's balance sheet (one which would lead to yet another market crash and even more stimulus). However, while rising rates is terrible news for tech and high duration names, it's good news for the value sector, and investors bet while the Fed's faster-than-expected policy tightening (which will lead to faster than expected easing) may crimp highly valued technology stocks it will offer opportunities in other equity sectors, and sure enough with Nasdaq futures bombing again, energy names like Exxon are at 2 year highs. Treasury yields extended a spike, with the 10Y rising to 1.75%, the dollar was unchanged and bitcoin's plunge continued even though the selling in stocks has subsided. At 730am, Emini S&P futures were down 3 points or -0.06%, Dow futures were up 82 points or 0.2% and Nasdaq futures were down 76 points or 0.5% but off worst levels."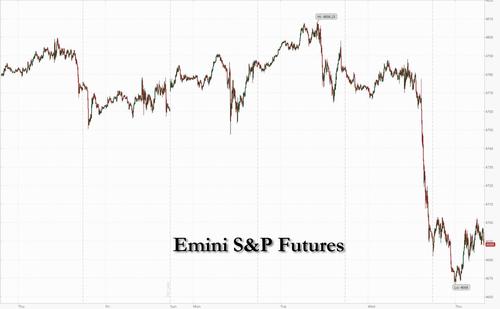 VIX futures reached a new high at 20.79 in the overnight session, but have come down, remaining thus far above the 50-day Moving Average at 19.55.  The probe higher may be finished for now, but the buy signal has been made and VIX investors may be looking for a better entry point.
TNX has challenged its Cycle Top at 17.42 this morning.  TNX futures rose to 17.53 before opening beneath Cycle top resistance.  This is significant, since the Cycle Top is 2 standard deviations from the mean 258-day average at 14.71.  Investors at analysts look upon the 17.00 level as a major cange in outlook, which it is.  However, they still view the Fed as being "in charge" of rates.  However, I have done a study which reveals that the Fed has always been behind the Fed Funds rate Cycle by 1-3 months since 1949, when that data became available in 1949.
ZeroHedge remarks, "Considering that today's minutes covered a FOMC meeting that took place some three weeks ago, with numerous Fed speakers having ample opportunity to set the stage for what was to come (talk about those famous Fed "communication" skills), it is rather shocking how powerful and violent today's stock tantrum was.
But what exactly spooked traders so badly?
Well, as JPM Michael Feroli writes in his FOMC post-mortem, the minutes portray "a Committee on the march toward removing policy accommodation" which is not a surprise to anyone except perhaps the biggest cubic zirconium hands out in Seoul. Regarding the expected path of policy rates the minutes note that meeting participants generally see rate hikes "sooner or at a faster pace" than previously expected. Of course, this too had already been hinted at by the dots released after the meeting."
Gold futures are down beneath all supports this morning, creating a powerful sell signal.  It made its Master Cycle high on Monday, day 257.  Yesterday's uptick was strong, but unable to make a new high.  The new trend may see a breakdown beneath the Broadening Wedge and Head & Shoulders formation.  the New Master Cycle may not pivot higher until mid-February.