12:45 pm
NDX also made a new all-time high, then threw a tantrum.  The trendline lies at 16400.00.  No signal yet, but its time to be alert.
ZeroHedge remarks, "Update (1200ET): After Powell's nomination, and a tailing 2Y Auction, it appears a combination of spiking yields and hawkish rate expectations finally triggered a tantrum in stocks.
STIRs are pricing in a full rate-hike by June 2022…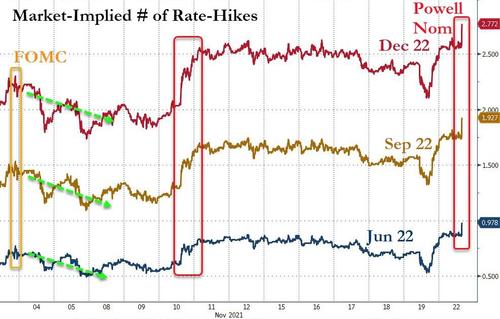 2Y Yields spiked to new cycle highs…"
12:37 pm
SPX made a new all-time high, then challenges the trendline at 4700.00.  A breakdown here may give a SPX sell signal.  Confirmation lies below Short-term support at 4688.22.  Critical support lies at the 50-day Moving Average at 4513.62.
12:29 pm
TNX has broken above Intermediate-term resistance.  It is on a buy signal through late January 2022.
ZeroHedge reports, "In a bizarre day for risk assets, one where stocks surged to a new all-time high promptly after the start of trading only to fade all gains and push the Nasdaq into the red, moments ago the Treasury sold $58BN in 2 year paper in a very poor, tailing auction, which was a mirror image of last month's stellar 2Y sale which only saw tremendous interest due to the buying frenzy by shorts who needed physical paper to offset their futures shorts.
In any case, today's 2Y auction priced at a high yield of 0.623%, was well above last month's 0.481% and tailing the When Issued 0.612% by 1.1bps. This was the biggest tail since Feb 2020 when the economy was about to implode.
The Bid to Cover was also ugly, sliding sharply from last month's 2.686 to just 2.358% and far below the 6-auction average of 2.56."
8:10 am
Good Morning!
SPX futures rose to 4719.50 (possibly a typo, since corresponding data shows 4717.50) over the weekend session.  Futures have since come down from their high.  SPX closed just under 4700.00 on Friday, leaving the holders of options at a strike of 4700.00 or higher penniless.  That was grand theft of a legal variety on a massive scale.
That leaves Thursday, with a closing price of 4704.54 as the Master Cycle high on day 259.  It was a brilliant maneuver, keeping players glued to their positions with the "hope" of a higher market at expiration.  This week we may see a sell-off as dealers and hedge funds offload their long positions.
ZeroHedge reports, "US equity futures and European markets started the Thanksgiving week on an upbeat note as investors set aside fear of surging inflation and focused on a pickup in M&A activity while China signaled possible easing measures. The euphoria which lifted S&P futures up some 0.5% overnight and just shy of all time highs ended abruptly and futures reversed after German Chancellor Angela Merkel said the Covid situation in the country is worse than anything so far and tighter curbs are needed. At 730 a.m. ET, Dow e-minis were up 95 points, or 0.26%. S&P 500 e-minis were up 12.25 points, or 0.26% and Nasdaq 100 e-minis were up 58.75 points, or 0.357%."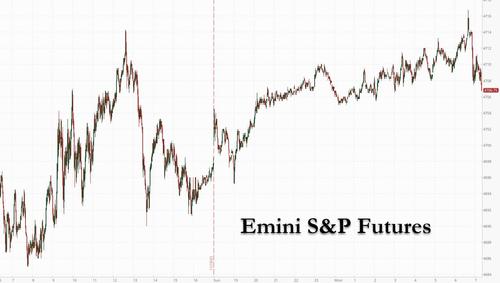 VIX futures have risen just under the 50-day Moving Average at 18.39, the trendline and the mid-Cycle resistance at 18.44.  The morning high so far was 18.34.  Be prepares for a VIX buy signal.  The Cycles Model suggests rising volatility for the next two weeks is possible.  We may need to monitor it for a breakout above the Head & Shoulders neckline.
The NYSE Hi-Lo Index closed on a potential sell signal on Friday at -19.00.  An opening value in single digits or below zero would alert us to the fact that lower prices are coming.  The fly in the ointment is that Friday was day 253 of the Master Cycle.  Today is day 256.  We may see a bounce soon that may negate the signal.  What comes to mind is a potential 1–2 day volmageddon that shakes out the weaker hands before a resumption of the bull market into late January.  Should SPX stay above 4000.00, the market may continue higher.
TNX is rising, challenging Intermediate-term resistance at 15.74.  It made a 54% retracement of its rally off the MC low and may be prepared to make new highs.  The Cycles Model suggests a continued rally through the third week of January.
USD futures consolidated inside Friday's trading range as awaits further developments in TNX.  The next resistance to the rally appears to be near 98.00.  The Cycles Model projects a continued rise in the USD until mid-January.
Gold futures made a new low at 1828.50 during the weekend session.  It is on a sell signal with a declining outlook through the first week of January, according to the Cycles Model.
WTI futures declined to a weekend low of 74.83 as it probes lower.  Today is day 259 of the Current Master Cycle.  We must be alert to a reversal which may be imminent.