8:15 am
Good Morning!
Just when the market reaches its upper trendline (Cycle Top) it has a throw-over.  SPX futures hit a new all-time high of 4667.70 this morning.  Today is 31 calendar days from the October 4 low.  The market is due for a "rest" very soon.  There are two possible outcomes for a decline.  Should it stay above the trendline at 4475.00, the SPX may soar to new all-time highs ending at the next Cycle interval in late January/early February.  A decline beneath the trendline opens the possibility of a major Cycle low at that time.  I have marked the chart as if the November Master cycle low will remain above the trendline.  The last turn interval was September 2 at 17.2 months.  The next turning point may be 21.5 months from the 2020 low.
ZeroHedge reports, "US equity futures plowed on to record-er highs overnight, propped up by a slew of stellar earnings reports and as investors shrugged off the Federal Reserve's first steps to begin paring its pandemic-era support as Powell reiterated that the central bank can be patient on raising interest rates (even if rate hikes odds pricing in lliftoff in July were virtually unchanged after Powell's announcement). The Fed Chair announced Wednesday that the central bank will start reducing bond purchases, adding that officials won't flinch from action if warranted by inflation. The U.S. dollar and Treasuries advanced. "There was no dramatic Hulk-like metamorphosis from the Fed last night as they kept close to expectation," DB's Jim Reid said in a note. At 730 a.m. ET, Dow e-minis were down 7 points, or 0.02%, S&P 500 e-minis were up 6.75 points, or 0.15%, having earlier tagged a record high 4,662.5, and Nasdaq 100 e-minis were up 61.25 points, or 0.39%. The U.S. dollar and Treasuries advanced."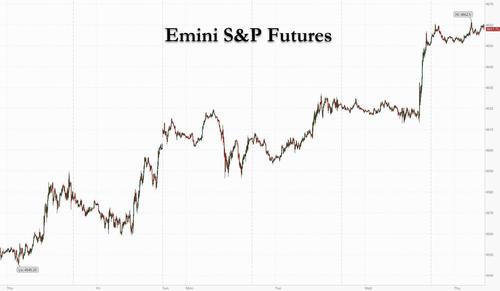 VIX futures declined to an overnight low of 14.87, nearly taking out the October 22 low of 14.84.  Unfortunately, the VIX may make a new low today, as it would be day 267 of the Master Cycle.  Cycles are organic and may be stretched or shorteened, depending on their inputs.  We are all aware of the Fed and its liquidity pump.  However, there are other inputs that we may be lwss aware of.  For example, I warned on Sepember 20 that the new volcanic eruption at Las Palmas in the Canary Islands offers a very different kind of threat.
ZeroHedge reports, "Lava flows from Cumbre Vieja volcano on the Spanish island of La Palma have been ongoing for the seventh week, which began around Sept. 19. The volcano is now spewing what scientists call "lava bombs."
At the end of October, geochemist Harri Geiger visited Cumbre Vieja and captured a video of a large molten rock known as a "lava bomb. These molten rocks are rare and don't occur with every volcano. According to the USGS, molten rocks only develop during an explosive eruption.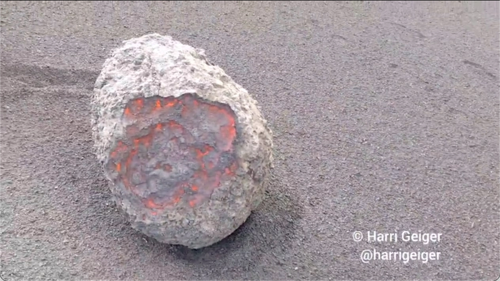 The one Geiger found measures 3.2 feet across with an estimated weight of half a ton. Once ejected from the volcano, these projectiles can be extremely dangerous. "
TNX has pulled back from yesterday's high.  It may be testing Intermediate-term support at 115.38.  However, it is due for a breakout and possible new highs by November monthly options expiration.
ZeroHedge reports, "As noted earlier, today's FOMC meeting did not surprise and announced the start of tapering. Balance sheet expansion will slow to USD 105BN as of mid-November and USD 90BN as of mid-December, and – absent material changes – is expected to end mid-June at which point the market sees the Fed beginning a rate hike cycle (odds of a July rate hike were virtually unchanged today at 0.946%, barely down from 0.97% before the FOMC) even thought Powell today tried to characterize inflation as more persistent than expected, but still transitory.
As Curvature's Scott Skyrm notes, the tapering announcement was generally as expected, but at the same time, a little different: "Yes, the FOMC announced the Fed will purchase $15 billion fewer securities beginning in November. Basically, as expected. However, here's the interesting part. The Fed pre-announced a second tapering of $15 billion in December. That means that beginning in January, tapering is still a "wild card." We will expect another cutback of $15 billion in January, however, it's not guaranteed. Theoretically, they could stop tapering in January or they could increase the pace of tapering. Overall, it looks like the December FOMC meeting will be important for the markets."
USD futures are on the move higher, hitting 94.33 this morning.  The USD Cycle currently matches the TNX Cycle, within days.  The Cycles Model shows exceptional strength rising into options expiration.