11:03  am
SPX is heading for Short-term support, where there may be a bounce.  Should it decline through it, the next support is at the mid-Cycle and trendline at 4411.14.  This jolt to the market may be stronger than originally expected.  The confirmed sell signal, in the absence of the dual VIX and Hi-Lo signal is beneath the trendline.  We are in aggressive sell territory, but the big picture suggests the uptrend is over.
10:38 am
VIX has clearly risen above the 50-day, confirming its buy (SPX sell) signal.   The NYSE Hi-Lo i still rising to 53.00, not confirming.  We may not see a reduction in the Hi-Lo until (after) the market close.  There may be a bounce, but the uptrend is broken.  This may be a good time to sell longs/buy short positions.
ZeroHedge reports, "Just as everyone was settling on for the long sleep through tomorrow's J-Hole speech from J-Powell, a blast at Kabul's airport has catalysed some fear and sent VIX exploding higher…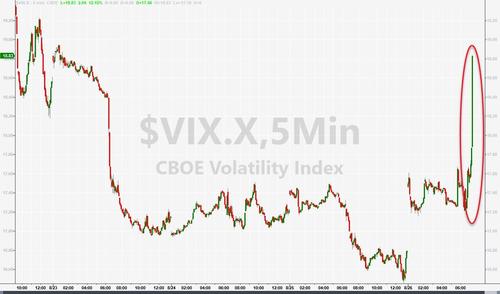 And that has sent stocks tumbling…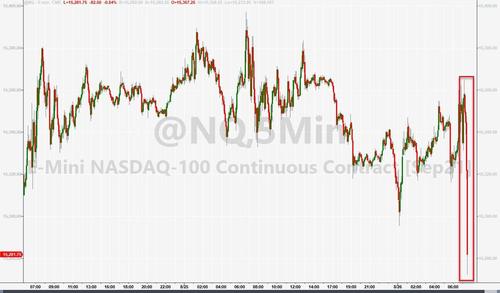 10:17 am
TNX rose above the 50-day Moving Average at 13.39 this morning, confirming the buy signal given yesterday.  The Cycles Model suggests strength will dominate this Cycle starting after Labor Day and lasting through options expiration, a good indicator of a Wave 3.
Mish comments, "Let's discuss the relationship between tapering, Janet Yellen, Jerome Powell, and president Biden.
7:40 am
Good MOrning!
SPX futures declined to 4484.10 before coming back to breakeven with the close.  The requisit number of Waves are evident, as is the target for the target for this Cycle, on day 260.  The average Master Cycle is 258 days (8.6 months).  Since Cycles are organic, not mechanical, the variance may be up to 17.2 days on either side.  The prior 4 Master Cycles were 248 to 252 days, putting me on high alert for the past week.  While this Cycle may extend until after Jackson Hole, it is just as likely that the influence of J-Hole may simply keep the SPX in a tight trading range until Monday.  We must watch for deterioration in the other indicators, as well.
ZeroHedge reports, "S&P futures continue to trade as if paralyzed in a tight 20-point range on dismal volumes just below 4,500 for the 3rd day in a row, and overnight they are fractionally in the red although off session lows, with the Nasdaq 100 down 0.2% and S&P 500 -0.1% amid a retreat in tech shares and commodities as markets remained on edge ahead of Friday's Jackson Hole virtual gathering where Chairman Jay Powell is expected to speak at 10am and give clues on the upcoming taper. The dollar rose, yields were unchanged at 1.34%, oil dipped and bitcoin slumped.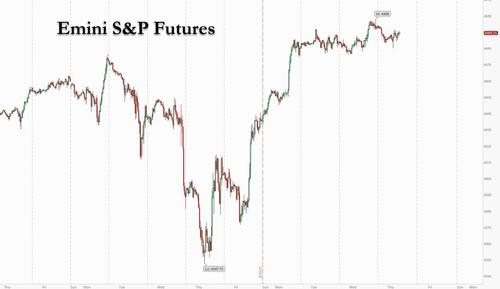 VIX futures challenged the 50-day Moving Average at 17.43, rising to 17.61 in the overnight session.   It is back under the 50-day, but that challenge indicates a rising potential to move above it.  We're on a tightrope, but the VIX is only two feet off the ground.  This may be a low-risk entry for a trade in VIX options and ETFs. The ne;xt Master Cycle (high) may not be until late October.
The NYSE Hi-Lo Index closed at 105.00, just above its 50-day Moving Average at 104.00.  Nonetheless, we await for the Hi-Lo to fall beneath 0.00 to affect a change to a sell signal.
CharlesHughSmith opines, "The post-bubble-crash phase is already being prepared: 'no one could have seen this coming'–except anyone who paid attention to anything other than self-interested shills.
It's really pretty simple to identify a speculative bubble of epic proportions in stocks: if Wall Street says it's not a bubble, it's a bubble. As I explained in The Smart Money Has Already Sold, from the long view the entire game of "investing" (wink-wink) boils down to one dynamic:
Wall Street and the Federal Reserve inflate an unprecedented debt-funded speculative bubble and then lure retail "investors" (i.e. gamblers) in with the promise that the enormous gains are just starting, there's so much more easy money ahead, etc. Then Wall Street distributes (sells over time so as not to alert the complacent herd of retail punters) its shares of overpriced rubbish ("investments", heh) to bagholders, and then to everyone's surprise (or not), the market suddenly crashes as the unsustainable bubble pops."