10:25 am
I appears that the retracement may attempt a retest of the shoprt-term trading channel trendline near 4460.00, although Short-term resistance at 4436.00 may be tough with the 61.8% Fibonacci retracemennt at 4437.19.  What happens after that is a likely decline back to 4400.00 and below.   Final nsupport is at 4495.81 along with the one-year tDiagonal trendline.   This may be a good place to add short positions.
7:10 am
Good Morning!
SPX futures have ventured down to 4376.10 before a small rebound.  As in the past months, options expiration appears to be dictating the markets.  The AM settlement (at the open) shows the calls dominate by a net open interest of 4000 calls at 4400.00 while somewhat neutral territory goes down to 4375.00 (MAX PAIN), where there is an open interest of 18,243 calls and 18,631 put contracts.  As you well know, virtually 99% of all options contracts expire worthless.  The market makers (dealers and hedge funds) try to make sure that the least amount is paid out at expiration.  It's a virtual money machine for them until an event that drives the market out of those parameters.
The PM settlement is more bearish with open interest in 5046 calls and 7180 put contracts at 4400.00.  This is where it gets interesting, since the SPX must open beneath 4400.00 but close above 4400.00 for maximum pain to both sets of option holders and the smallest payout by the market makers.  You can almost read their (collective) minds.  Keep in mind that trenndline support at 4400.00 may now be lost, giving a downward cast to market sentiment.
ZeroHedge reports, "Another ugly day for risk assets with US equity-index futures dropping alongside global stocks, as faltering growth and China's regulatory curbs compounded risks before the Federal Reserve's Jackson Hole symposium next week. Fears about economy-linked sectors put the Dow and the S&P 500 on course for their worst week since mid-June. The dollar extended its rally to a fresh 10 month high, oil slumped and bitcoin surged after Coinbase announced it bought $500 million in crypto would reinvest some of its profits in digital currencies. At 745 a.m. ET, Dow e-minis were down 125 points, or 0.36%, S&P 500 e-minis were down 15 points, or 0.34%, and Nasdaq 100 e-minis were down 19 points, or 0.13%."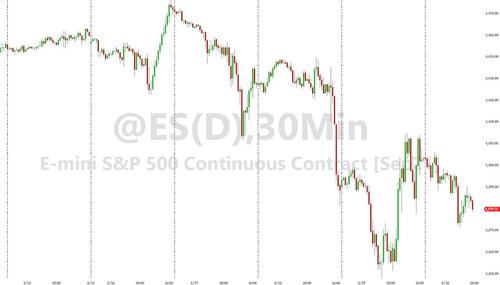 VIX futures remained between 22.64 and 23.90 during the overnight session.  The top trendline of the Ending Diagonal may now be support going forward.  The neckline at 24.74 may now be the immediate target, especially should the SPX fail to hold above 2375.00.  VIX is on a confirmed buy (SPX sell) signal.
The NYSE Hi-Lo Index closed at -71.00, adding further confirmation to the sell signal.  The market internals stink, but the market makers still have a (temporary) hold on things.  We may wish to check this at mid-day to see if there is further erosion.  This may indicate whether the SPX may close above 4400.00.
USD futures rose to 93.68, ending a strong week of gains.  It has broken out above the two previous highs and may be due for a modest pullback next week.
The Shanghai Composite Index took a nosedive to 3394.97, a new low, before a modest bounce in the overnight session.  It appears that the Shanghai may be gaining downward momentum next week as it approached the Head & Shoulders neckline.  This Master Cycle may last to mid-October and it may exert a heavy influence on the NDX.
ZeroHedge remarks, "Hong Kong stocks tumbled into a bear market, with the Hang Seng index sliding more than 20% from it February high on Friday after Beijing approved a new privacy law to prevent data collection by domestic technology companies.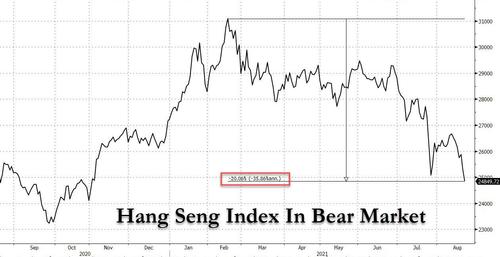 China's most powerful legislative body, the Standing Committee of the National People's Congress, passed the Personal Information Protection Law that will go into effect on Nov.1, according to FT.  The move sent tech stocks plunging and leaving investors bewildered over the intensity of Beijing's regulatory crackdown that has slammed countless sectors.
NDX futures consolidated within yesterday's range while waiting out options expiration.  However, the internals stink of avoidance with the NDX Hi-Lo closing at -246.00.  The dealers may have a hard time keeping the NDX in a tight range.  NDX option are sparse, but Open Interest turns bearish beneath 366.00 (closing price: 363.96) in QQQ.  It may be a struggle to keep the NDX above the 50-day Moving Average at 14684.67.
TNX is sinking, showing a flow of liquidity toward treasuries.  Today may be the last day of weakness in TNX as next week ushers in two weeks of strength.  The Fibonacci calculations show the 61.8% retracement at 12.25.