February 1, 2021
3:05 pm
RealInvestmentAdvice explains, ""Almost anything is better than paper money. Any fool can run a printing press." – Nelson Bunker Hunt
A year ago, the phrase "gamma squeeze" would have caught many of Wall Street's most astute investors off guard. Today, both traditional and social media regularly parrot the phrase. It won't be long before the shoeshine kid tells the Bank President about his gamma squeeze exploits.
A Gamma squeeze is just the latest innovation in centuries of market manipulation schemes. Given this activity is a source for significant volatility and instability, it is worth exploring."
2:03 pm
VIX appears to have completed its decline without much damage to its structure.  The next move may take it significantly higher.  A rough calculation suggests that, should VIX make a top at the end of February, it may reach 140.00.  The final top may be higher.
ZeroHedge explains, "As we detailed earlier, futures were down quite sharply to start the overnight session only to stage a significant recovery to current highs (perhaps on the back of a lack of glaring clearing issues… for now… appearing over the weekend).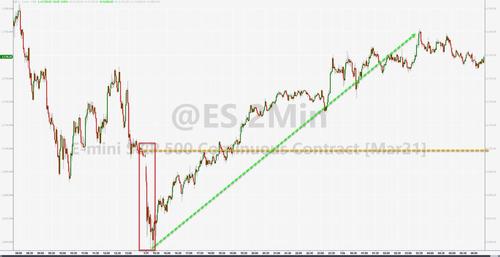 However, as SpotGamma notes, despite this move higher the options structure deteriorated, and we will need to see some fairly strong call flows to help reign in volatility (puts above 3750 were net closed/rolled on Friday which relieves some of the selling pressure >3700).
Both of which fit with our warning from Friday that there has been a 'phase reversal' in the options market. From total and utter panic-buying of calls (relative to puts)…the explosion in the "weaponized Gamma" phenomenon of markets, largely due to the democratization of trading and access to information (e.g. options mkt gamma "pinch points," short interest as a %age of float in single-name Equities) – which previously was really only followed in institutional corners, but is now accessible by hoards of retail traders playing video games with stimmy checks and free trades—was all part of the overall "risk-on" sentiment tailwind.
1:45 pm
Silver has begun its next big move.  As mentioned on Sunday, "A Fibonacci retracement of 61.8% of the entire decline would net 35.23.    Wave (5) is 2X Wave (1) at 36.45."  The tension can be cut with a knife.  WSB has a reputation to live up to and they are determined to make this a super squeeze play.  Ultimately, though, it will end in tears.
ZeroHedge reports, "Update (1055ET): Having surged by the most since Lehman, topping $30 for the first time since 2013, Silver futures have been taking some heavy volume punishment since the US equity market opened.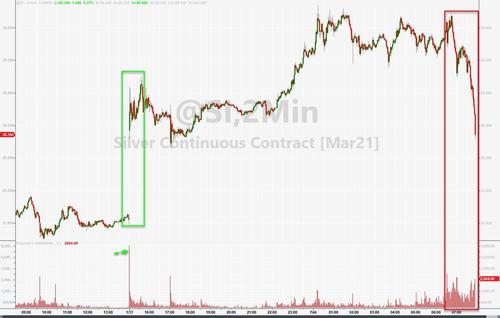 The SLV premium to spot does not seem too out of whack here…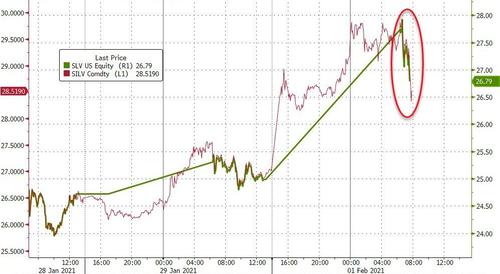 Notably, SLV volume in the first 90 minutes is the highest for a full day in a decade…"
ZeroHedge comments, "Update (1345ET): The shortage of physical silver is exposing a tear in the precious metals market unlike any we have seen before.
As we detailed below, various executives from bullion dealers have explained that huge demand has left them with no supply (and no source) for physical silver.
And while silver futures prices (paper silver) have 'stabilized' modestly during the day…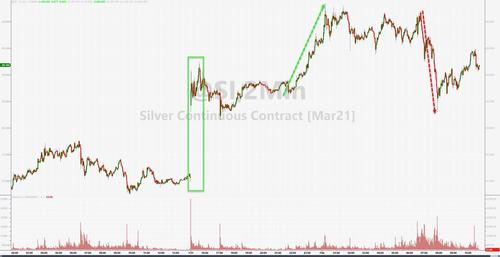 Physical silver prices remain at extremes…"
1:26 pm
SPX has reached a combination of the 61.8% Fib retracement at 3778.42, the Orthodox Broadening Top trendline at 3775.00 and the top of Wave (iv) at 3776.63.  (Final price 3784.32)  The Cycles are speeding up, as the first top-to-top Cycle was 18 hours.  This Cycle took only 13 (12.9) hours.  Both went nearly identical distances.  Due to the overlap, the Wave structure implies a 1-2, [i]-[ii] structure.  If so, the next decline may go 270 or more points.  This is time to sit tight.  Trading in and out of these moves have their own risks.
ZeroHedge reports, "Update (1001 ET): The list of discount brokerage houses experiencing issues and outages this morning continues to expand. Add Charles Schwab to the mix.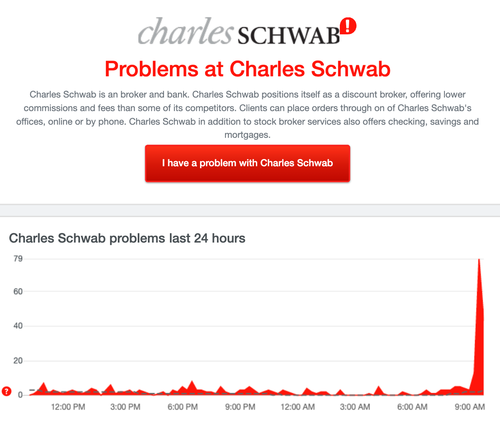 * * *
With another day of most shorted stocks ramping higher, most notably the squeeze in silver, users of multiple discount retail brokerages are reporting issues or outages. "
8:00 am
Good Morning!
Little Maggie came home over the weekend.  My wife and I are going to our daughter's house this morning to see her for the first time (other than lots of photos).  Thank you for all your prayers.  She is a normal, healthy little girl.
SPX futures made a deep dive over the weekend to a low of 3657.75, after closing above the 50-day Moving Average at 3711.72.  However, it made an even stronger bounce that may be aimed for the lower Ending Diagonal trendline and mid-Cycle resistance at 3754.44.   The 50% Fib retracement is at 3762.33, while the 61.8% Fib retracement is at 3778.42, in the vicinity of the Orthodox Broadening Top trendline and the top of Wave (iv).
I published an article this weekend by ZeroHedge on why the bull attack on most shorted companies are having a negative effect on the broader indices.
ZeroHedge reports, "Unlike previous days when the surge in most shorted stocks – as they are doing this morning – pushed the broader market lower, on Monday bullish sentiment is everywhere, and after sliding as much as 1.5% at the start of trading on Sunday, Emini futures rebounded rising 1% following last week's sharp selloff as a shift in the retail trading frenzy to silver drove up mining stocks and investors awaited manufacturing data later in the day.
At 7am. ET, Dow E-minis were up 233 points, or 0.78% and S&P 500 E-minis were up 37.75 points, or 1.02%. Nasdaq 100 E-minis were up 135.75 points, or 1.05%. The VIX slipped about 2 points on Monday, last seen just above 31, after hitting its highest since October .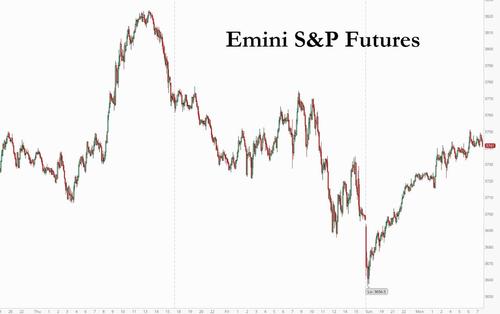 NDX futures continued to decline over the weekend to 12727.25 before bouncing back into the green.  It's retracement is likely to challenge the Ending Diagonal trendline and Short-term resistance at 13099.43.  I wouldn't expect this bounce to last (time-wise), but it may go over since the 50% retracement level is 13116.29.
ZeroHedge reports this morning, "The most-shorted universe of stocks, which wreaked so much havoc last week as hedge funds got steamrolled by the coordinated Reddit army leading to tens of billions in losses, continued to gain in the U.S. premarket on Monday after Trading app Robinhood reduced the number of companies with trading restrictions on its service to 8 from 50 ahead of Monday's session (incidentally Robinhood CEO Vlad Tenev, speaking on a social audio app Clubhouse in an appearance with Elon Musk, said any rumors that the company was pressured to restrict trading on "meme stocks" were false, although the jury is still out on that).
Among the most active stocks were the usual suspects : GameStop, AMC Entertainment, BlackBerry, Express, Genius Brands, Koss, Naked Brand and Nokia.
While AMC rose 18% to $15.51, GameStop erased earlier gains and was 7.7% lower at $300 as of 7:10 a.m. in New York. Despite the muted move, the stock is still up 1,625% last month, as countless Reddit users became millionaires riding the short squeeze.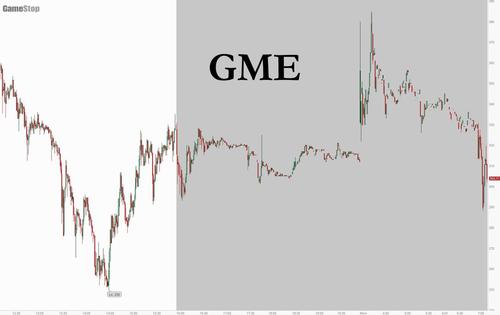 VIX futures declined to 30.62 after making a new 2021 high on Friday.  The decline may continue lower to test the mid-Cycle support at 25.63 today.  Once accomplished, the VIX may rise to the Wave [B] high at 41.16.
Investing reports, "After declining steadily since last April and undergoing a quiet consolidation since November, market volatility, as measured by the VIX, posted its biggest jump in two years this week after market participants saw one of the sharpest sell-offs in the S&P 500 since October. The Cboe Volatility Index, also known as the VIX, or 'fear […]
The post VIX ETFs Surge as Volatility Makes Biggest Jump in Two Years appeared first on ETF Trends.
TNX challenged its Cycle Top support at 10.77 this morning after closing above it on Friday.  The secular rise in yields is starting to take its toll.  Liquidity is drying up in virtually all asset classes.
USD futures have risen to 90.86 this morning, testing the upper trendline of its 8.6-month trading channel.  Today may be the peak of the retracement with three weeks to go to the Master Cycle Bottom.  Not much attention being paid here.
Investing passes this on, "(Reuters) – The dollar held ground against riskier currencies on Monday as weak economic data from Europe and fresh worries about the coronavirus supported investor demand for safe-havens, stretching greenback selling positions.Economic activity in the euro zone shrank markedly in January as stringent lockdowns to contain the coronavirus pandemic hit the bloc's dominant service industry hard while UK data showed British retailers struggled to recover in December.
British Prime Minister Boris Johnson also said on Friday there was evidence a new variant of COVID-19 discovered late last year could be associated with higher mortality."