8:30 am
Good Morning!
SPX futures bounced off the 50-day Moving Average at 4346.49 to 4361.50 this morning in a likely test of the descending trendline.  Yesterday's high was on day 241 in the SPX.  However, it was day 251 in the NDX.  We cannot rule out another new high, but the turn window is open for a reversal for both the SPX and NDX.  The first probable low in the new Master Cycle may not occur until the end of November.
Today's options expiration shows Max Pain at a highly contested 4350.00.  Long gamma begins at 4375.00, while short gamma starts at 4325.00.
ZeroHedge reports, "Just when it seemed that stocks were about to go on a 9-day winning streak, Fed chair Jerome Powell opened his mouth, said to shut the "fucking door", and crashed stonks (the catastrophic 30Y auction just minutes earlier didn't help) ending what would have been the longest streak since 2004.
And on to Friday morning, where after yesterday's rout, stocks and bonds rebounded modestly even as investors speculated that more central bank speakers today will echo the hawkish message from Powell. As of 8:00am, S&P futures rose 0.25% to 4,373, rising off the worst levels of the day, while Nasdaq futures gained 0.1%; meanwhile in Europe the Stoxx 600 shed 1%, reinforced by poor earnings reports. The dollar is little changed while Treasury yields are marginally higher across the curve; energy outperforms with WTI futures up about 1% on the day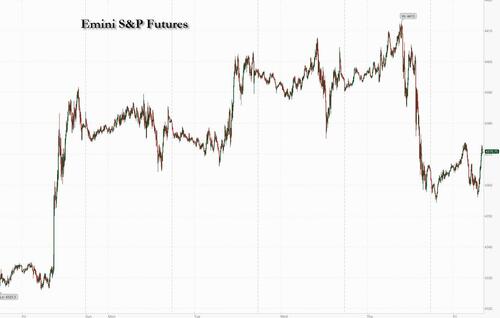 VIX futures appear to be consolidating inside yesterday's trading range.  Yesterday's low occurred on day 241.  However this Master Cycle follows on the heels of a 278-day MC, making the average of the two at 259.5.  The mean (average) length of a Master Cycle is 258 days.
Next Wednesday's (monthly) options expiration shows Max Pain at 19.00.  Short Gamma extends from 13.00 to 17.00.  Long gamma starts at 21.00 and may go as high as 95.00.
ZeroHedge posits, "Just a bear market squeeze?
Many indicators that we look at (especially positioning and flow) are still supportive for the equity markets. However, here are a few charts showing risk sensitive assets that are showing some early "fade" features."
TNX pulled back to retest the trendline for a third time.  The 50-day Moving Average is at 45.82 and offers a buy signal as it is overcome.  Without throw-overs, Intermediate Wave (5) of Primary Wave [5] may rise to 53.25.
Zerohedge remarks, "The Treasury rally saw an abrupt turnaround on Thursday, with yields climbing over 15 bps. This came on the back of overbought conditions in bonds and stocks, with the S&P dropping 0.8%. The curve ball came in the 30-year auction, having the worst tail in over 10 years. This will exacerbate already-poor liquidity conditions in the Treasury market, and mean rallies are unlikely to be sustained for long.
Treasury auctions normally don't make much news, but Thursday's 30-year sale saw the worst tail (median – high yield) since August 2011, when the S&P downgraded the US from its AAA rating. Primary dealers, who backstop auctions, had to take a quarter of the issue, double the proportion they take on average."