11:13 am
BKX (refresh to update) may have begun its reversal after making a Master Cycle high on Friday.  The Cycles Model infers a month of decline lies ahead.
ZeroHedge remarks, "Bank stocks soared this week (along with everything else) despite another jump to a new record high for bank's usage of The Fed's emergency funding facility, and the massive deposit run the prior week.
Probably better not to show Bill Gross this chart…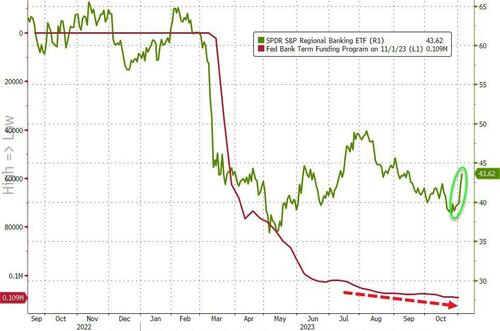 Source: Bloomberg
So, what fun and games will The Fed do this week to 'adjust' the data so we don't panic about a sudden bank run?"
7:45 am
Good Morning!
NDX futures are consolidating just beneath Friday's intra-day highs and trendline at 15150.00.  The 100-day Moving Average is at 15083.54.  A decline beneath that level creates an aggressive sell signal.  A further decline beneath the 50-day Moving Average at 14953.00 confirms the sell signal.  NDX is at maximum resistance.
Today's options expiration shows Maximum Investor Pain at 14900.00.  Long gamma begins at 14975.00.  Short gamma starts at 14850.00.
ZeroHedge observes, "Easy tiger
SPX's perfect short term trend channel has stayed intact. The huge squeeze has taken the index back to channel highs. 4400, give or take, is a big resistance area. Note the 100 day coming in around 4425. The "easy" part of the "bounce" is over, now comes a much more tricky phase.
Source: Refinitiv
NASDAQ – show me the trend
NASDAQ is trading at the same levels we traded at in mid June. The index has actually been stuck in a range, with one bigger overshoot, and one bigger undershoot. We are right at the 100 day post the furious bounce."
SPX futures are also consolidating just beneath the trendline at 4375.00.  You will notice that the last three Master Cycles ended at the upper trendline.  The current Master Cycle has nearly another month to go.  For the first time since March, it may end up at a new low.
Today's op-ex shows Max Pain at 4350.00.  Long gamma may begin at 4370.00-4380.00 while short gamma may start at 4330.00.
ZeroHedge reports, "US equity futures extended gains after last week's blockbuster rally, the biggest of the year, despite some weakness in bonds, as traders remained optimistic that US and European central banks may start cutting interest rates as soon as next year. As of 7:40am, S&P emini futures were higher by 0.2%, near top of Friday's range, while Europe's Estoxx 600 dropped 0.2% with materials leading declines. South Korea's Kospi soared more than 5% after regulators banned short selling. The dollar fell for a fourth day. Crude futures rose more than 1.5% after Saudi Arabia and Russia reaffirmed they will stick with their supply curbs through year-end. Bitcoin continued its ascent, last seen above $35K, with Ethereum rising above $1900. "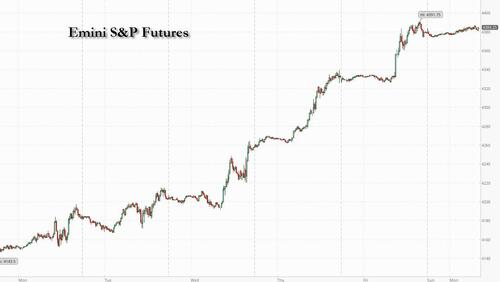 VIX futures are consolidating near their low.  While the Cycles Model only suggested a half-Trading Cycle low on Friday, the depth of the decline was unusual.  The Cycles are making a comeback with trending strength returning at the end of the week.
Wednesday's op-ex shows Max Pain at 15.50.  There is no short gamma beneath 15.00.  Long gamma may start at 17.00 and extends to 50.00.
TNX has bounced from Friday's low and is climbing as I write.  It is back above the 50-day Moving Average at 45.52 and is on a buy signal.  The Cycles Model shows a steady rally out of the low with strength returning next week.  A possible high at the end of November may be 53.00.
ZeroHedge comments, "The 'smart' money may not be…
Just before US Treasury bonds saw their best week of 2023 (with the last 3 days seeing yields crash at the fastest pace since the COVID lockdowns of March 2020), hedge funds decided to add to their TSY Futures shorts (to a new record high).
Source: Bloomberg
A trifecta of terrific news for treasuries – smaller-than-expected Treasury refunding, more dovish than expected Powell, weaker than expected jobs data – triggered three massive waves of buying in bond-land right as hedge funds ramped up their net short Treasury futures positions to the most in data going back to 2006, according to an aggregate of the latest CFTC as of Oct. 31."
USD futures consolidated inside Friday's trading range.  The 50-day Moving Average lies at 105.43 and presents a possible buy signal once it is overcome.