10:30 am
The retracement of the BKX only amounts to 17%.  Yet, the correction may be complete, or nearly so.  This bounce is not to be trusted.
ZeroHedge notes, "Recent data from Edmunds reveals that an unprecedented 17% of American car purchasers now have monthly car payments of $1,000, a significant increase from just 7% three years ago. This trend highlights the extent to which consumers, despite being financially stretched, are willing to take on massive auto debt in these uncertain economic times as macroeconomic headwinds pile up.
New Google data, first revealed by X user CarDealershipGuy, shows Americans are searching "give car back" on the internet has soared to a record high.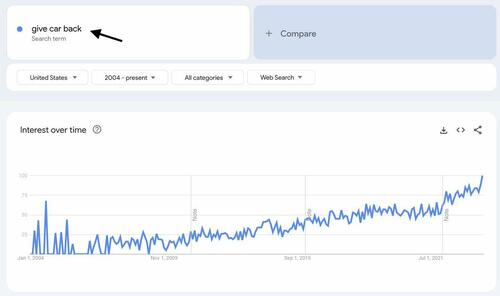 CarDealershipGuy added, "For everyone DMing me: No, you can't "give back" a car – That's a repossession."
9:52 am
TNX has slumped beneath the Cycle Top at 48.28, suggesting an extension of the pullback.   Should that be the case, the rally in yields may resume shortly.  It may also create a new buy signal at the re-crossing of the Cycle Top.
ZeroHedge observes, "We already knew – after its publication on Monday – that in the current quarter, the Treasury expected to issue $776BN in debt in the current quarter, or some $76BN below the previous forecast published last quarter, a welcome slowdown in debt issuance as a result of slightly higher than expected tax receipts in October.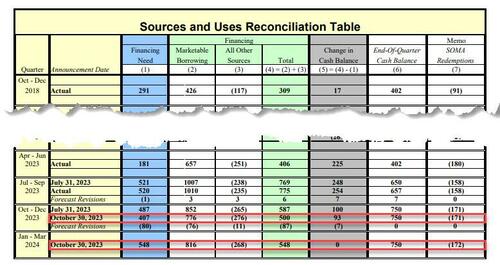 Today's Treasury Refunding Announcement gave the details of what the composition of this issuance would be, with a focus on Coupon vs Bill sales."
9:41 am
SPX has breached the 4200.00 (Max Pain) level and is likely to continue to the 38.2% Fibonacci retracement value at 4215.00.  Dealers may have induced the short covering at the open.  The 50% retracement value at 4250.00 may also be in sight.
ZeroHedge reports, "US equity futures are weaker to start the new month ahead of today's Fed meeting (which as we previewed earlier will be a nothingburger now that the Treasury itself is raising yields with its relentless debt issuance and doing the Fed's job for it) as well as macro data dump which includes the Treasury's Q4 refunding statement. As of 8:00am, S&P and Nasdaq 100 futures dropped by about 0.4%. The USD is stronger with bonds catching a bid. Commodities are mixed with crude/base metals up, while natgas, gold down, and both softs/grains mixed. Today's data focus includes the Fed, ADP, JOLTS, ISM, vehicle sales; Treasury refunding announcement at 8.30a ET. We also get a deluge of consumer-sector earnings today. "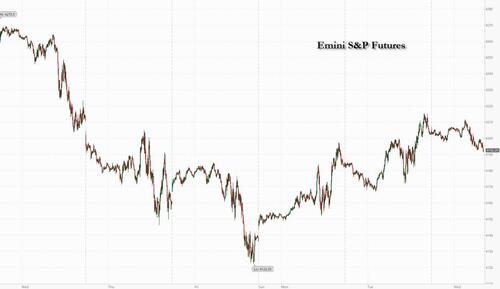 7:30 am
Good Morning!
SPX futures have declined to 4173.60 thus far this morning after making a mere 32% retracement.  I am a bit hesitant to call the bounce over, but all the ingredients may be present for a completed retracement.  If not complete, the turn may occur near mid-day.
Today's options expiration shows Maximum investor pain at 4200.00.  Long gamma starts at 4220.00, while short gamma begins at 4180.00.  This morning we are exploring the potency of short gamma.
VIX futures have risen to 18.38 thus far this morning.  The trend line and confirmed buy signal occurs near 18.60.
Today's op-ex shows Max Pain at 18.00-19.00.  There is no short gamma.  Long gamma extends from 22.00 to 45.00.
ZeroHedge reminds, "VIX has come down
VIX printed an intra day high of just above 22 on Friday. We are now trading around 18. We have actually seen one of the bigger 2 day down candles in the VIX in a long time…but volatilities still remain elevated given the fact we are not realizing much volatility."