7:45 am
Good Morning!
I am preparing for a month-long trip which may take me away from this newsletter.  Today's report may be shortened.
SPX futures are positive this morning, having risen to 4480.00, above the 50-day Moving Average at 4474.41 and Friday's high at 4473.53.  Intermediate resistance at 4479.51 may be the pivot point.  The Master Cycle may have completed on Friday, but the futures have their own timing that may differ.  Should SPX open beneath Friday's high, the decline may resume.  Otherwise the next Cycle Pivot may occur Tuesday morning due to a burst of strength over the weekend.
Today's op-ex shows Maximum investor Pain at 4455.00.  Long gamma starts at 4480.00, while short gamma begins at 4450.00.  This is a very tightly-wound options market.
ZeroHedge reports, "US futures and global stocks were broadly higher to start the week, helped by the biggest drop in the US dollar in two weeks following hawkish commentary from the BOJ, with trader sentiment also lifted amid improving Chinese data (the latest monthly credit data solidly beat estimates) and comments from Treasury Secretary Janet Yellen suggesting a soft landing is likely (this coming from the person who 6 years ago said no financial crisis in her lifetime).
As of 7:45am ET, S&P 500 futures which rolled to the Sept contract, were higher by 0.4%, while Nasdaq 100 futures rose 0.7% boosted by a surge in Tesla which got a major upgrade by Morgan Stanley. US gains were paced by Estoxx 50 where real estate sector leads gains day while Asian stocks were mixed. The dollar's record 8-week hot streak was under threat as the yen and yuan rose about 1% after comments from the Bank of Japan and the People's Bank of China boosted those currencies, respectively. Bank of Japan Governor Kazuo Ueda aired the possibility of ending the developed world's last key negative interest rate. US Treasury yields climbed, gold was up 0.48%, the most in two weeks, and oil dipped.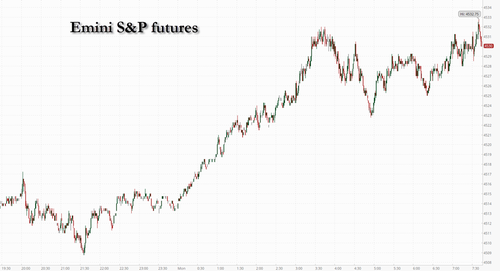 ZeroHedge remarks, "Short selling alert
Hedge fund cumulative short flows in US has shot up dramatically higher…almost largest in 6 months (93rd percentile vs. the past five years), as per GS prime brokerage data. JPM Position Intelligence team also notes that the level of shorts added in past 4 weeks is again getting elevated. Time for Miss Market to give short sellers a little un-friendly squeeze?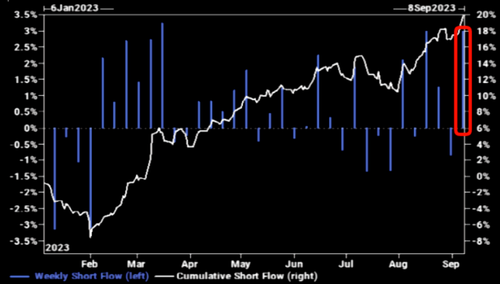 VIX futures are consolidating inside Friday's trading range.  While a new low may not be in the cards, it may resume its sideways action.  Remember, VIX has made a buy signal.  That is not to be dismissed.
ZeroHedge observes, "Caught in sentiment no man's land
Investor sentiment, momentum indicators appear to be settling around neutral level.
Source: Macrobond
Sentiment not stretched
Not perfectly neutral but absolutely not stretched either.
TNX futures rose to 43.07, poised to break out above Friday's high due to a burst of trending strength.  While the current Master Cycle may be over by the end of the week, it is causing consternation among bond traders who are still short.  A short squeeze this week may cause considerable damage.
USD futures have sunk to 104.13, a new low that may trend lower through the end of the week.  USD is now due for a correction that may last up to three weeks.  Possible downside targets may be the trendline and Intermediate support at 103.42.