8:00 am
Good Morning!
SPX futures have made a morning low at 4445.70 thus far, testing short-term support at 4444.00 (not shown on the daily chart).  It is on a sell signal with the next nearest visible support being the 100-day Moving Average at 4340.00 and the Head & Shoulders neckline at 4330.00.   A break of short-term support is likely to cascade down to the neckline.
Today's op-ex reveals Maximum investor Pain at 4470.00.  Long gamma starts at 4480.00, while short gamma begins at 4440.00-4450.00.  While long gamma becomes less viable above 4500.00, Short gamma remains strong down to 4300.00 and possibly below.
ZeroHedge reports, "US stocks futures slumped, led by tech shares as Apple tumbled another 3% in premarket trading after Bloomberg reported that China – Apple's biggest foreign market and global production base -seeks to expand a ban on the use of iPhones in sensitive departments to government-backed agencies and state companies. As of 730am ET, S&P futures were down 0.4%, while Nasdaq futures tumbled 0.7% as a 2% drop in Nvidia added to Apple's woes. The dollar climbed to a six-month high and the yuan tumbled to the lowest level since 2007 as investors ramped up bets on further Fed policy tightening. Bond yields are lower, following the decline in European yields; commodities are also mostly lower with a modest decline in oil prices. Today, we get jobless claims data (exp. 234K, vs 228 prior), QSS and the revisions to Nonfarm Productivity and Unit Labor Costs. Keep an eye on the bond market moves following claims data. Fed's Harker, Williams, Bostic, and Logan will speak today."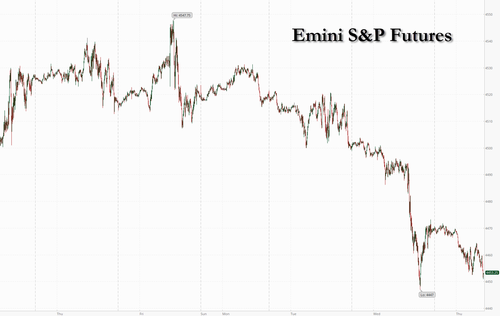 NDX futures have plummeted to 15231.30 thus far, breaking through Intermediate support at 15266.93 and the 50-day Moving Average at 15214.00.  This action has created a confirmed sell signal in the NDX.  The next support is at 15120.00, but may not be likely to stop it.  The Head & Shoulders neckline is at 14550.00.  This decline may not be over until mid-October, so settle in to ride this decline out.
Today's op-ex shows Maximum Pain at 15350.00.  Long gamma starts at 15400.00, while short gamma starts at 15300.00.  NDX may open deep in short gamma where there is little to stop the decline.
ZeroHedge remarks, "Apple – haven't seen this in a while
The Apple China bear story continues today again. The stock is down almost 3% in pre market. That means Apple has gone from trading "well" above the 50 day moving average, to trading below the 100 day in 2 sessions. We haven't seen that in a long time. Note the 200 day is down at 164 ish at the moment.
Source: Refinitiv
As Apple goes…
…goes the market? Apple remains the biggest "sentimentor" out there.
VIX futures have risen to 15.43 thus far, so there is no breakout yet.  However, it has given a confirmed buy signal yesterday by breaking above the 50-day Moving Average at 14.79.  The next hurdle to overcome is the long-term trendline at 18.00.  The Cycles Model shows trending strength in the VIX today.
Next Wednesday's op-ex shows Max Pain at 14.00 with no short gamma.  Long gamma begins at 17.00 but does not have a lot of follow-through beyond 18.00.  Options investors are not prepared for a breakout in the VIX.
TNX futures have risen to 43.12 this morning and shows shows signs of strengthening as in may complete the current Master Cycle next week.  Don't discount the Head & Shoulders formation.  The trend may remain until that target is met or exceeded.
ZeroHedge remarks, "The pressure on the Federal Reserve to relent on keeping rates higher for longer will become acute in the coming months as recession risk rises and inflation remains benign.
Recessions are rarely surprising, but they are often shocking. They are a feature of the business cycle and therefore their occurrence is to be expected. But their very nature means that the abruptness with which they occur is a shock that catches most people – and the market – unawares.
We are in a period now where the risk of a recessionary shock has risen and will continue to rise – right at the time when a soft or no-landing outcome has become the dominant narrative."