7:45 am
Good Morning!
NDX futures rose to 15491.20 thus far, in a probable attempt to reach 15500.00. (round number resistance and a short gamma wall).  This makes a 67% retracement of the July decline.  The current top-to-top Cycle has taken 43 calendar days and is due for a reversal.  Yesterday's high was on day 266, which is getting long in the tooth.
Today's op-ex shows Maximum investor Pain at 15520.00.  Long gamma runs from 15540.00 to 15600.00.  Short gamma starts at 15500.00.  That suggests NDX may open in short gamma today.
ZeroHedge observes, "The massive move lower in the AAII bull – bear spread (outlined here) has resulted in markets squeezing lately. Nothing new, but frustrating for the crowd.
Source: Refinitiv
Smart money
Smart or not, but they missed the latest squeeze…
SPX futures reached a morning high at 4529.50, but may be pulling back.  To reiterate, this Cycle is getting long in the tooth and is due for a reversal.  Thus far it has reached a 69% retracement on day 266.  Retail investors are coming back, buying at the highs.
Today's op-ex shows Max Pain residing at 4510.00.  Long gamma starts at 4525.00, running to 4600.00.  Short gamma has a 15,582 put wall at 4500.00 and running strong to 4400.00.   Short activity appears to be institutional, due to the large sizes.
ZeroHedge reports, "US stock futures, European bourses and Asian markets all rose, while the 10-year Treasury yield traded near a three-week low and the USD eeked out its first gain of the week as traders reacted to a modest improvement in China's mfg PMI and looked ahead to Thursday's PCE data and Friday's jobs report. At 7:45am ET, S&P futures rose 0.25% to 4,535 while Nasdaq 100 futures reversed earlier losses. Europe's Stoxx 600 benchmark stayed in the green, buoyed by record profits at UBS as a result of its emergency takeover of Credit Suisse. Commodities are stronger led by oil and metals with natgas and wheat the biggest laggards. Today's macro data focus includes jobless claims, income/spending and the PCE Deflator. Chicago PMI, expected to rise to 44.2, may point to a stabilization in mfg. Tomorrow we cap off the week with NFP.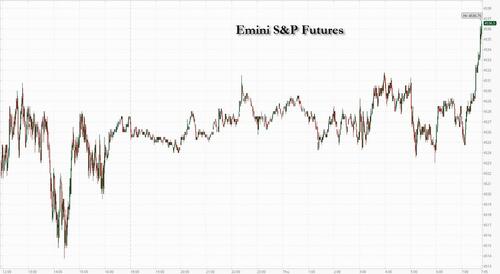 VIX futures made a new low at 13.72 this morning, extending its Master Cycle to day 271.  This is still within the normal limits for the Master Cycle.  This Cycle low has been much stronger than anticipated.  The 50-day Moving Average was pierced.  However, we also saw this in equities.  In addition, the August 18 high was weak, while this low was very strong.
Next Wednesday's op-ex shows Max Pain at 14.00.  Short gamma is non-existent.  Long gamma begins at 15.00 with only modest participation above 20.00.  This is a perfect setup for a runaway VIX, as no one is expecting it.
ZeroHedge notes, "The VIX reset, but…
The VIX went from 13ish to 18 during the initial August sell off, and then basically all the way down again. Don't forget that volatility is mean reverting and has a "natural floor" level. For VIX this is around 13, give or take. Our favorite contrarian "sell side" indicator, the VIX guy, has not called yet, but we are eagerly awaiting to pick up his call…
Source: Refinitiv
The VVIX crash
The Vix of Vix, VVIX, has put in one of the more aggressive resets we have seen in a long time. Nomura's McEligott has been spot on explaining the dynamics well over the past weeks. In his latest note he writes: "VIX Dealer "Short Calls" now to 28%ile from what was 1%ile just two weeks ago into VIXperation".
TNX futures declined to 40.84, approaching Intermediate support at 40.72.  This may be the launch of a two-week rally into the Master Cycle high, due in mid September.
ZeroHedge reports, "One of The Fed's favorite inflation indicators – Core PCE Deflator – rose 4.2% YoY in July (as expected but higher than June's +4.1%). Headline PCE jumped up to +3.3% YoY (also as expected) – the biggest jump in YoY prints since June 2022…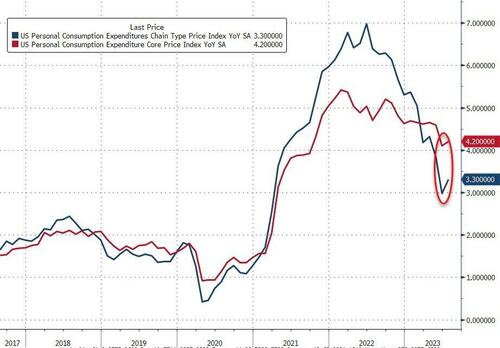 Source: Bloomberg
Even more focused, is the Fed's view on Services inflation ex-Shelter, and the PCE-equivalent shows that is very much stuck at high levels…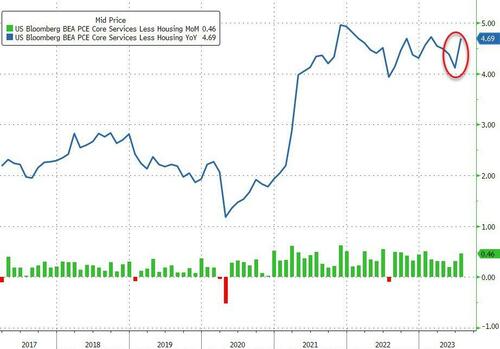 USD futures declined to a new retracement low at 103.09 this morning.  It may correct down to the mid-Cycle support at 102.76 before resuming its rally until mid-October.  USD hasn't broken above the June high at 104.61, so most analysts still consider the USD to be in a bear market.  The Cycles Model suggests a return of trending strength next week.
The Euro is an almost inverse image of the USD.  It is currently correcting the decline from its July high.  The possible target may be the 50-day at 109.73.    What is not shown is a potential collapse into the end of the year.  Negative interest rates since 2014 have backfired.  No one wants to buy European bonds.