10:35 am
SPX continues to challenge Intermediate support at 4477.00.  It is in short gamma territory with a very large contingent of short contracts (4781 puts) at 4450.00.  Breaking through that level may produce a gamma-driven panic.  However, should there be an intervention beforehand, we may see a very quick spike to 4530.00 to relax the hold of the short gamma for today.
3:30 pm
The spike at the end of the day rose to the Max Pain level near 4500.00.  There are two implications:  First is that sentiment has taken a nosedive, evidenced by the weakness of the bounce.  Second, the next phase of the Cycle may have begun, dominated by negative gamma, especially beneath 4450.00.  This may be a clear signal to sell/short the market.
ZeroHedge observes, "and they are very long
Global CTA equity exposure pushing new highs…same goes for US CTA exposure.
Source: GS
Source: GS
CTA and the massive downside convexity
CTAs risk having to puke huge size in a big down scenario. This is the biggest projection on record in a big down scenario according to GS.
9:51 am
BKX finally broke down, declining toward the 50-day Moving Average at 84.12.  While it is currently on an aggressive sell signal generated by the Cycles Model, it may change to a confirmed sell beneath the 50-day.  The Cycles Model suggests the decline may last through the month of August.  What the Feds tried to obfuscate last Friday is coming to light.  The immediate downside target  may be 65.00-70.00.
ZeroHedge observes, "Higher funding costs, potential regulatory capital weaknesses and rising risks tied to commercial real estate loans amid weakening demand for office space were the triple whammy of factors that prompted Moody's to lower credit ratings for 10 small and midsize US banks; and noted in a slew of notes that it may downgrade major lenders.
"Collectively, these three developments have lowered the credit profile of a number of US banks, though not all banks equally," the ratings agency wrote in some of the assessments."
8:00 am
Good Morning!
NDX futures declined in the overnight market to a low of 15270.80, challenging Intermediate support at 15312.29.  Should the decline continue beneath yesterday's low, NDX may be in the midst of a panic decline.  However, the Cycles Model suggests another bounce above 15500.00 may be in order before the panic.  Be prepared for higher volatility accompanied by wider moves in both directions.
Today's options expiration shows Maximum investor pain (Max Pain) at 15420.00.  Long gamma starts at 15520.00 while short gamma may begin at 15400.00.
ZeroHedge remarks, "Pain in a pic
HF VIP stocks vs the most shorted basket at extremely "painful" levels.
Source: GS
Bear steepening pain
More of the same. The US 2/30 year continues the latest explosive move…."
SPX futures declined to Intermediate support at 4475.00 in the overnight session and bounced.  This suggests another bounce to the Head & Shoulders neckline at 4530.00 by the end of the day.  Once the neckline is retested we may see the beginning of a panic decline that may test (and likely succeed), breaking through the 50-day Moving Average at 4403.96.
Today's op-ex shows Max Pain at 4505.00.  Long gamma starts at 4540.00 while short gamma may begin at 4490.00.  Today may be a test of both long and short gamma as SPX prepares for the next big move.
ZeroHedge reports, "Global stocks slid, US equity futures slumped and bond yields tumbled as a raft of news on collapsing Chinese trade, Italian banks hit with an unexpected windfall tax, and a downgrade of US banks by Moodys (on increasing funding costs/CRE exposure) sparked a fresh round of fears about the financial system and global economy.  At 7:45am, S&P futures were down 0.7% trading as low as 4,502 while Nasdaq futures dropped 0.8% amid a broad flight to safety across markets which sent yields on the 10-year Treasury 10 basis points lower and the equivalent rates in Germany fell 15 basis points. The Bloomberg dollar index climbed 0.5% while oil resumed its slide following ugly oil import data by China. Today's macro data includes Small Biz Optimism, Trade Balance, and Wholesales Sales/Inventories … nothing market-moving as we await Thursday's CPI print."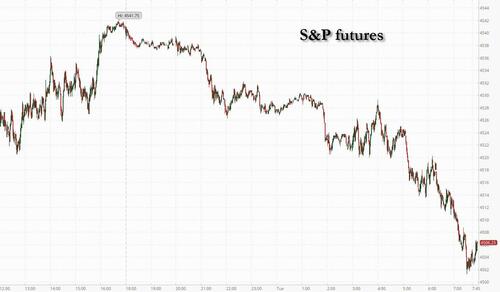 VIX futures rose to 17.31 this morning.  The daily swings in the VIX are becoming wider, in anticipation of a potential breakout and explosive move higher.  But first VIX may retest the 50-day Moving Average at 14.48 before the rocket launch.
Tomorrow's op-ex shows Max Pain for options investors at 17.00.  Short gamma maxes out at 14.50 and may dictate today's move.  Long gamma may begin at 19.00, but is sparsely populated.
ZeroHedge remarks, "We warned Friday, ahead of the payrolls print, that the data could be the catalyst that finally shakes the VIX from its mid-summer slumber.
And so it should not be a huge surprised that the VIX complex is increasingly acting the way we've anticipated – what Nomura's Charlie McElligott calls "nervous and squeezy"."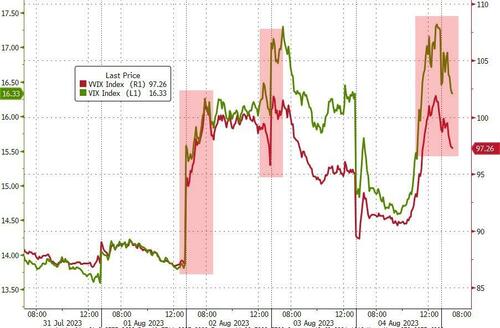 TNX dipped below 40.00 this morning as it declines toward critical support.  The Cycles Model suggests the correction may last until mid-September as money flows out of stocks and into bonds.  The most likely target may be the 50-day Moving Average.  However, the trendline at 38.00 may be challenged.  Heaven help those who stay too long…
USD futures rose above the 50-day Moving Average at 102.22 this morning.  The Master Cycle high may have been made on Thursday, on day 261.  However, there is the possibility of an extension to mid-Cycle resistance at 103.07.  The USD may be in a correction phase that allows it to revisit the trendline at 100.00 over the next three weeks.   An alternate view is that the USD may make a new low in the same period.  Both views may agree with lower bond rates over the same period of time.