10:15 am
SPX bumped up against 4530.00 and pulled back, creating a potential Head & Shoulders formation.  Provided the neckline remains intact, we may see a decline to the target and probably lower.  The next support may be the 50-day Moving Average at 4386.95.
ZeroHedge observes, "In an unusually urgent note from Goldman Sachs' Scott Rubner, the flows guru warns that "things are changing fast," and advises clients to "fade the green."
With yields tumbling, US equity markets are bouncing in early trading…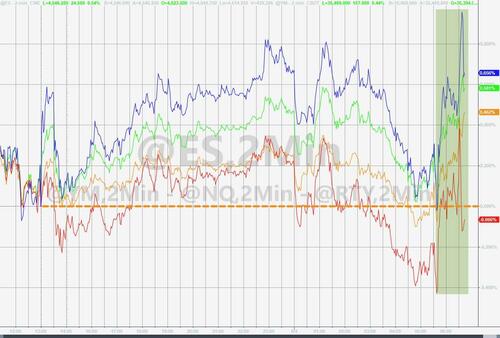 But Rubner warns that the market technical flow-of-funds have seen a significant deterioration heading into the worst two week liquid period of the year."
8:155 am
Good Morning!
NDX futures rose to an overnight high of 15476.50 before easing back down to the flat line.  It remained beneath Intermediate resistance at 15582.23 and may resume its decline beneath the Ending Diagonal trendline and mid-Cycle support at 15304.67.  It is hovering pending the monthly Employment Situation Survey from the DOL due at 8:30 am.
Today's op-ex shows Maximum investor pain at 15360.00.  Long gamma begins at 15400.00 while short gamma reigns beneath 15340.00.
SPX futures sank to an overnight low at 4494.70, then bounced to a morning high of 4526+.50.  It may retest the Cycle Top resistance at 4529.17.
Today's op-ex shows Max Pain at 4520.00.  Long gamma may begin a 4525.00, but short gamma awaits beneath 4515.00.  A drop beneath 4500.00 may be the beginning of a precipitous decline.
ZeroHedge reports, "An earlier rally in US equity futures fizzled and Treasuries steadied after days of sharp losses as Apple sunk to session lows, while traders awaited employment data for clues on the path for Federal Reserve interest rates. As of 7:45am ET S&P futures were fractionally in the red at 4,520 erasing a earlier gain of 0.3% and set to extend their biggest weekly decline since March; meanwhile Nasdaq futures were still in the green, up 0.2% thanks to Amazon.com surging 9% in premarket trading after revenue at the world's largest e-commerce and cloud services company beat estimates. Europe's Stoxx 600 index turned lower while Asian stocks rose, trimming their weekly decline, on pockets of good news in China and shreds of optimism that the spike in bond yields won't last. The Bloomberg dollar index rose 0.1% while 10Y TSY yields added one basis point to trade at 4.19%."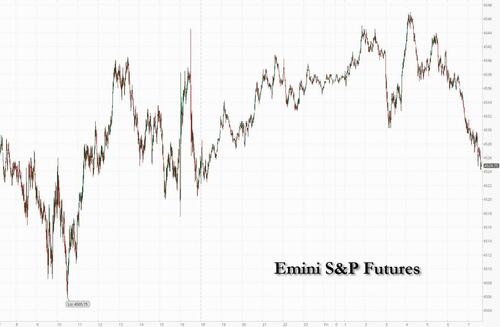 VIX futures receded to 15.28 in the morning session.  Should it not decline beneath 15.02, it may rise to overcome the trendline at 18.00 in its next probe higher.  Today may be a day of trending strength, according to the Cycles Model.
Wednesday's op-ex shows Max Pain at 16.00.  Short  gamma begins at 14.50 but fades beneath it.  Long gamma may start at 17.00, but without a lot of conviction beyond that.
ZeroHedge remarks, "Jumpy yields are prone to rising further if jobs data out later today is much better than expected, taking stocks lower and boosting higher a recently resurgent VIX.
This week has brought focus on US fiscal profligacy. Large and persistent fiscal deficits, the hallmark of the Treasury put, are inflationary.
Inflation expectations have been rising for some time now, and reflecting this term premium is beginning to rise, taking yields higher with it."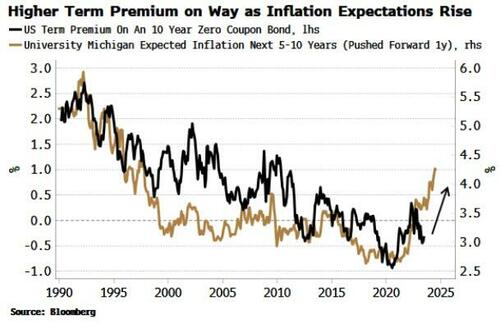 TNX futures rose to a new high at 42.36 this morning, possibly capping the current Master Cycle on day 261.  Should TNX decline beneath the neckline at 40.95, a 2-3 week correction may be underway to retest the 50-day Moving Average at 38.30.  The rally in bonds may be triggered by a sell-off in stocks.