8:00 am
Good Morning!
NDX futures declined to 15670.40.  It is on an early aggressive sell with key support at 15500.00.  NDX is extremely extended with common recognition of support at the 50-day Moving Average at 14855.73.  While the NDX has not exceeded its July 19 high, the majority of investors are very bullish.
Today's op-ex shows Maximum Pain for options investors at 15700.00.  Long gamma begins at 15720.00 while short gamma may start at 15650.00.  The  bullish impulse is weakening.
ZeroHedge remarks, "King of flows says
Scott Rubner, the guru of flows, says we are there…He writes: "I am so bullish, that I am actually bearish now for August. I am looking for a small-ish equity market correction in August. My core behavioral view is that I no longer speak to any "macro" bears. Positioning and sentiment is no longer Pessimistic, it is Euphoric." His key chart is the one showing "… stocks beating consensus expectations underperformed by a greater amount than almost any time (i.e removing Covid) during the past 18 years.""
SPX futures declined to 4574.10 this morning.  It is caught between the 1987 trendline (see yesterday's post) and lesser trendline support at 4550.00.  While it made a key reversal last Thursday, there has been no follow-through since then, either up or down.   An aggressive sell signal awaits beneath 4550.00 with Cycle Top support at 4512.93 and Intermediate support at 4465.68 adding further confirmation as they are broken.  The commonly held support and sell signal lies at the 50-day Moving Average at 4370.56.
Today's op-ex shows the strike at 4575.00 to be hotly contested and the Max Pain strike.  Long gamma begins at 4600.00 while short gamma starts at 4550.00.
ZeroHedge reports, "S&P futures are are weaker to start the new month with bond yields flat and Bloomberg Dollar Spot Index climbed to session highs, dragging down all Group-of-10 currencies, as the rally that sent the S&P 500 to a 16-month high in July lost momentum after a flurry of companies reported disappointing earnings. Commodities are mixed as China's Caixin PMI-Mfg prints 49.2, down from 50.5 and missing the est. 50.1.
As of 7:40am, S&P futures traded down 0.3% to 4,600 as the bizarre last minute spike in the S&P yesterday melted away, while Nasdaq 100 futures traded down 0.4%. Europe's Estoxx 50 drops almost 1% with Asian stocks also lower. The US Dollar was boosted by weak Chinese data as well as the surprise RBA decision to leave rates unchanged. Treasury yields were little changed, while UK and Europe bond markets are similarly listless. Gold and oil fell, while Bitcoin slid nearly 1% and headed for a third straight day of losses. WTI futures fall less than 0.5%. A quick look at seasonals: August/Sept are typically the weakest 2 months of the year, so we may see increasing calls for a pullback, before resuming the squeeze higher. Keep an eye on oil, bond yields, and vol as we await macro data, Jackson Hole, and the Sept Fed meeting. Today's macro data focus includes ISM-Mfg, JOLTS, Construction Spending, and Regional Fed data.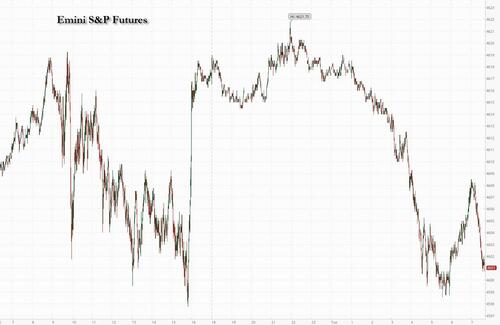 VIX futures traded u to 14.19 this morning as it may retest the 50-day Moving Average at 14.68.  VIX is in an accumulation phase, having made its Master Cycle low on June 22 and retesting it last Wednesday.
Tomorrow's op-ex shows Maximum investor pain at 14.50.  There is no short gamma, while long gamma starts at 15.00 and remains strong to 34.00.
ZeroHedge observes, "The early-month exuberance in the S&P 500 has faltered into a sideways market for the last week or so (albeit with the BoJ-rumor-driven plunge mixed in)….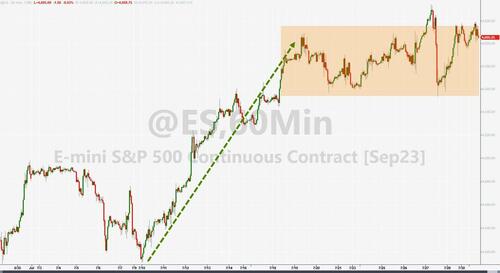 Still, the de-grossing regime-shift that we highlighted 10 days ago has continued as Goldman's Prime Desk notes that, from a trading activity standpoint based on Prime data, July is tracking to be one of the largest active de-grossing months for hedge funds in recent years (92nd percentile on a 10-year lookback), driven by short covers and to a lesser extent long sales (~3 to 1). The overall Prime book has seen de-grossing activity in 12 of the past 14 sessions.
TNX  rose this morning, exceeding last Thursday's high at 40.22.  The likelihood of the yield exceeding the July 7 high is strong in the next two days.  A pullback may follow  to retest the 50-day Moving Average at 38.01.  Using the trendline as a guide, TNX may exceed 5% by the end of October.  It may happen sooner…
ZeroHedge remarks, "After nearly reaching $0 during the latest season of the debt ceiling tragicomedy, which saw Republicans fold – as they always do – like cheap lawn chairs, assuring that the US is now on a path to fiscal self destruction…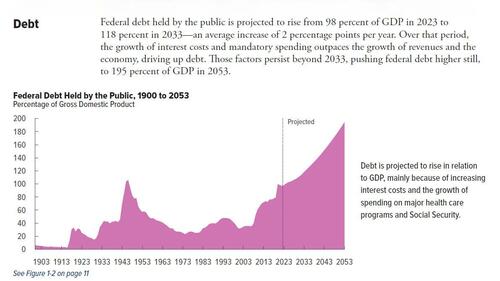 … and $1 trillion in annual interest payments…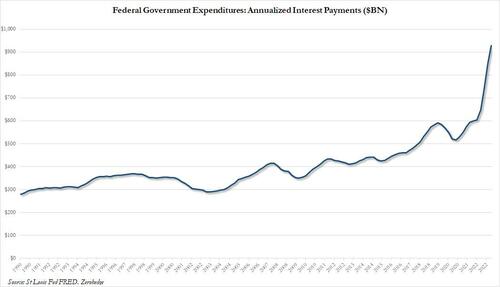 … all to fund the exploding US budget deficit (the federal deficit hit $1.39 trillion for the first nine months of the current fiscal year, up some 170% from the same period the year before, showcasing the Treasury's exploding funding needs to keep the illusion of Bidenomics alive, discussed here "Here Is The $1 Trillion "Stealth Stimulus" Behind Bidenomics")…"
USD futures have risen above Intermediate-term resistance at 101.61 and may be testing the 50-day Moving Average at 102.30.  Today is day 259 of the Master Cycle, suggesting a pullback may be imminent.  While today's action may trigger a buy signal, one may wish to buy on the pullback.