2:28 pm
SPX finally gave an aggressive sell signal, falling beneath the two-month trendline at 4565.00-4570.00.  Today is day 266 of the Master Cycle, so the chances of new highs has declined.  SPX is still finding its new direction, so be prepared for volatility as it bounces between supports.  Most traders will wait for a decline beneath the 50-day Moving Average at 4353.00 for a sell signal.  The BOJ may not be as supportive of the rally now.
Good luck and good trading!
ZeroHedge remarks, "As we observed earlier this week, the yen has seen a surge in volatility and been on a rollercoaster ride in recent weeks following a rise in speculation that – as a result of spiking transitory inflation – the BOJ may tweak its Yield Curve Control beyond the current +/- 0.50bps band on the 10Y (everyone still remembers the catastrophic consequences of the last such "tweak" when the BOJ had to spend hundreds of billions in US dollars to avoid a collapse in the JGB market)."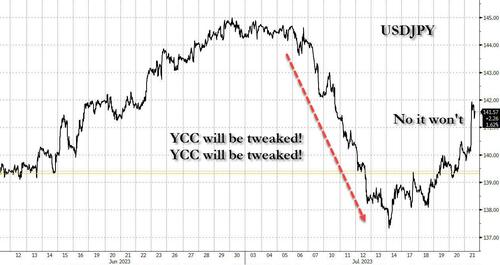 8:15 am
Good Morning!
SPX futures rose to 4599.20 thus far this morning.  Failure to break through trendline support left the SPX the capability to go toward 4650.00.  Yesterday I had warned that trending strength may return before the reversal.  The result appears to be a blow-out top.  Today is day 266 of the Master Cycle.  The next potential pivot day occurs over the weekend, but may occur sooner.
Today's op-ex shows Maximum Pain for options investors at 4555.00.  Options are tightly packed, with short gamma beginning at 4550.00 and long gamma starting at 4560.00.
ZeroHedge reports, "US futures and global stocks soared, and the dollar slumped as investors wagered that the Fed has reached the end of its 16-month long policy-tightening cycle. A barrage of earnings beats (sorry Mike Wilson) from high-profile companies added to the bullish momentum, propelling the Stoxx Europe 600 index 1% higher to a two-month high, while US futures pointed to a strong Wall Street session after Fed Chair Powell failed to dent market optimism during his press conference. At 7:30am Nasdaq 100 futures were up 1.3%, led by an 9% premarket surge in Facebook parent Meta Platforms which reported blowout guidance for Q3; S&P futures rose 0.6% to a fresh 2023 high at 4,623. Treasury yields dropped on the short end, while the dollar pushed lower. Oil and gold prices are up. Iron ore, meanwhile, is trading lower. Today, we will receive a slew of growth and inflation data. As Fed staff now dropped US recession forecast, today's growth data will be important to assess the soft-landing scenario. Keep an eye on banks stocks as Fed will hold meeting at 1pm ET today to implement Basel 3 endgame agreement."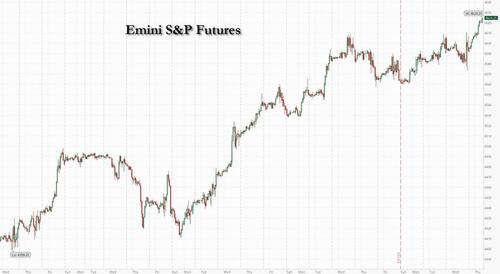 VIX futures have fallen to 12.74, just above the June 22 low of 12.73.  The Cycles Model does not register today as a lower low, while the Elliott Wave structure may allow it (shown in the chart).  We may know the final result by the end of the day.
TNX remains above Intermediate support at 38.26 on day 253 of its Master Cycle.  The anticipated master Cycle low may have been made on July 20.  But, being early, is taken with a grin of salt.  The Master Cycle may allow another retest of underlying supports by early next week.
USD futures may have tested the trendline near 100.00 and bounced, rising to a morning high of 101.07.  The Cycles MOdel suggests the uptrend may continue through the end of August.