3:21 pm
SPX is testing the 2-month trendline at 4535.00 (was 4525.00 yesterday).  A decline beneath this second support reinforces the aggressive sell signal.
7:15 am
Good Morning!
NDX futures bounced to 15557.10 this morning in the expected retracement of yesterday's decline after going deep into short gamma options territory.  Today is monthly options expiration and NDX rebalancing which may be volatile.
This morning's op-ex shows Max Pain at 15350.00.  Long gamma may begin at 15375, while short gamma may start at 15300.  The afternoon settlement for QQQ (378.52) shows Max Pain at 372.00.  Long gamma begins at 375.00 while short gamma may begin at 370.00.
ZeroHedge observes, "Something remarkable is taking place under the market's silky-smooth, VIX 13 surface: hedge funds are quietly blowing up. Not blowing up in the traditional sense of Amaranth, LTCM or Archegos, but as a result of some unique market dynamics (discussed in  "Historic "Spot Up/Vol Up" Chase Amid Multiple Unprecedented Developments In Derivatives") hedge funds find themselves suddenly breaching position limits and forced to liquidate exposure (on both the long and short sides), in other words, degross and delever."
SPX futures bounced to 4549.40 this morning, then eased back.  Wednesday may have been the Master Cycle top at 4578.43 on day 258.  Yesterday's decline found support at the 2-month trendline at 4525.00 (shown yesterday afternoon).  A decline beneath it gives the SPX an aggressive sell signal.  The next level of support is the Cycle Top at 4455.01, reinforcing the aggressive sell signal.One should not be long after today.
Today's morning op-ex shows Mas Pain at 4470.00.  Long gamma starts at 4500.00 while short gamma may begin at 4400.00. The PM expiration shows Max Pain at 4535.00 Long gamma starts at 4550.00 while short gamma begins at 4400.00.
ZeroHedge reports, "US equity futures are higher as futures pointed to a rebound from yesterday's selloff, while the yen weakened on a BBG report that the the Bank of Japan won't make any changes to its yield curve control program. As of 7:45am ET, S&P futures were 0.2% higher while Nasdaq futures rebounded 0.4% from yesterday's 2.3% rout. Netflix and Tesla climbed in pre-market trading after leading the Nasdaq to sharp losses on Thursday on the back of disappointing results. The Bloomberg Dollar Spot Index traded near the day's highs, pressuring most Group-of-10 currencies, with the yen suffering the biggest declines after Bloomberg reported that Bank of Japan officials see little urgent need to address the side effects of its yield curve control program. Treasury yields were little changed, mirroring lackluster trading in European and UK bond markets. Brent crude rose more than 1%, while gold fell and Bitcoin gained 0.2%. The Nasdaq rebalance will take effect after close today. Headlines remain quiet this morning; next week, we will receive key MegaCap Tech earnings, starting with GOOGL and MSFT on Tuesday (7/25), and the July FOMC on Wednesday."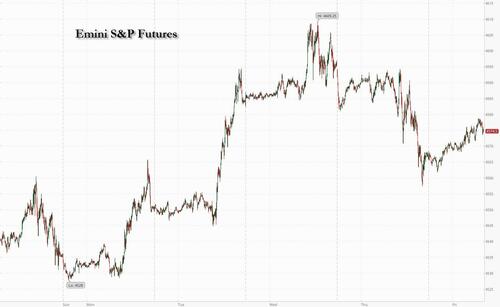 VIX futures declined to a ow of 13.72 this morning.  The Cycles Model calls for new trending strength today and through mid-week.  The current Master Cycle may last through monthly options expiration, the third week of the month.
Wednesday's op-ex shows Max Pain at 14.50.  There is a small houlout of short gamma at 14.00.  Long gamma extends from 15.00 to 40.00
ZeroHedge observes, "As we previewed in far more detail yesterday, today is the largest July options expiration in history, driven by continued growth in index and ETF options volumes.
According to Goldman estimates, over $2.3 trillion of notional options exposure will expire including $500 billion notional of single stock options at the close, and $1 trillion in index options at the open."
TNX has ease back to Intermediate-term support at 38.06 this morning.  The Cycles Model suggests the current Master Cycle may last until the end of the month.  It is likely to test the 200-day Moving Average at 37.05 in that time.