10:15 am
BKX has resumed its probe higher and may extend the current Master Cycle another week or longer.  Today is day 249.  The formation is rather complex, but may  become clearer over the next week.  Reducing bond yields increase excess liquidity giving the banks a chance to redeploy assets.  In addition, the Bank of Japan may have resumed its investments in US equities.  Any shift in the current situation may lead to a rout in bank stocks.  The large banks are managing to show a positive return despite underlying weakness, here and here.
ZeroHedge notes, "A re-acceleration in inflation is the primary endogenous risk for the stock market.
Stein's Law states that:
"If something cannot go on forever, it will stop."
What might stop equities in their tracks? The most compelling candidate – and therefore the one which investors should be most vigilant for – is inflation."
8:40 am
Good Morning!
SPX futures are flat, hovering above 4500.00.  That appears to be a support (round number) from which either it goes higher, as investors are hoping, or breaks down.  Today is day 257 of the current Master Cycle.  After much study, the only conclusion I can reach is that the SPX is in an extension beyond the June 16 high, with diminished trending strength.  Should the reversal happen this week, it may be accompanied by a return of trending strength.
Today's oop-ex shows Max Pain between 4515.00 and 4520.00.  Long gamma begins at 4535.00 while short gamma may begin at 4510.00 with reinforcements at 4495.00.  Friday's (monthly) op-ex shows 4500.00 to be very hotly contested, but weighing more on the long side.  A decline beneath 4500.00 may set off a firestorm of volatility.Investors have discovered options as a means of putting a low cost call on the SPX, leaving the dealers doing all the heavy lifting.
ZeroHedge reports, "US equity futures were trading flat on Tuesday as Bank of America unveiled solid second-quarter earnings (and Morgan Stanley on deck), with retail sales also due this morning (expect a miss as noted last night) giving the latest insight on the health of American consumers. Contracts for the S&P 500 and the Nasdaq 100 futures were fractionally lower at 4,551 as of 7:15 a.m. ET. Treasury yields declined across maturities, while the dollar weakened. A rally in European bonds gained steam Tuesday after prominent ECB hawk Klaas Knot raised hopes that the end of the rate-hiking cycle is in sight. Gold, bitcoin and oil prices rose, whereas iron ore was down slightly."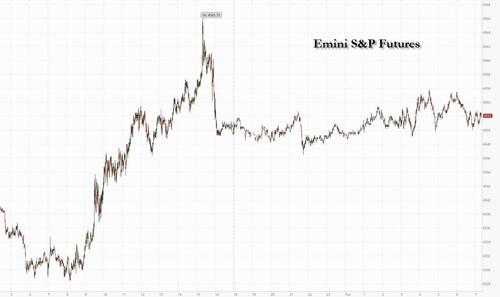 VIX futures declined to a low of 13.30 this morning before rising to the current high at 13.63.  The Cycles Model calls for positive trending strength to return later this week and to build strongly on that the following week.
Tomorrow's (monthly) op-ex shows the 17.00 strike to be hotly contested with over 151,000 put contracts and over 161,000 call contracts.  Puts remain strong down to 12.00, while calls are well populated up to 70.00.  A misstep in the market may cause an explosion in the VIX.
TNX ix drifting beneath Intermediate-term support/resistance at 37.92 and may test the 50-day Moving Average at 36.90 today.  A probe above Intermediate-term resistance may lend a brief spike back toward the Cycle Top at 41.19.  However, the Cycle points down, toward the Cycle Bottom at 32.62, which may be accomplished by the end of the month.
USD probed to a new low at 99.22 this morning.  The Cycles Model suggests USD may drift lower until the end of the month in a throw-under formation.  The target of this decline may be near 96.00.  A surprise reversal may come in early August.