9:10 am
The Ag Index may be nearing its Master Cycle terminus.  Today is day 257, so we are on high alert for a reversal.  GKX may yet test the 61.8% retracement at 387.76 or the Wave (4) support at 380.00 before re-establishing is uptrend.  This is a good accumulation zone for patient investors.
ZeroHedge reports, "Wheat prices jumped as news broke Monday that Russia let the UN-brokered grain deal lapse at midnight, Istanbul time, marking the end of the Turkey-administered humanitarian corridor which let Ukrainian grains get exported to global markets. Russia since confirmed the deal has been "terminated".
What was formally called the Black Sea Grain Initiative had already been extended for multiple short increments since its implementation in July 2022. The Kremlin confirmed in a statement by Dmitry Peskov: "The Black Sea agreements ceased to be valid today. As the President of the Russian Federation said earlier, the deadline is July 17."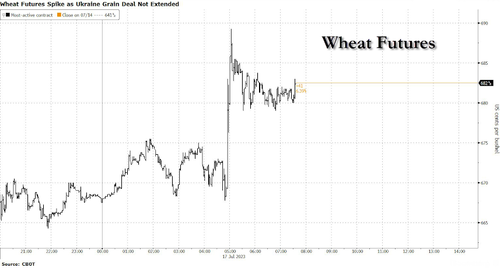 ZeroHedge observes, "Meat is always on the menu in many parts of the world, as we can see when we map out meat consumption by country.
How do countries differ in how much, and what type of meat, they eat? In this colorful graphic, Visual Capitalist's Pallavi Rao discusses creator theWORLDMAPS; breakdown of the most consumed type of meat in every country in the world, using data from the UN's Food and Agriculture Organization (FAO).
Each color denotes a different category of meat – beef, pork, mutton, poultry, seafood, or other – with annual consumption calculated per capita in kilograms (kg)."
ZeroHedge comments, "Central planners are pulling double shifts.  Contriving plans and proposals to control what you consume, how you travel and cook, where your money is spent, and much, much more.
You know who we're talking about.  The Davos WEF crowd.  The UN, IMF, World Bank, and central bankers.  Washington lobbyists, NGOs, public/private partnerships, technical advisory committees, nonprofits, and everything in between.  We're also talking about your meddling neighbor, and many others.
What's their deal?  Do they think they're making the world a better place?  And, if so, a better place for who – them or you?"
9:00 am
BKX may have ended its Master Ccle on Friday, day 274.  This Master Cycle has been extended in time, but not in strength.   It may have completed it bounce with only a 32% retracement.  This has been an extremely weak retracement and may foretell even more weakness as the decline resumes.
ZeroHedge observes, "Things seemed rosier at 8am ET Friday .. 3 for 3 banks beating and taking guidance higher and yet banks ended -2%. Even best-in-class prints like JPM flat on the day. Why?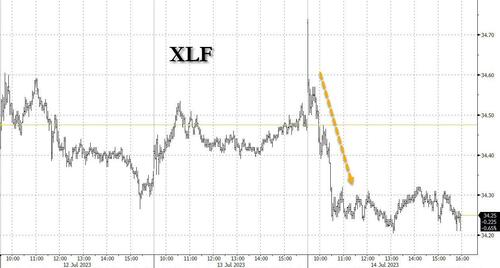 Bank stocks came into these prints hot(ter) with softer CPI and this view that positioning was light (names were generally up ~3-10%). Further, we kick off earnings with potentially the best of the best .. essentially the banks that mkt viewed as having best shot of putting up good results and good guides, so there is an element of "is this a top tick?" and that potentially areas of concern will get amplified as we progress through EPS season."
8:00 am
Good Morning!
NDX futures have been flat this weekend after making a new retracement high on Friday.  The Cycles Model suggests this week may be highly charged and volatile throughout the week and may extend into the following week.  Note that Friday is monthly options expiration and the next FOMC meeting is scheduled for July 25-26.  The Cycles Model may be offering an aggressive sell signal beneath 15500.00.  The Sell signal may be confirmed beneath the Cycle top at 15222.83.
Today's op-rx shows Max Pain at 15550.00.  Long gamma starts at 15560.00 while short gamma begins at 15500.00.
ZeroHedge comments, "Bernstein says to take some profits in Tech
Bernstein come to the conclusion that if you were overweight, you should take some profits and move to neutral, not underweight. The sector is now at its highest relative valuation to the market, a 54% premium, for the past 45 years, ex dot com. Earnings have been upgraded, but that looks priced in. Particularly for some of the mega-caps like Apple, Microsoft, NVDA & ORCL.
Source: Sanford Bernstein
Are we in an AI bubble?
Bernstein points to the chart below which shows that both Bing & ChatGPT search volumes are rolling over. Now, AI is a lot more than ChatGPT knock-offs, but the other stuff is much more complicated and not as consumer facing and so inherently lower profile. AI isn't going away, quite the contrary, but its almost immediate ubiquity doesn't bode well for initial returns."
SPX futures appear to be supported at 4500.00.  A loss of that support may sent the SPX to its Cycle Top support at 4425.88.  Beneath that the aggressive sell signal is strengthened.
Today's op-ex shows Max Pain at 4380.00.  Long gamma may begin at 4485.00 while short gamma may start at 4475.00.
ZeroHedge reports, "US equity futures were flat erasing, a modest earlier gain, while European stocks and oil retreated as bonds rallied after the latest Chinese data dump delivered more evidence of a slowdown in the world's second largest economy, where Q2 GDP rose just 6.3%. below the 7.1% consensus forecast. At 7:30am, S&P futures were down 0.1% to 4,531 while Nasdaq 100 futures were fractionally in the green. Bond yields are 3-5bp lower, with the benchmark 10Y at 3.78%; the USD is weaker again; commodities are mixed with wheat pricing spiking after Russia terminated the Black Sea Grain deal; base metals are lower after the soften China GDP print. Yellen said US should further de-escalate US-China tension, but lifting tariffs may be premature. Fed entered its blackout period ahead of its July 26th FOMC. On the calendar today, we get the Empire Mfg. index data today at 8.30am ET (-3.5 survey vs. 6.6 prior)."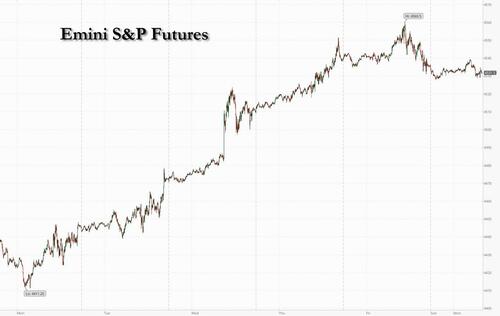 VIX futures have risen to 14.00 over the weekend session.  It is on a confirmed buy signal that allows accumulation of shares on the pullback.  The Cycles Model suggests trending strength may be on the increase over the next two weeks.
Wednesday's (monthly) op-ex shows the 17.00 strike highly contested.  Short gamma starts at 16.00 and extends to 13.00 while long gamma begins at 18.00 and extends to 60.00.
TNX has challenged Intermediate-term support at 37.93.  It may be due for a bounce over the next couple of days.   Once the bounce is over, it may test the mid-Cycle support at 36.92 by the end of the month.
USD futures rose over the weekend to 99.72, remaining in the throw-under position.  The Cycles Model suggests today may be a day of strength.  Should it rise above the trendline at 100.00, we may see the USD recover.  Otherwise, the USD may linger eneath the trendline until the end of the month.