12:30 pm
SPX reversed shortly after 11:00 am and is now beneath the 2-hour Cycle Top at 4175.55.  This may be interpreted as an aggressive sell signal with confirmation beneath the lower Triangle trendline at 4120.64.  Note that a new high was not made, per the Cycles Model.  However, the NDX did make a new high just above the August 16 high at 13720.91 and may be in reversal also.
ZeroHedge warns, "The world and their pet rabbit appears to have bought into the idea that all we need for a sustained rally in stocks to the moon is s debt ceiling deal, removing all that uncertainty and unleashing animal spirits. Of course, one would need to ignore The Fed (only way they are cutting is if shit hits the fan in the markets, so careful what you wish for there), sticky global acyclical inflation (the decline in headline inflation has been driven by the fall in the cyclical component, while the structural component is still near its highs), the ongoing banking crisis (no deposit outflows have not stopped… and won't all the time MM funds offer 4-5%), and global geopolitical risk escalation (Ukraine and Taiwan).
The 'safe haven' (AI) driven surge has lifted the Nasdaq to 13 month highs in the face of all this…"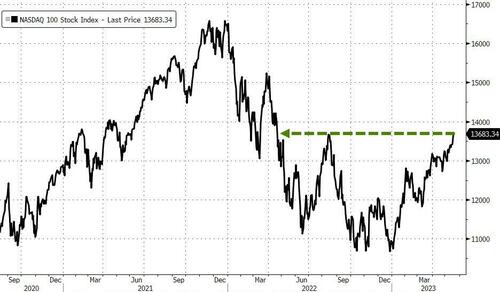 8:00 am
Good Morning!
NDX futures hit a new retracement high at 13624.90 this morning.  Yesterday it hit the 50% retracement of the 2022 decline at 13565.00.  It also challenged the Cyclically important weekly mid-Cycle resistance at 13450.00.  These are all indications of a Cyclical ending, not a new beginning.  NDX has "thrown over" both its Ending Diagonal formation and the daily Cycle Top at 13531.31.  This is not a breakout, as some analysts suggest.  It is an ending that vacuums up the last holdout, so that everyone is long.  The NDX Hi-Lo Index has not had a positive close since March 3, telling us that the leadership in this rally is very narrow.  Will it make the August 16 high at 13720.91?  We may know the answer in just a few hours.
Today's op-ex shows Maximum Pain for options investors at 13350.00.  There is no short gamma.  Long gamma may start at 13375.00, but not with a lot of conviction until 13700.00.
ZeroHedge comments, "When ranges are broken
Japanese equity price action has been impressive to say the least. Note that Nikkei wasn't so exciting, only a few weeks ago. The index was stuck in a range, and decided to kill the shorts. Trading ranges is an art…especially when they are broken. Will we see a similar set up?
Source: Refinitiv
Signal too strong to ignore
Soc Gen says this on "pain trade" in the S&P: strongest net shorts in 12 years but index performance still positive.
SPX futures are hovering near the flat line this morning.  Today, day 275, is the last day that the Cycles can be "pushed."  The hourly and daily Cycles Models both suggest a turn this morning, so be on the alert.  However, be advised that a new high may be made in the process in a possible "key reversal."
Today's op-ex shows that 4150.00 may be the Max Pain trade, with long gamma beginning at that level and stretching to 4200.00.  Short gamma rules at 4145.00 and may run to 3985.00.
ZeroHedge reports, "Futures are slightly higher following yesterday's strong session driven by what the narrative says is debt ceiling deal optimism after US President Biden said he was confident the US would avoid a default, although how rising stocks – which eases pressure for a debt deal – makes a deal more likely is beyond us. S&P futures were up 0.2%, pointing to a second day of gains for the index, and US regional lenders kept up their momentum in premarket trading, with Western Alliance Bancorp adding 2% and PacWest Bancorp up 6%; longer-dated bond yields are up 1-2bps, with the 10Y TSY trading at 3.60%. USD strength continues despite many investors indicating potential weakness into the x-date; commodities are weaker across all three siloes after the Black Sea Grain Initiative was extended by 2 months, reducing near-term inflation risk. Biden says another debt ceiling update will come Sunday after positive momentum in negotiations. Today, we receive WMT earnings which beat beat on revenue, earnings and comps, pushing the stock higher and a further read on the consumer plus jobless data."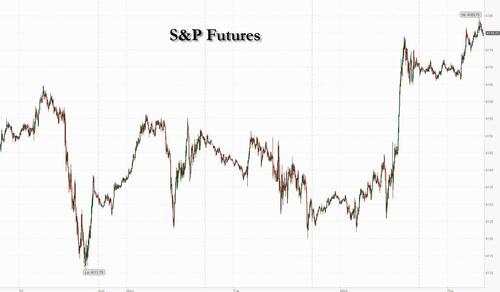 VIX futures are also flat this morning.  The Cycles Model shows a probable steady gain with a burst of energy early next week.
The May 24 options expiration shows Max Pain at 17.00 with not short gamma.  Long gamma starts at 18.00 and runs strong to 40.00.
ZeroHedge comments, "There was a comically circular element to the stated reason behind today's market meltup, which – according to most superficial takes – was due to "debt ceiling optimism" (according to JPM TMT trader Ron Adler, "There is more optimism around the Debt Ceiling this morning as futures reclaim most of yesterday's late day sell-off").
It's comical, because the only motivation Washington has to get a debt limit deal done is pressure from the market (i.e. a sharp drop in stock prices) and by rising instead, the impetus to get any deal done disappears even if it makes a technical default – and a market puke – that much more likely. Then again, in a market where 0DTEs dominate and set the market's "momentum mood" on an hourly basis, even if makes zero sense, nothing surprises any more."
TNX gapped above the 200-day Moving Average at 35.85 this morning.  Recognition of a change in trend may come quickly as TNX also challenges its April 19 high at 36.39.  It may see a burst of strength this weekend, stretching into mid-week.  The new trend may have staying power, as the current Cycle may last to early July.
ZeroHedge remarks, "Another day, another hawk… and this time the market seems to be starting to believe it…
"After raising the target range for the federal funds rate at each of the last 10 FOMC meetings, we have made some progress," Dallas Federal Reserve President Lorie Logan said in prepared remarks for a speech to bankers in San Antonio.

"The data in coming weeks could yet show that it is appropriate to skip a meeting. As of today, though, we aren't there yet."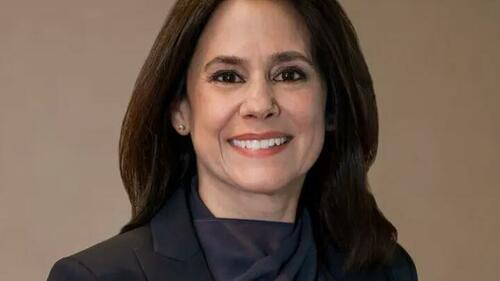 "We haven't yet made the progress we need to make. And it's a long way from here to 2% inflation," Logan said, referring to the Fed's longer-run goal.
The response was quick with futures hitting the lows of the day, extending losses after the 'good' initial claims data…"